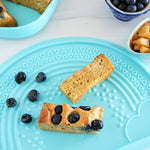 Recipe by: @athomewithastghik
These pancakes are easy to make and use cottage cheese for some extra yummy nutrients, but you won't even be able to tell there's cottage cheese! These sheet pan pancakes are delicious, with maple syrup, chia jam, or your favorite side.
Ingredients:
▪️1 cup all-purpose flour
▪️1 tablespoon ground flaxseed
▪️2 tablespoons coconut sugar or cane sugar, add more or less depending on your preference or may leave it out. 
▪️2 teaspoons baking powder
▪️1/2 teaspoon baking soda
▪️3 tablespoons melted unsalted butter
▪️1 large egg
▪️1/2 cup cottage cheese
▪️2 teaspoons vanilla extract 
▪️1 cup whole milk
Add Desired Toppings (I used):
🫐Blueberries
🍎Sautéed Apples
🍫Mini Semi-Sweet Chocolate Chips
🥥 Unsweetened Shredded Coconut 
Method:
Preheat oven to 425° F 

Use the Bumkins Grip Tray or butter a sheet pan, place parchment paper and butter parchment paper as well. Set it aside. Note: if using the Bumkins Silicone Grip Tray, you do not need to butter it. The pancakes will release easily without it. 

To a large bowl, add the all-purpose flour, ground flaxseed, baking powder, baking soda, and coconut sugar. Mix with a fork in a whisking motion to combine. Set it aside.

In a separate bowl, melt the butter. Add the eggs and whisk to combine. Add the cottage cheese and mix to combine.

Finally, add the milk and vanilla extract. Mix.

Add the wet ingredients to the dry ingredients. Mix to combine.

Transfer the batter to the Bumkins Grip Tray or to the buttered sheet pan and spread it out evenly. Tap the sheet pan against the counter 2 times to help release air bubbles. Garnish the top with desired toppings.

Bake for about 16-18 minutes (rotating halfway through the baking time) or until the tops are golden brown and a toothpick or cake tester inserted in the center comes out clean. 

Allow to sit for 10 minutes. Transfer to a cooling rack to cool completely. Cut into desired pieces and enjoy!