---
Chewtensils™ and Spoon + Fork Set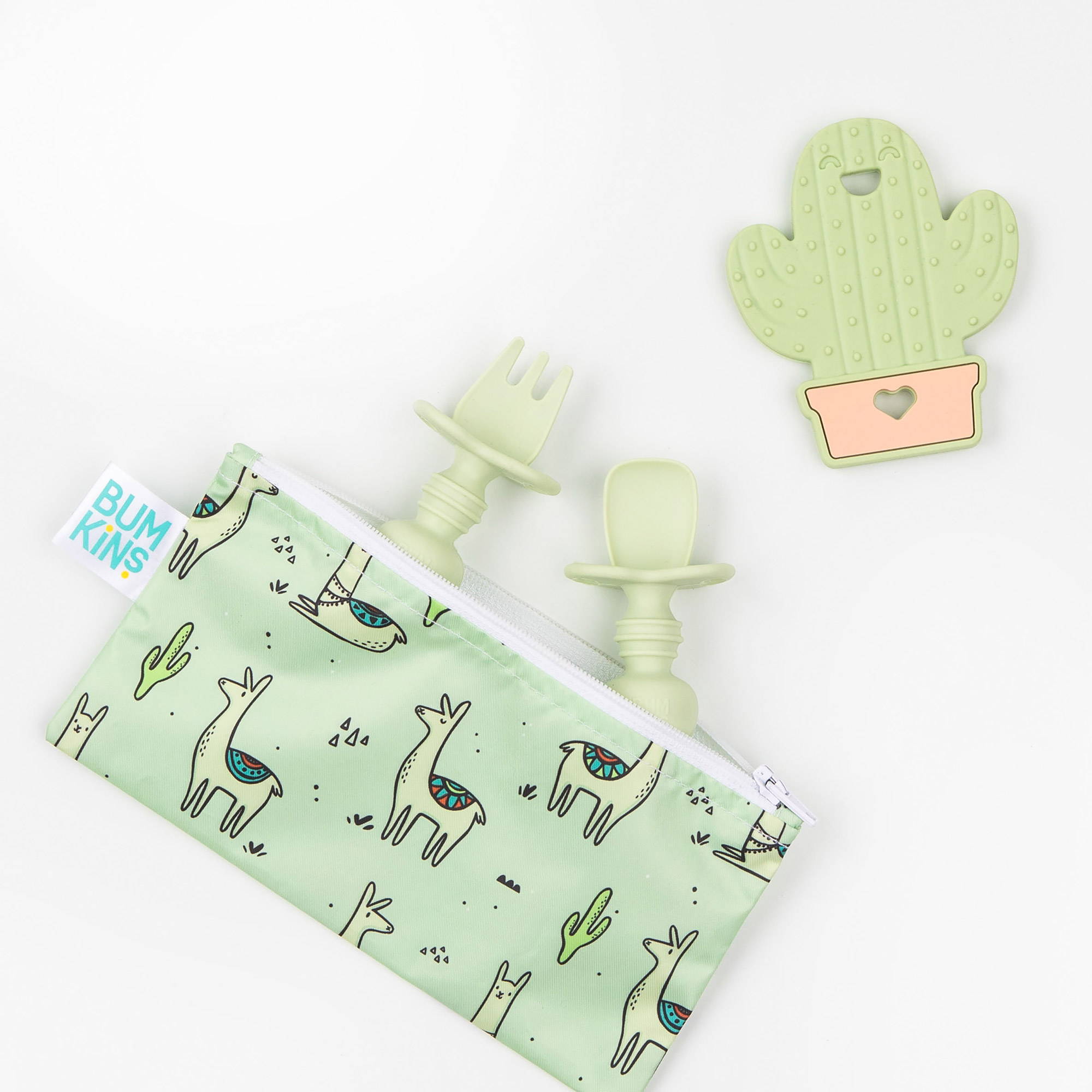 Great for introducing baby led weaning
Shorter length proportionate to baby's size
Rounded handles are easy for baby to grip
Textured spoon helps soothe teething gums
Choke guard provides added safety
Soft but durable food-safe silicone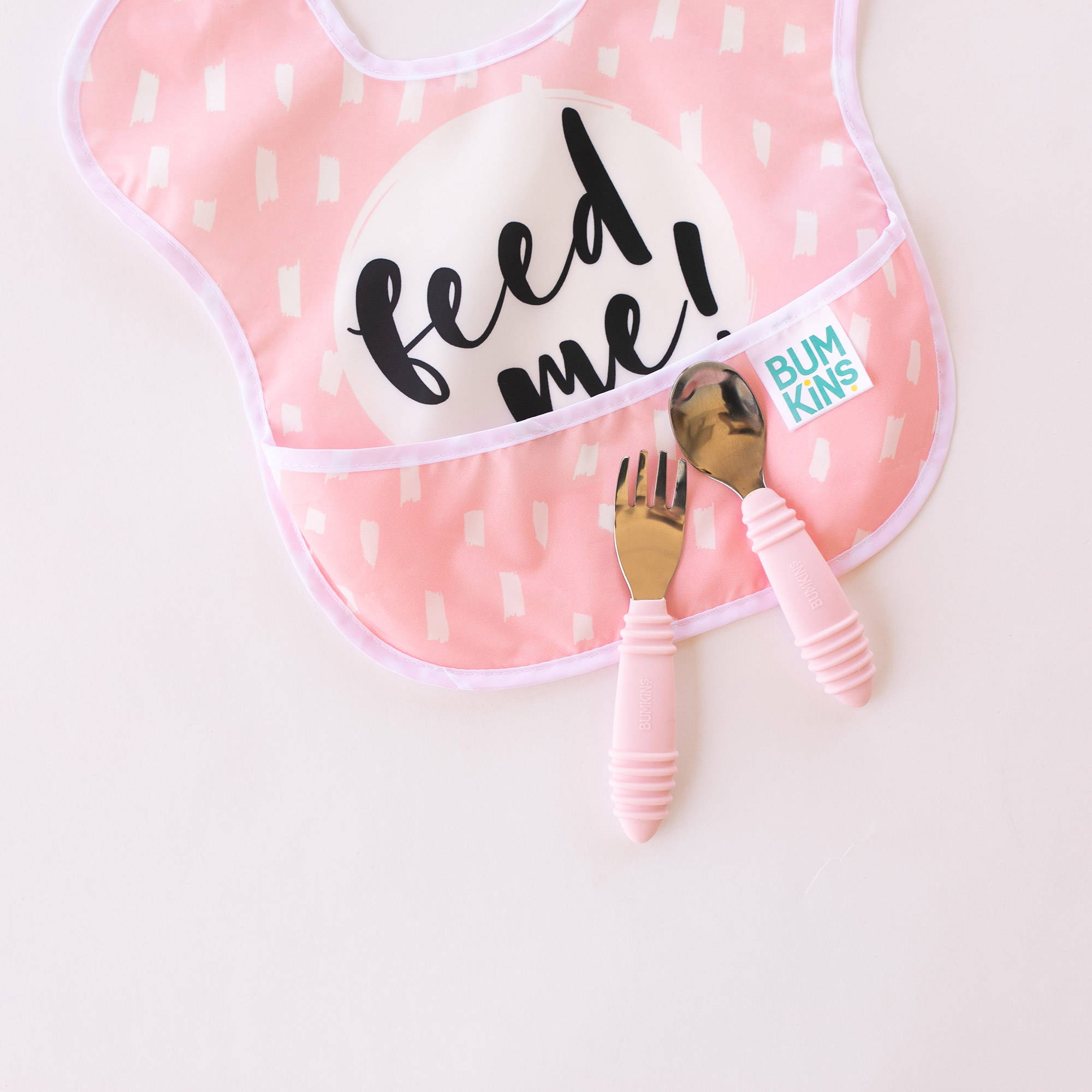 Intended for older, more experienced eaters
Made with 18/8 stainless steel heads
Coated in soft, grippy food-safe silicone
Curved and rounded fork tines safely pierce and grip foods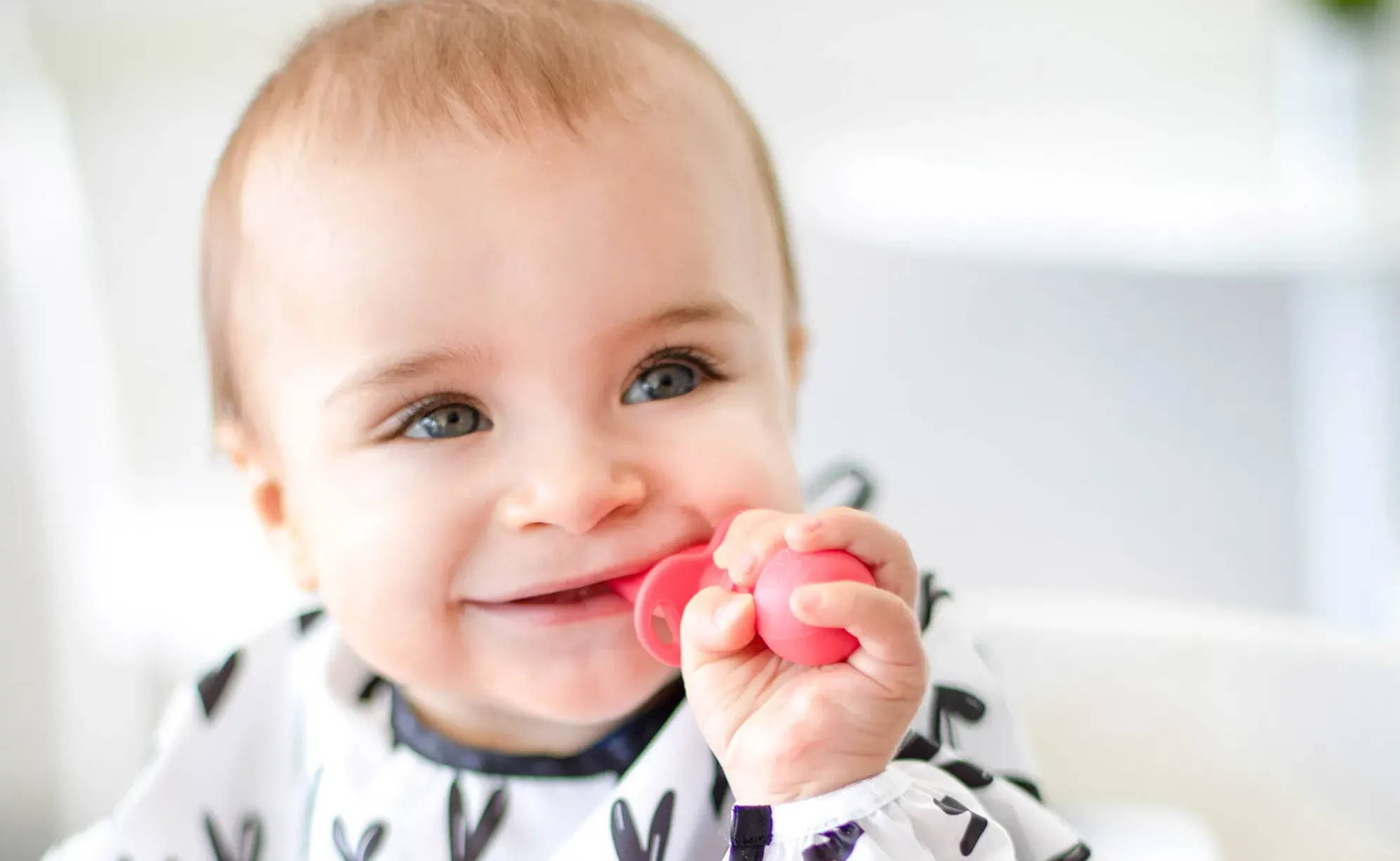 What are Chewtensils and why does my baby need them?
Bumkins Chewtensils are designed to introduce young babies to the concept of utensils and self-feeding. Made from 100% soft and durable food-safe silicone, they feature a rounded handle that is easy for babies to hold. The small size is easier for babies to manage as they develop the coordination to feed themselves. A ventilated shield helps prevent gagging or choking.
Great for introducing baby led weaning
100% food-safe, silicone
Lab tested to be free of BPA, BPS, PVC, phthalates, lead, and cadmium
Dishwasher safe
Stain and odor resistant
Resistant to bacteria, mold, and fungus
Durable and long lasting
Colors stay bright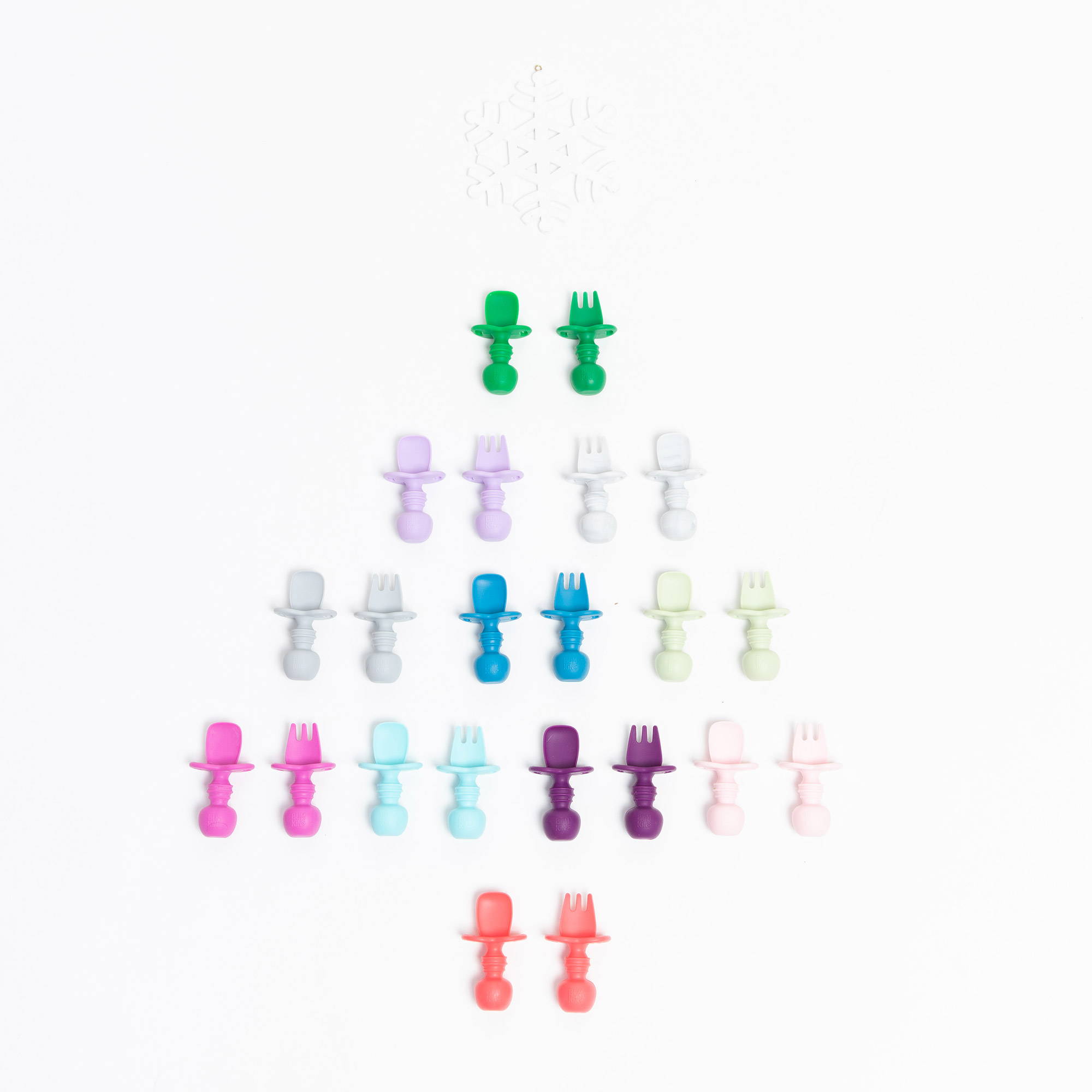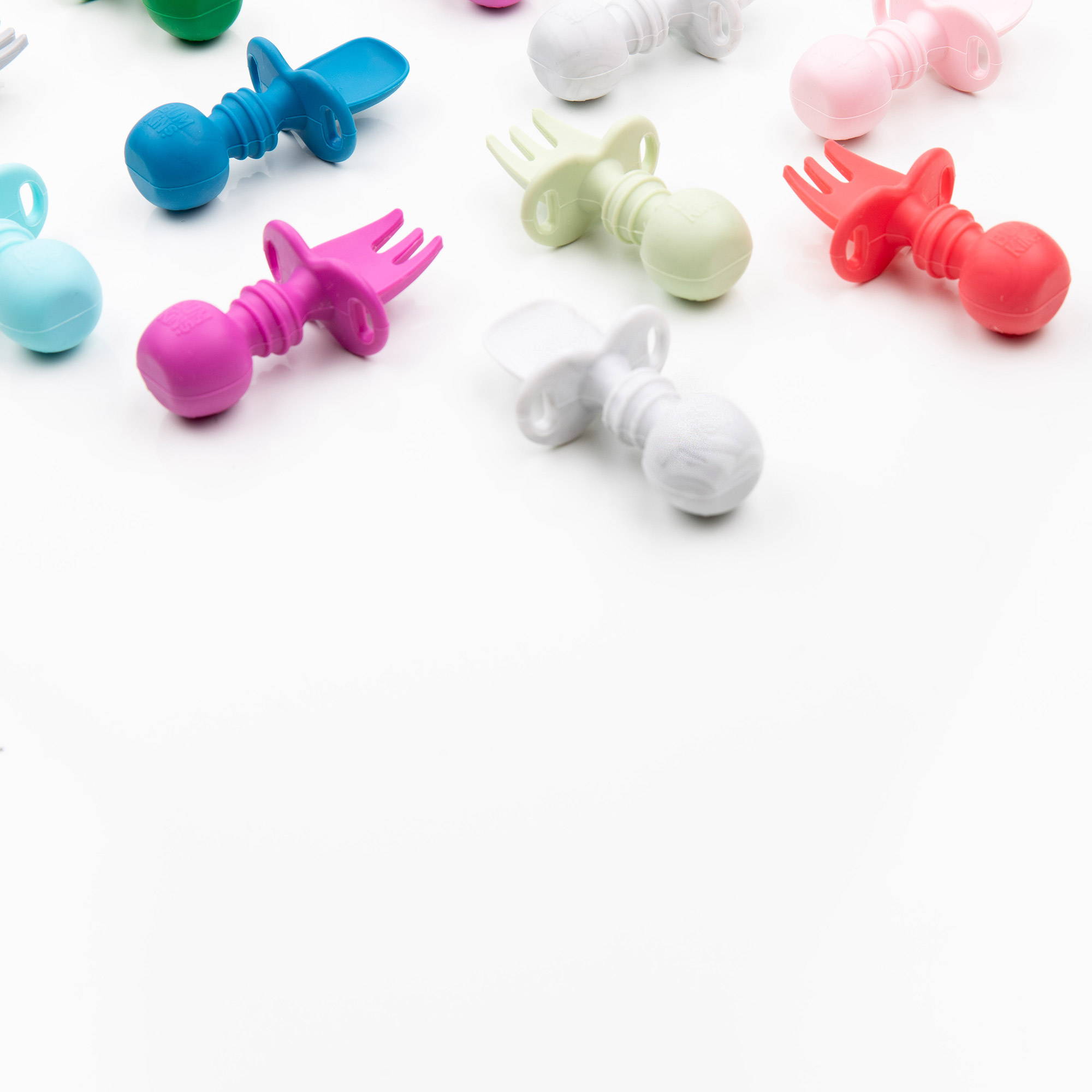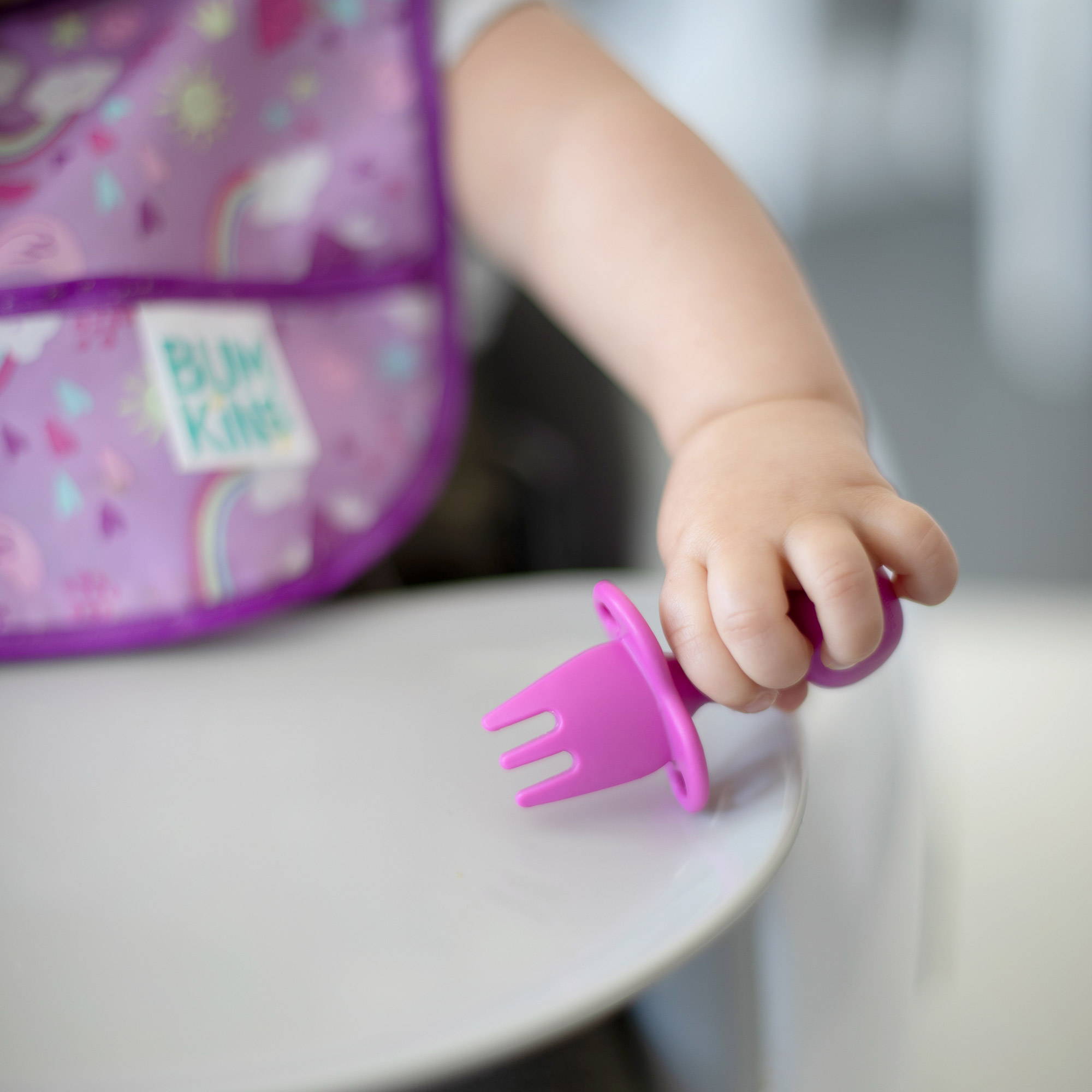 Perfectly Sized for Little Hands
Intended for a baby, not a kid
How well could you eat a meal with a spoon if it was several times longer than the width of your hand? Standard baby spoons, while smaller than adult utensils, are still very long compared to a baby's hand and arm. Chewtensils are sized to fit into a baby's small hand. This smaller size is more comfortable for babies to grab and gives them more control, helping them develop fine-motor skills.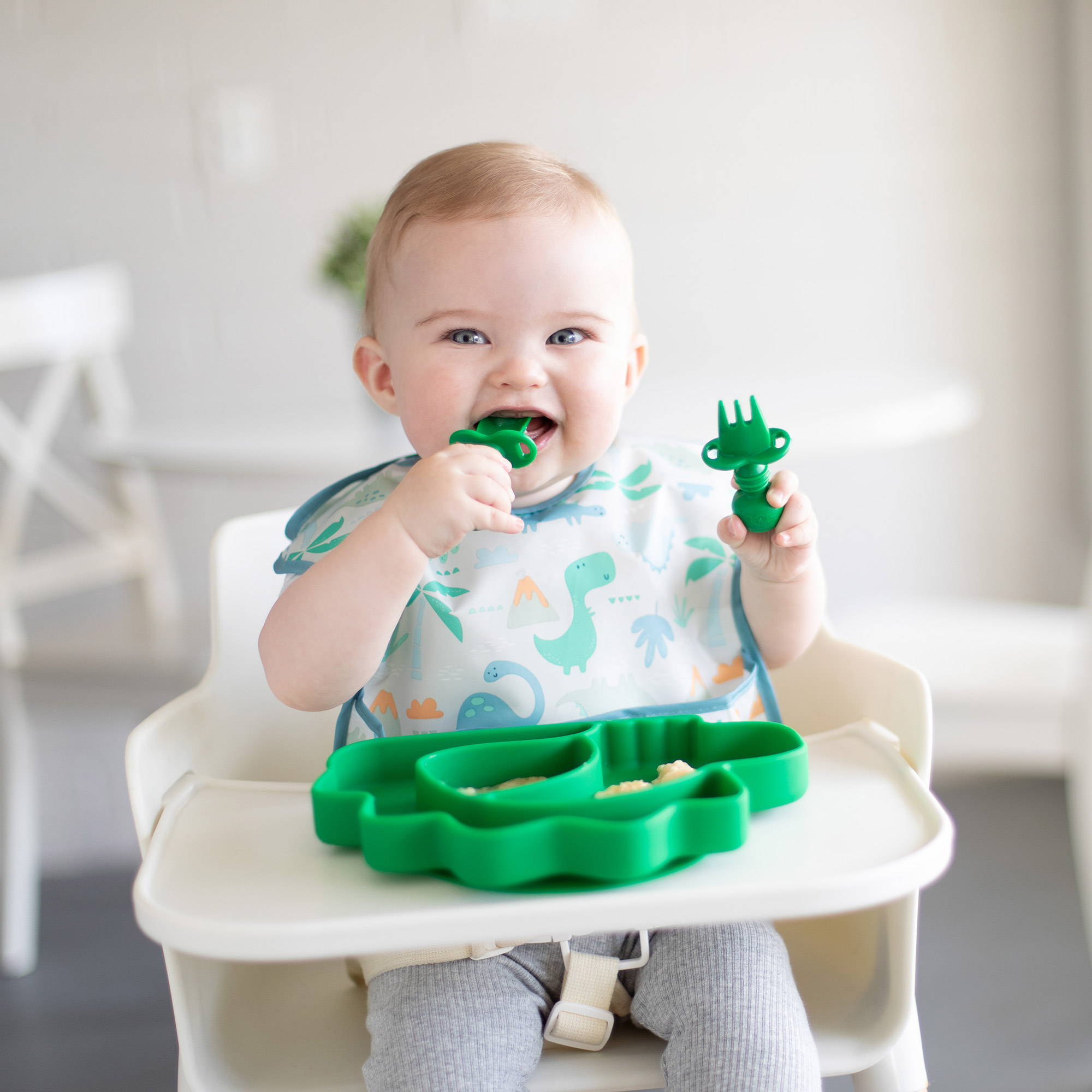 Round Handle for Learning
Babies are constantly learning about their surroundings. As they learn about self-feeding, how would they know which end of a utensil to hold? Chewtensils have rounded, textured handles that are easy to grasp and hold on tight. The added weight of the solid silicone handles also helps to steady babies' hands as they learn to dip and scoop purees and soft foods.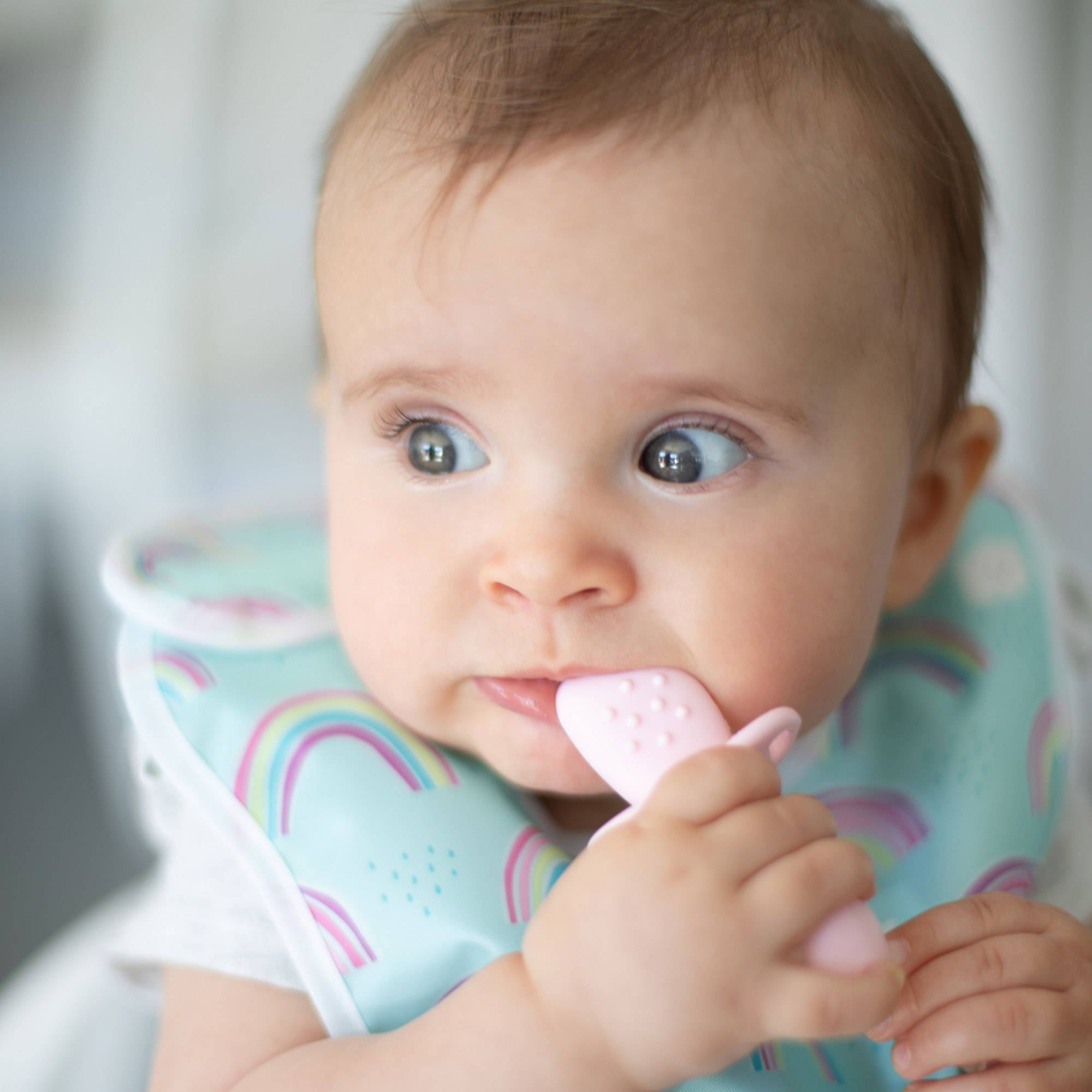 Because teething is a pain
Babies spend a good deal of time teething and seeking out things they can chew on. We know your little one will probably gnaw on our Chewtensils, so we made them from soft, food-grade silicone and added a bit of texture to help give them a bit of relief as they deal with the discomfort of teething*. Let them dip the Chewtensils into a cool puree and enjoy the relief!
*Chewtensils are not a teether and should only be used under direct adult supervision.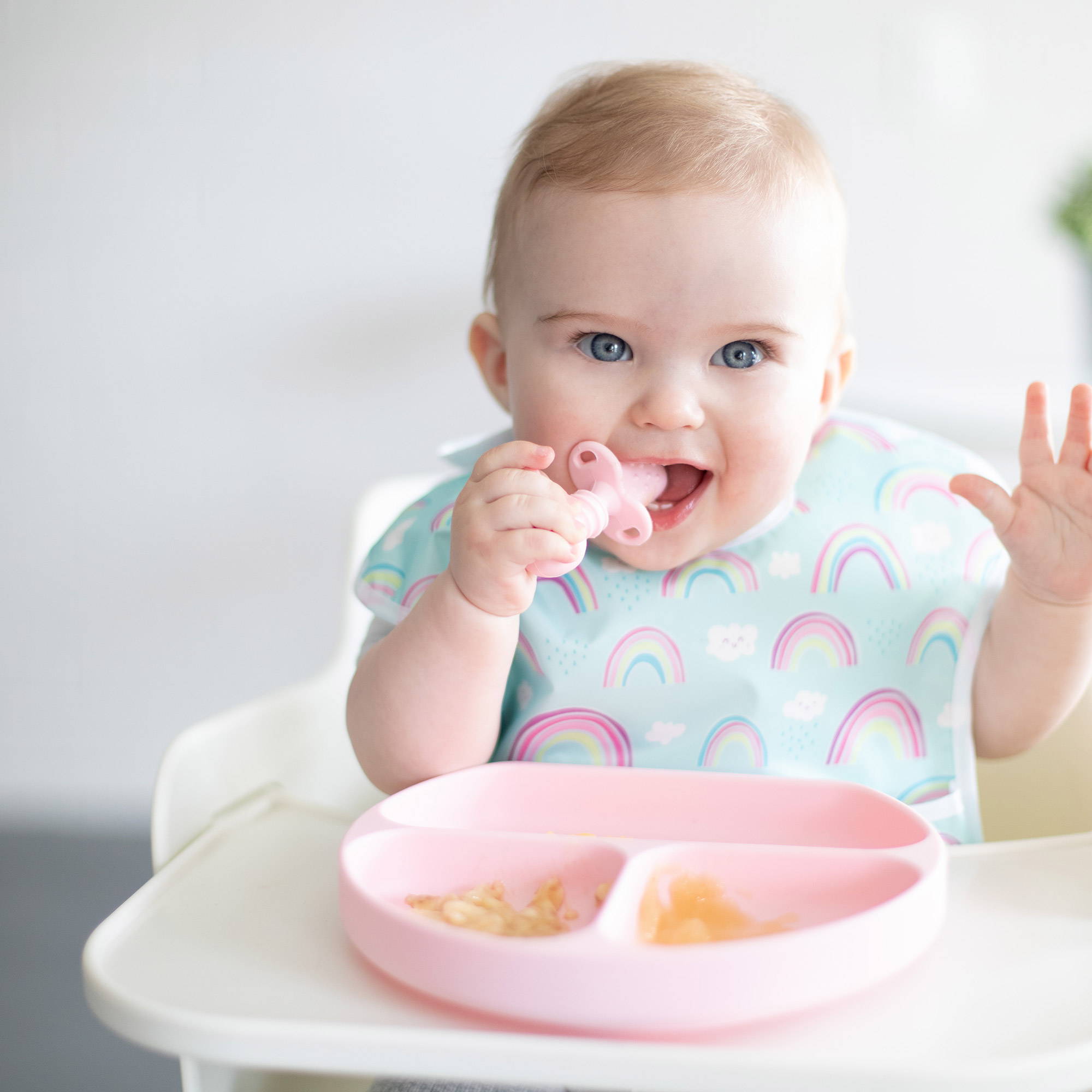 A softer, safer alternative
Let's be clear: silicone is not plastic. Our food-safe silicone is lab-tested and free of BPA, BPS, PVC, phthalates, lead, and cadmium. It's durable but still gentle on baby's tender gums. Silicone is also soft with no sharp edges to poke or scratch babies as they develop their coordination.
Stain, Odor, & Bacteria Resistant
As parents, we have enough to worry about; your child's dishware shouldn't be one of those things. Silicone's properties are naturally resistant to bacteria, mold, and fungus. It is also resistant to stains and is dishwasher safe. Cleanup will be a breeze!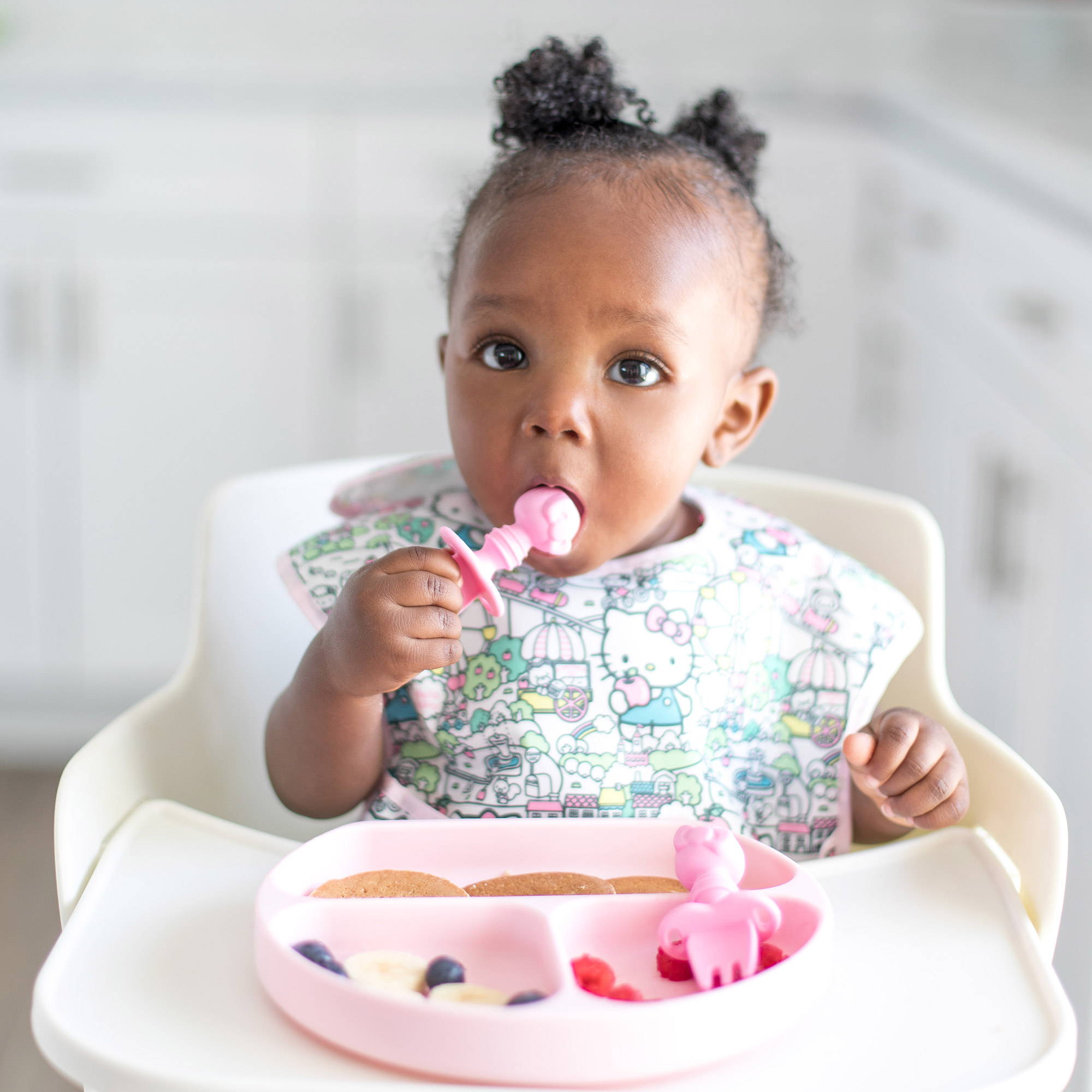 During creation, silicone can be cured with two types of agents. Lucky for you, we only use the best one—platinum. During the platinum curing process, no byproducts are created, and the silicone's already fabulous qualities are amplified. Happy baby? Check. Happy parent? Check.
---
Bumkins Spoon + Fork Set is designed for the child who has mastered Chewtensils and is ready for the next step. Made with stainless steel coated with soft and grippy silicone, these utensils will be your child's new favorite. Sturdy and durable, the fork features curved tines that help children pierce and hold food.
Food-safe silicone
Cured with platinum
18/8 stainless steel
Lab tested to be free of BPA, BPS, PVC, phthalates, lead, and cadmium
Dishwasher safe
Stain and odor resistant
Resistant to bacteria, mold, and fungus
Durable and long lasting
Colors stay bright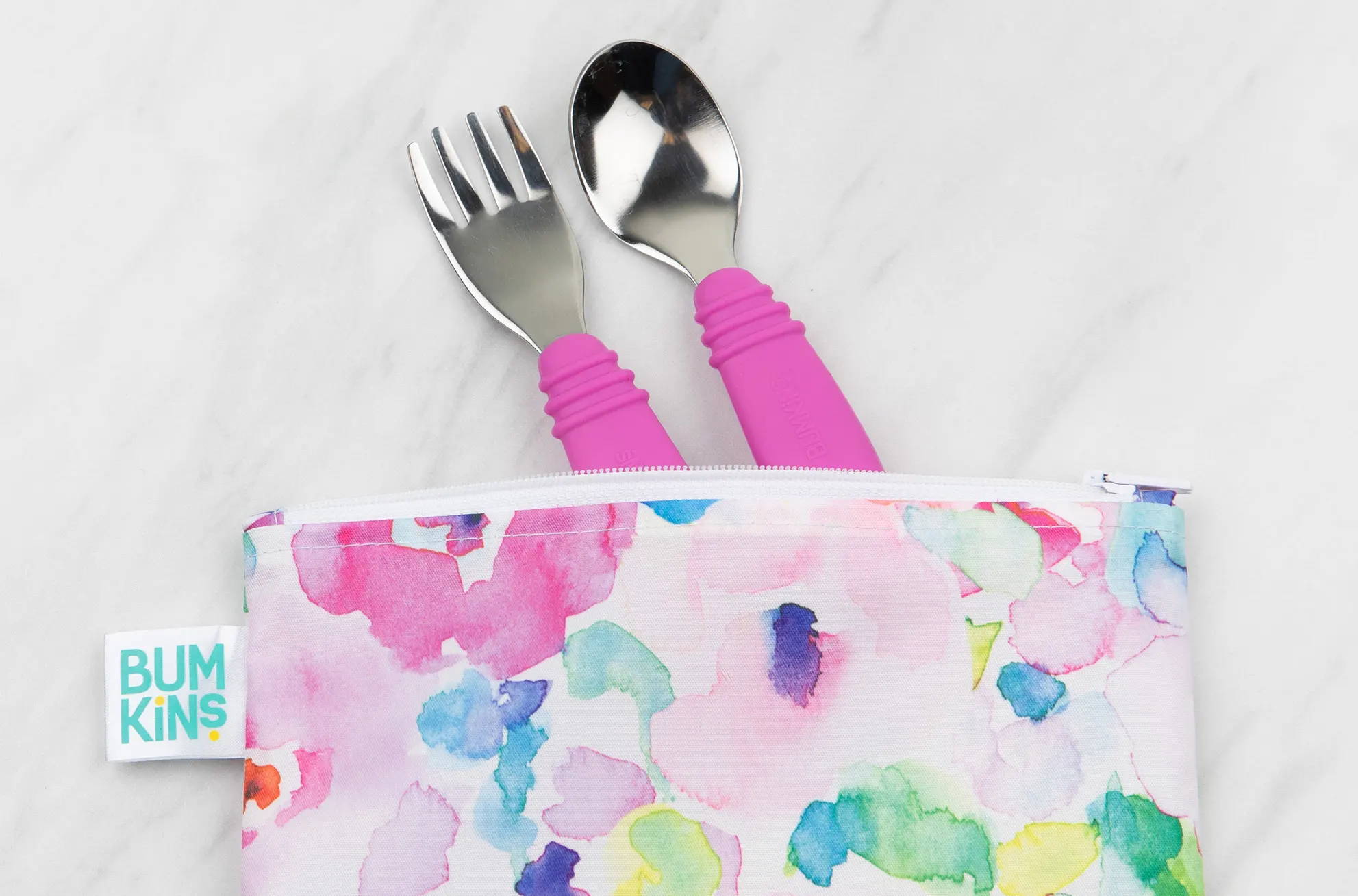 Silicone & Stainless Steel
These two make a great pair
Silicone is pretty phenomenal, and when you pair it with stainless steel, you have a great set of utensils for your little one. Our silicone is food-safe and provides a soft, comfortable grip around the sturdy 18/8 stainless steel. Together, these utensils are ready for any meal you can throw at them.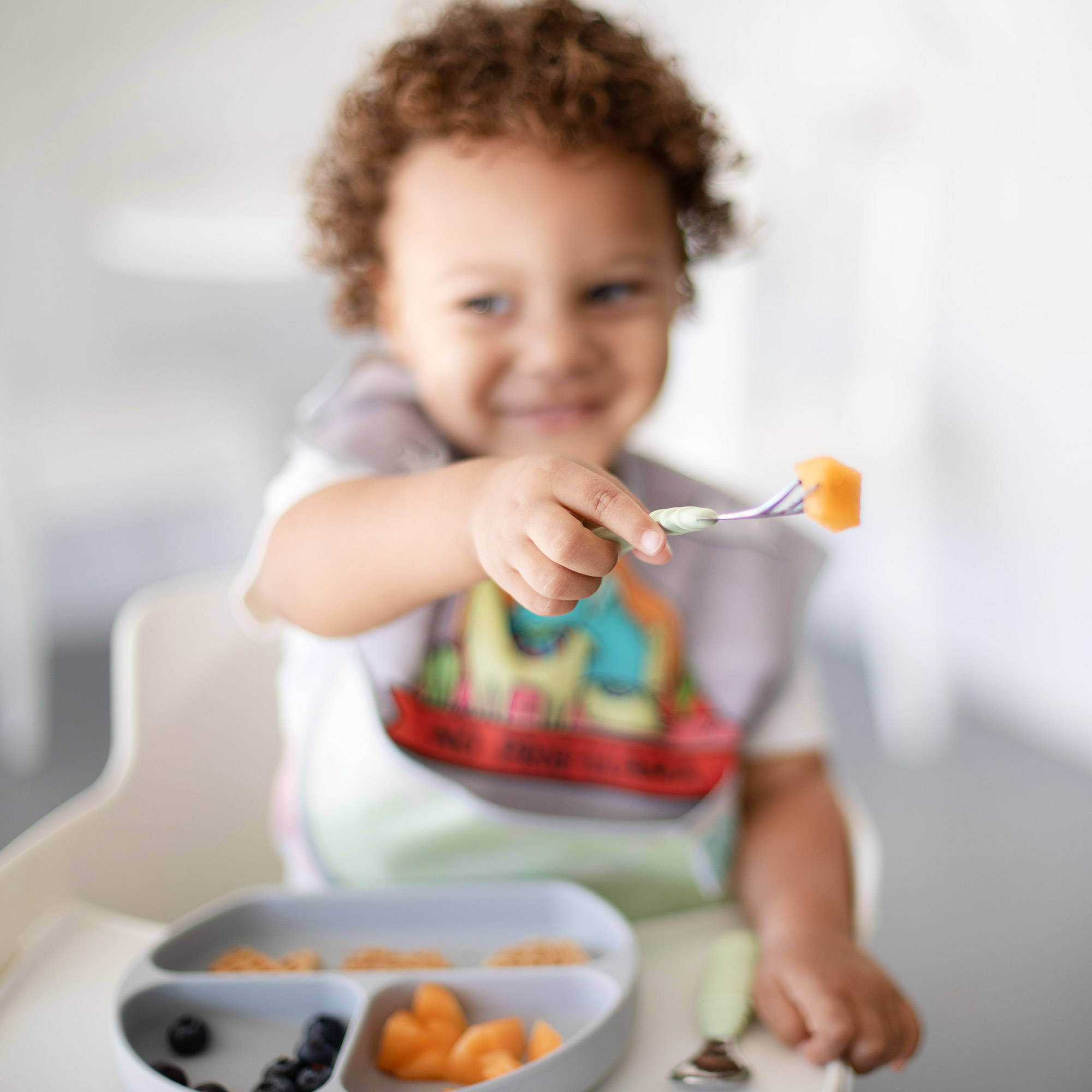 Yes, we did that on purpose
No, your fork is not defective—we've purposely curved the tines on our fork. We know that kids are still mastering self-feeding and can get frustrated when it gets tough. Curved tines help create a deep head to scoop and keep food on the fork. The outer curve also helps pierce the food, which can be trickier than it looks when you're first learning.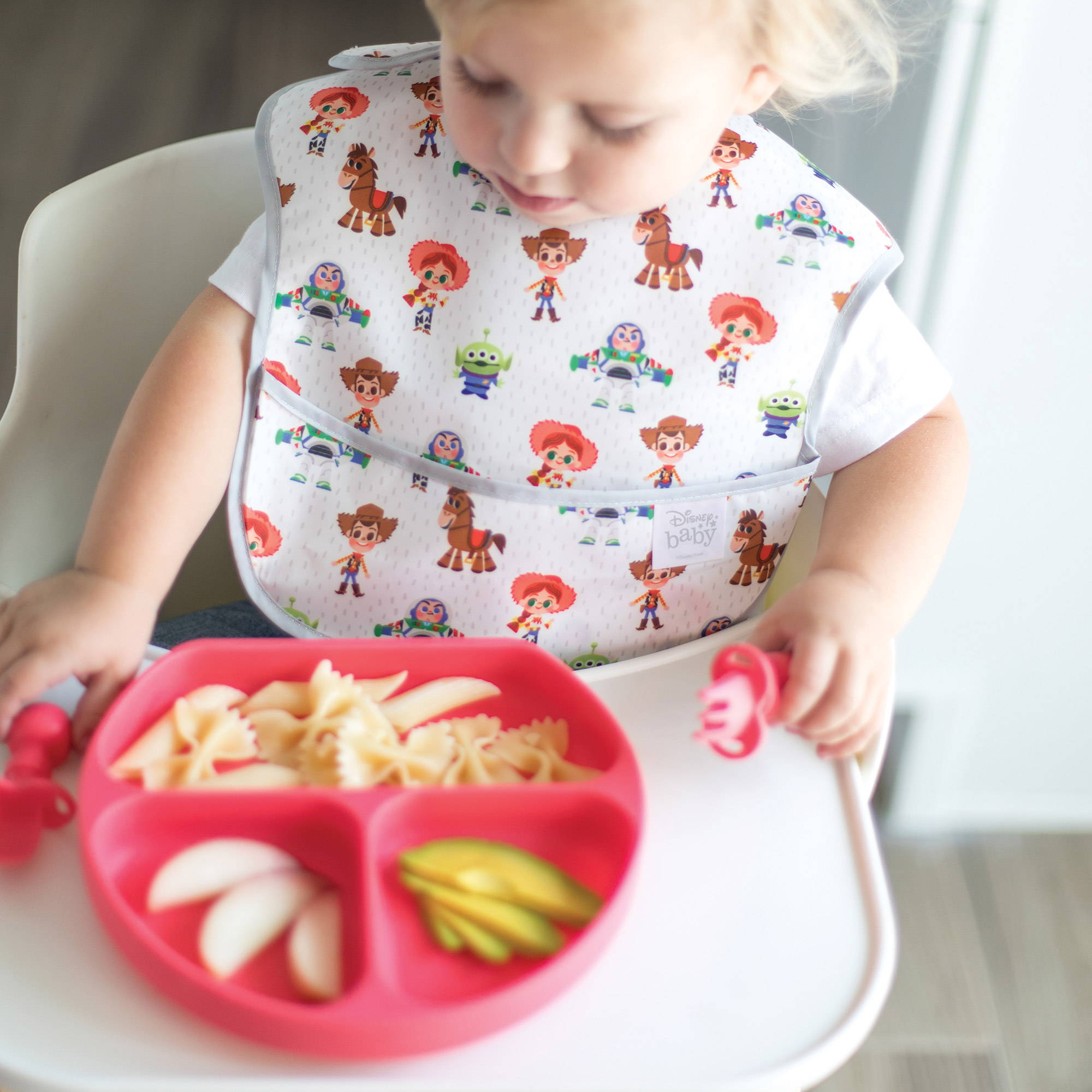 Sometimes you just need that added incentive
Here at Bumkins, we love some color coordination. You'll find that our utensils have the perfect mealtime companion, whether it's a dish, bib, splat mat, or snack bag. Go ahead and find your favorite colors and stock up!
---
Learn About Our Other Collections