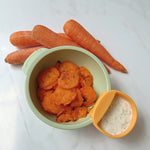 Recipe by: @my.little.food.critic
If you've never made smashed carrots before, you've got to try this recipe. With just a handful of fresh ingredients, these smashed carrots are delicious, so easy to make and loaded with flavor!
Prep: 5 mins
Cook: 25 mins
Serves: family
Ingredients:
🟠 2-3 large carrots
🟠 Olive oil
🟠 Spices choice (cumin, black pepper, salt, garlic)
Dressing:
🟠 1 cup Greek yogurt
🟠 1/4 cucumber, shredded
🟠 A handful of mint, finely chopped
🟠 A handful of dill, finely chopped
Steps:
Peel and slice the carrots.Add the carrots to Bumkins Silicone Reusable Bag. Remove as much air as possible and seal.

Add the bag to a pot of water (around 6 cups). Bring the water to a boil and cook for around 13 minutes.

While the carrots are cooking, combine the dressing ingredients.

Carefully remove using tongs.

Place the carrots onto a lined baking tray.

Using the bottom of a glass, smash each carrot flat.

Brush with oil and sprinkle over seasoning.

Broil for 5 minutes.

Allow to cool slightly before serving.