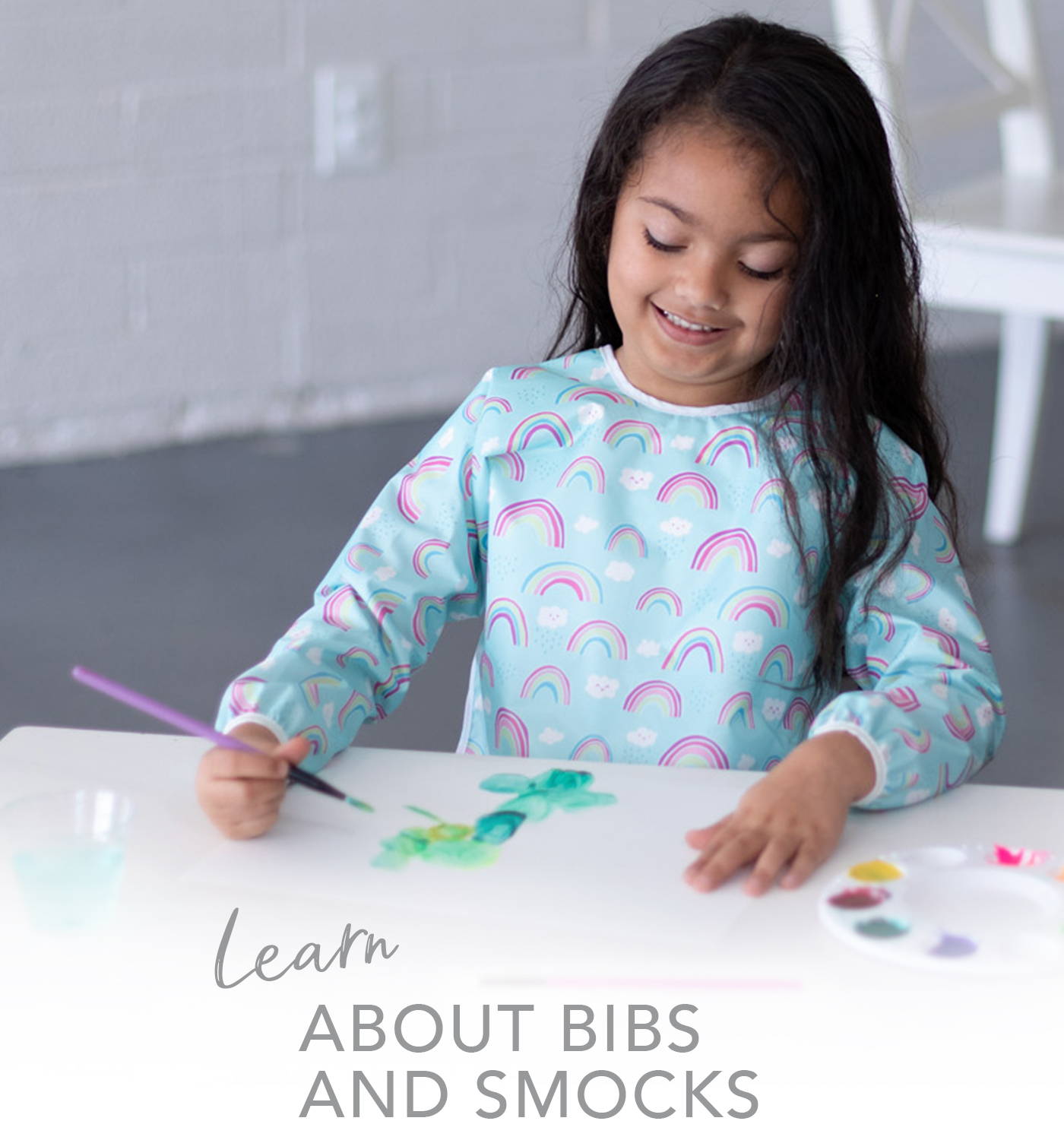 Shop Our Waterproof Bibs and Art Smocks

---
Compare Our Waterproof Bibs
Not sure which bib or art smock is right for your little one? We've got you covered, no matter the age or stage.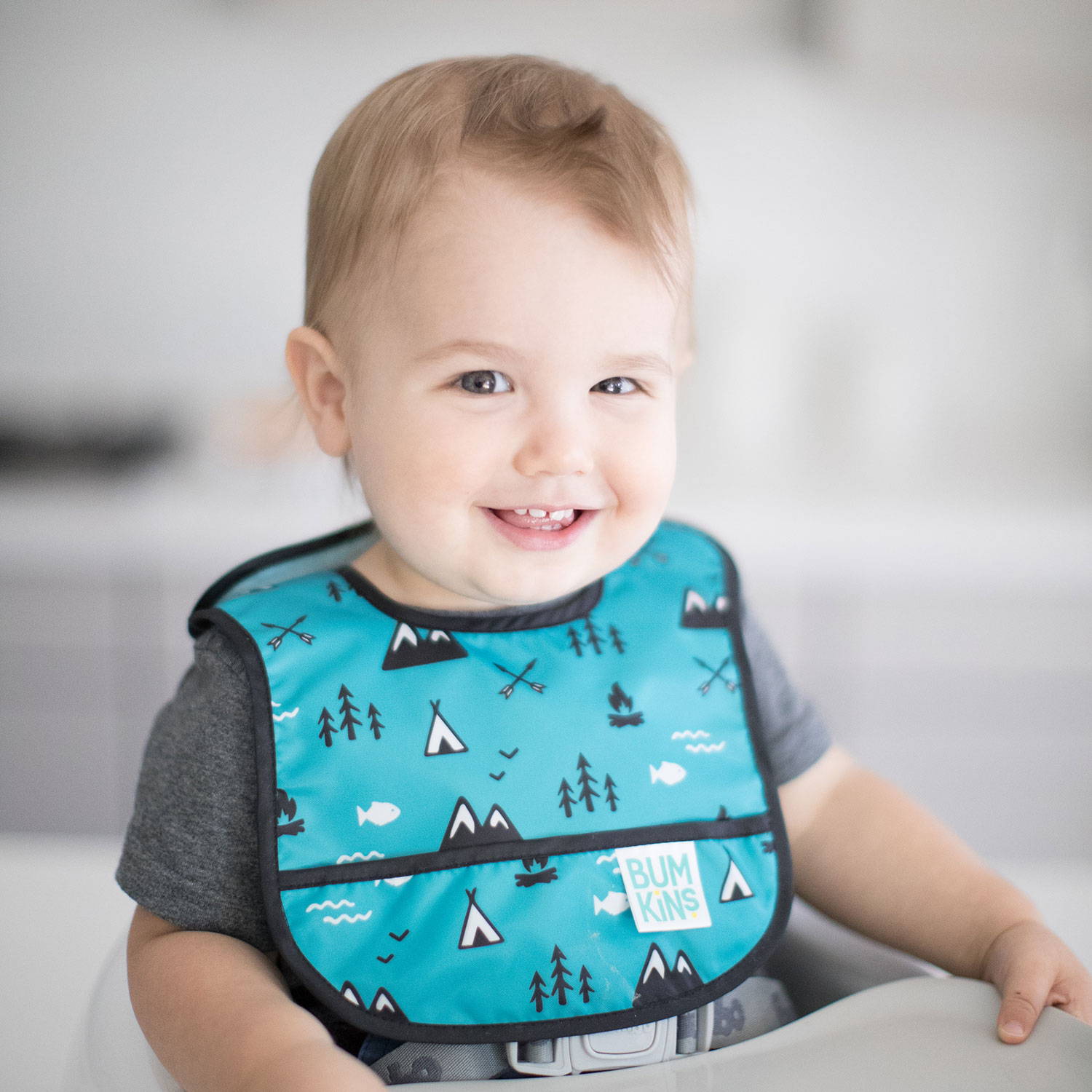 Age Range: First Foods to 9 Months
Measures 8" across, 6" from neck down

Adjustable aplix closure

Best for first foods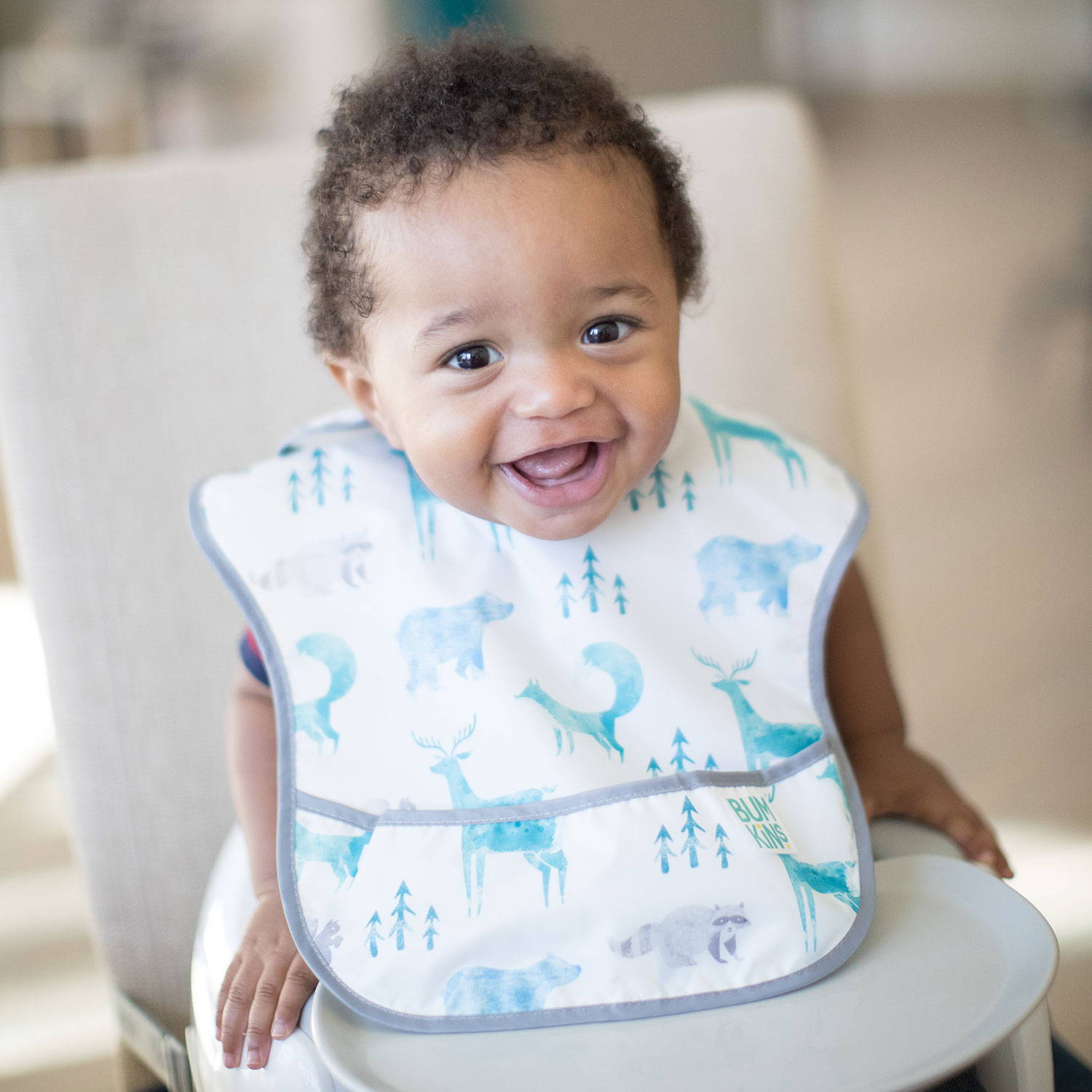 Age Range: 6 to 24 Months
Measures 10" across, 9" from neck down

Adjustable aplix closure

Our original and most popular bib
Age Range: 6 to 24 Months
Measures 14" across chest, 13" from neck down, 32" cuff to cuff

Adjustable tie closure

Best for Baby Led Weaning with full arm coverage and elasticized cuffs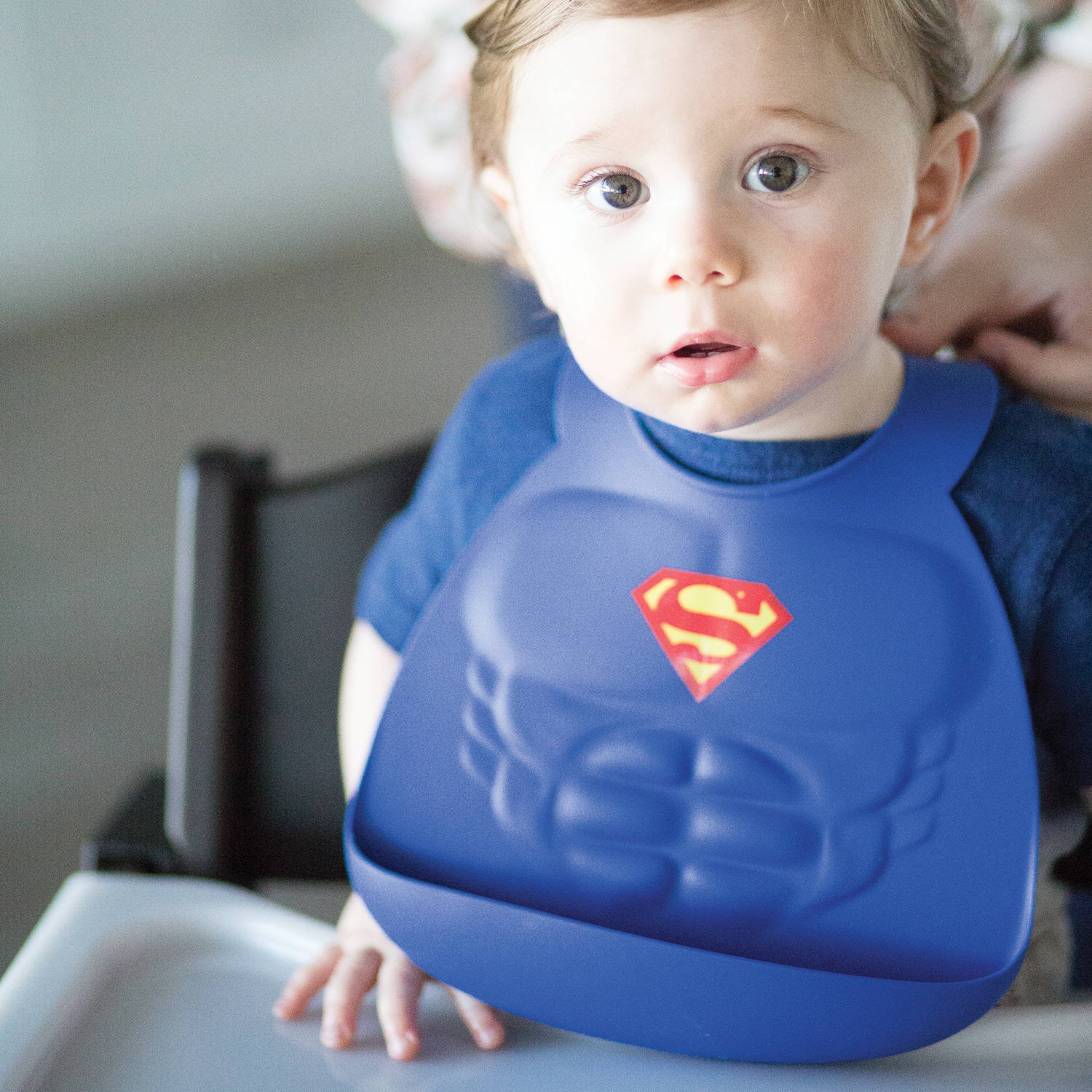 Age Range: 6 to 24 Months
Measures 8.5" across pocket, 7" from neck down

Adjustable closure fits necks 8-10"
Age Range: 6 to 24 Months
Measures 18" across, 18" from neck down

Adjustable aplix closure

Best for full body coverage, strollers, and car seats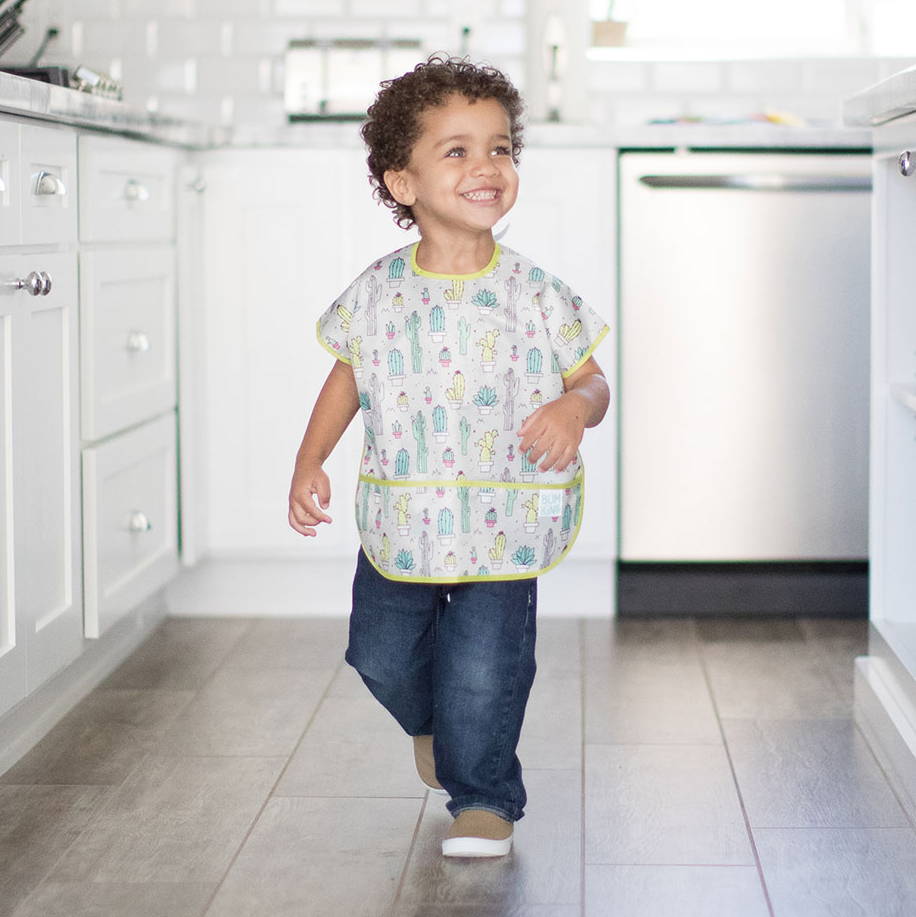 Measures 14.5" across, 14" from neck down, 16.5" from sleeve to sleeve

Adjustable aplix closure

Best for toddlers
Waterproof Bib and Smock Features
Our bibs are the original, award winning feeding bibs. Learn what makes them so popular.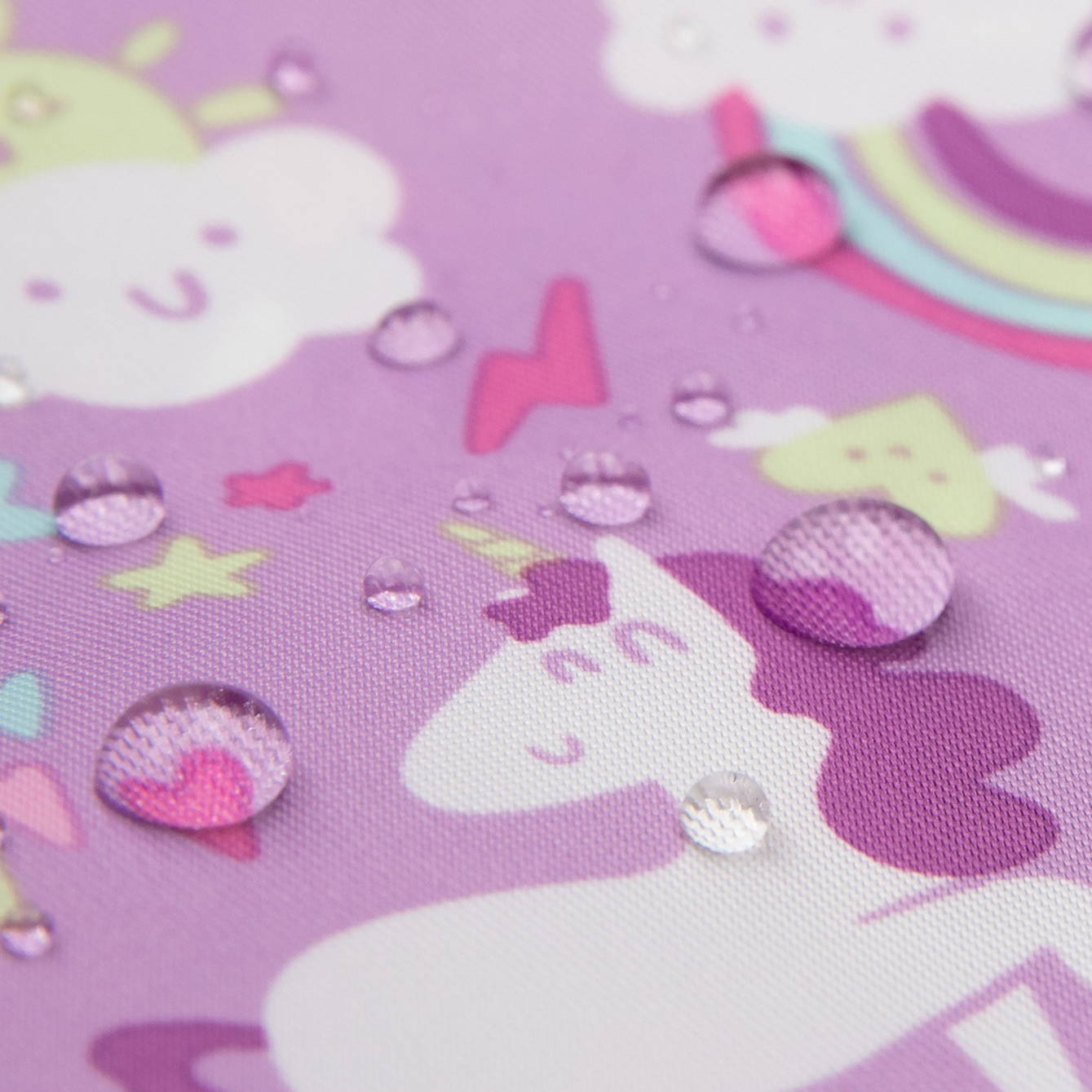 Our Signature Waterproof Fabric
Bumkins' signature waterproof fabric is both soft and strong. Tough enough for daily use and easy to wash, it stands up to messes big and small. Unlike other fabrics, our fabric doesn't have a stiff layer of plastic backing. With our colorfast technology, our prints and designs will stay bright and colorful for many washes to come!
Soft and strong

Waterproof, wipeable, and quick drying

Resistant to stains and odors

Lightweight and breathable

Colors stay bright

Machine washable

CPSIA tested and approved

Third-party tested to meet safety regulations for BPA, PVC, Vinyl, Phtalates, and Lead.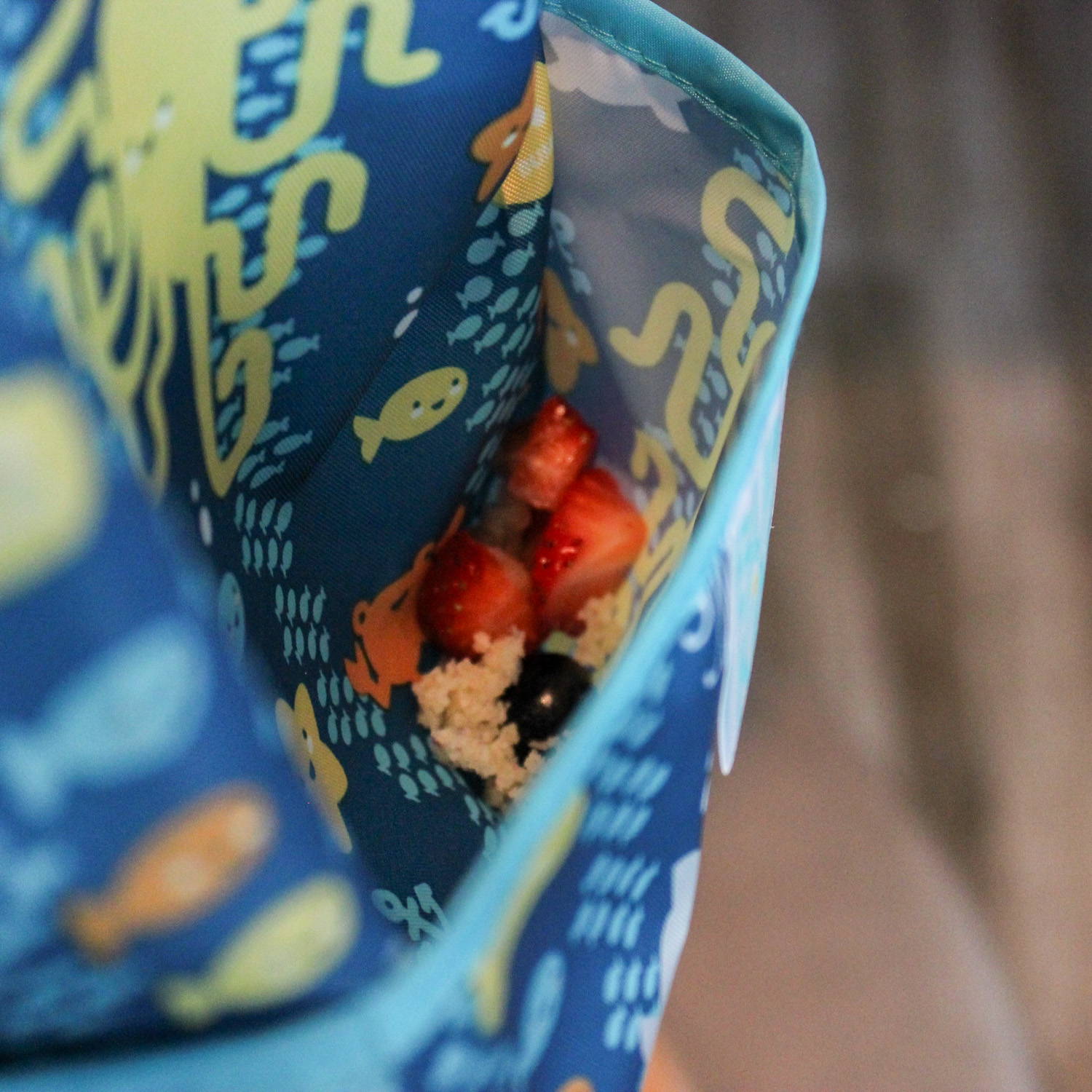 Because mealtime is messy.
Our waterproof bibs feature a handy catch-all pocket so you can spend less time digging crumbs out of the highchair. Instead, let those little ones work on those fine motor skills by digging into the crumb-catching pocket.



Because who has time to hand-wash?
At Bumkins, we're all parents. We know there's no end to the laundry, so we've made it even easier for you. So, how do you clean Bumkins bibs? Easy. Flip that pocket inside-out, fasten your aplix, and toss that bib into the washing machine. Read more washing details here.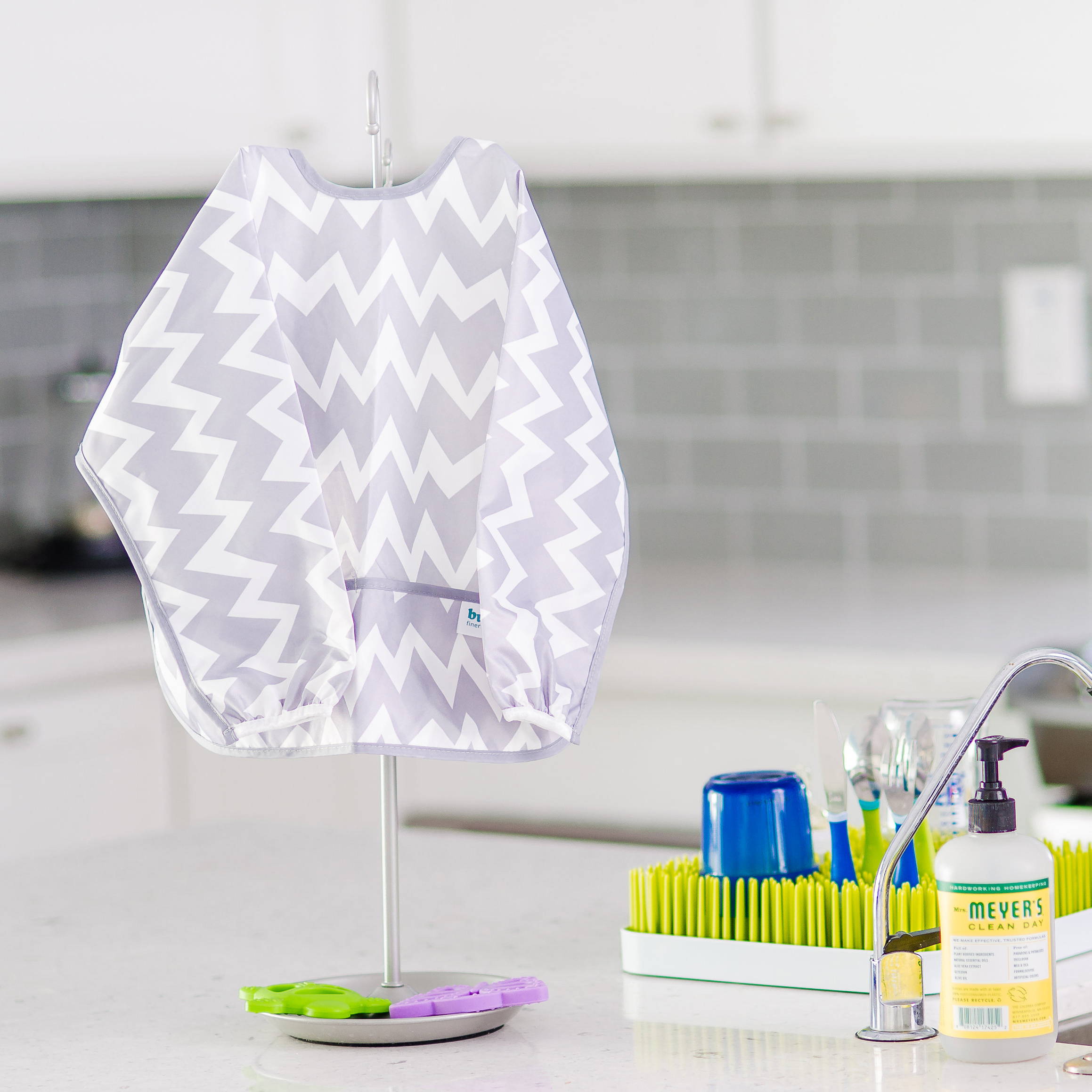 Because babies eat a lot.
Our lightweight waterproof fabric means that our bibs dry really fast*. A handy tip? Rinse and lightly wash your bib in the kitchen sink, then hang it to dry for the next mealtime.
*If you live in a humid climate, be sure your bib is fully dried prior to storing.
Helpful for both mealtime and craft time, Splat Mats help contain the mess while protecting your floor and table.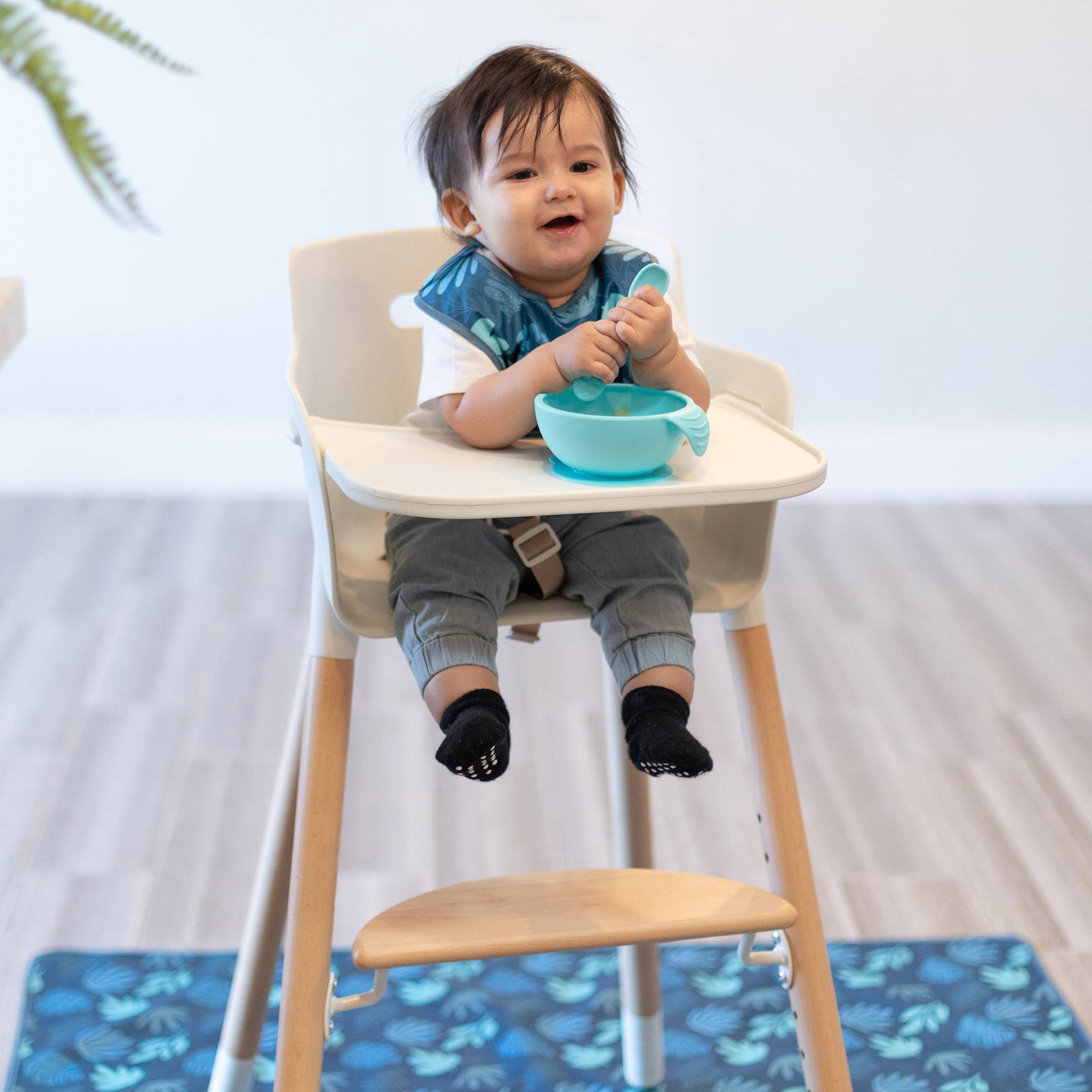 Great Underneath Highchairs
Helps to contain the dropped food
As baby begins to self-feed, you may feel that more food ends up on the floor than in their mouths! Simply place a 42 x 42" Splat Mat underneath baby's chair and mealtime cleanup will be a breeze. Our waterproof fabric keeps drips and spills from seeping through to the floor. Our machine washable fabric means you can toss the Splat Mat into the washer and you're done. It doesn't get any easier than this.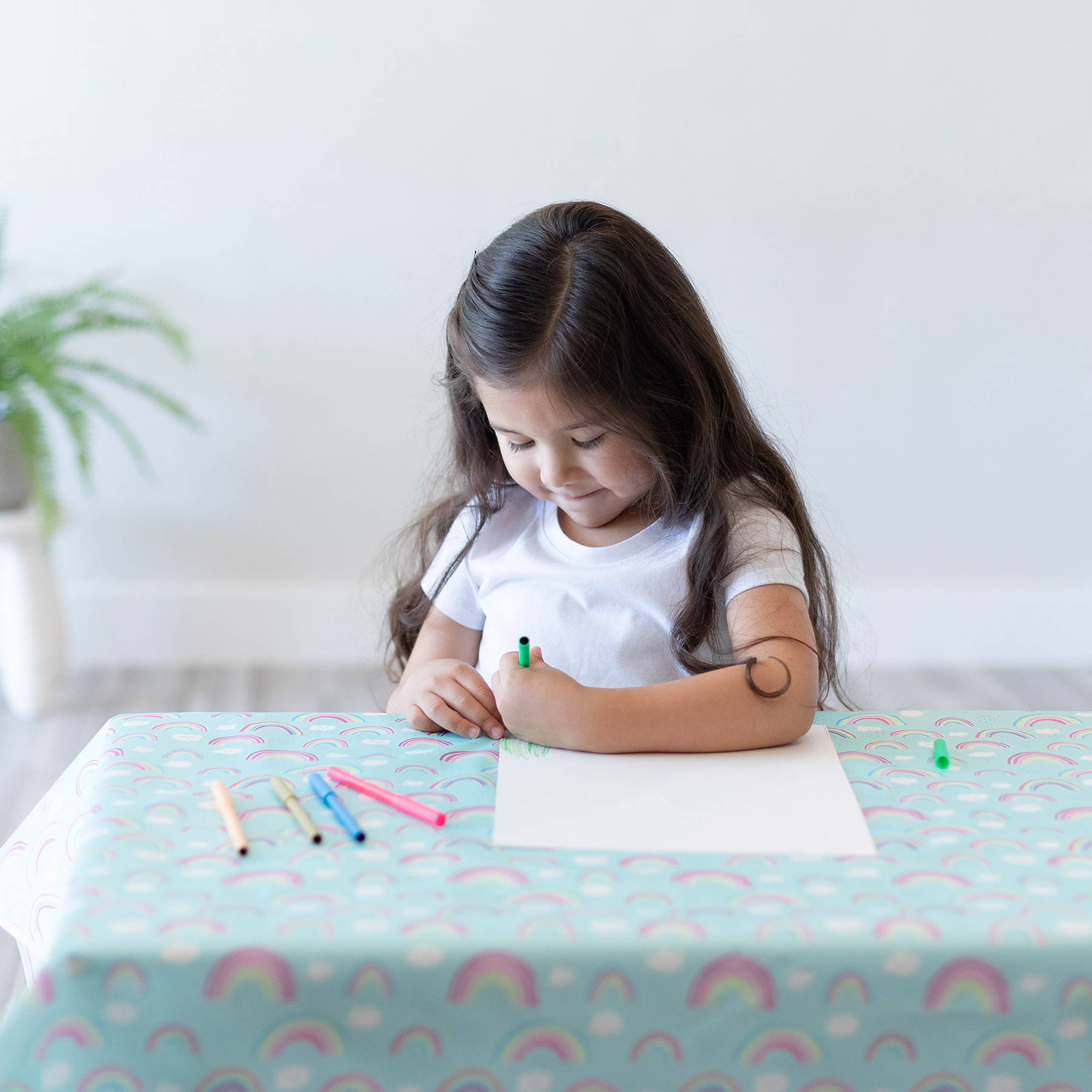 Perfect for Arts and Crafts
Protects the table and floor from paint, glue, and more
The Splat Mat has more uses beyond mealtime. Sometimes, little one's creativity goes beyond the paper - literally. Bring in the waterproof Splat Mat and your floors and tables will be protected from your little artist's drips and spills.
Great for crafts, baking, or mealtime. Our smocks are great for kids who have outgrown our standard Junior or Sleeved Bibs and still need coverage.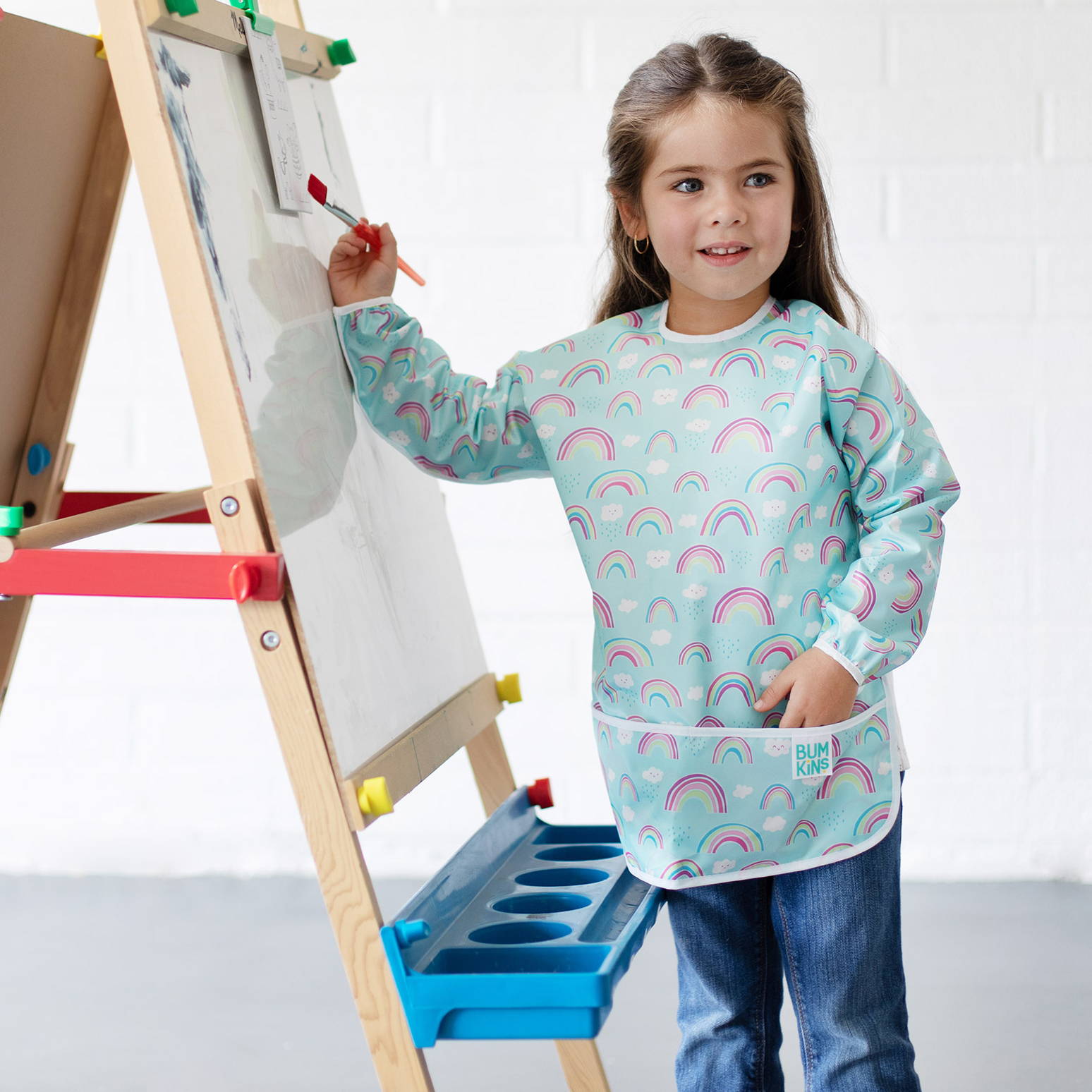 Great for crafts, mealtime, or baking
Measures 16" across chest, 17" from neck down, 40" cuff to cuff

Great for children who have outgrown our Sleeved Bib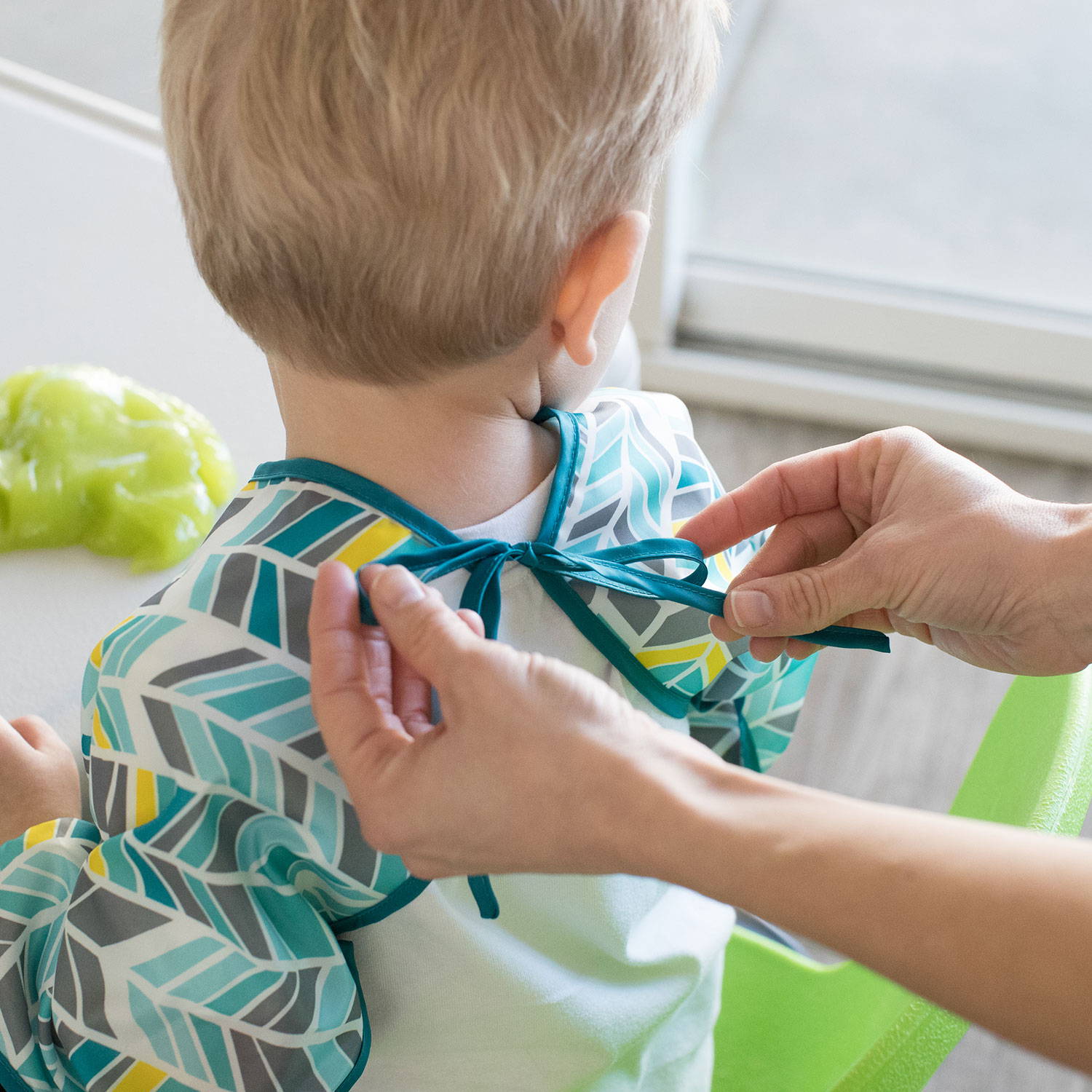 The adjustable tie closure makes it easy to adjust the smock to fit well for best coverage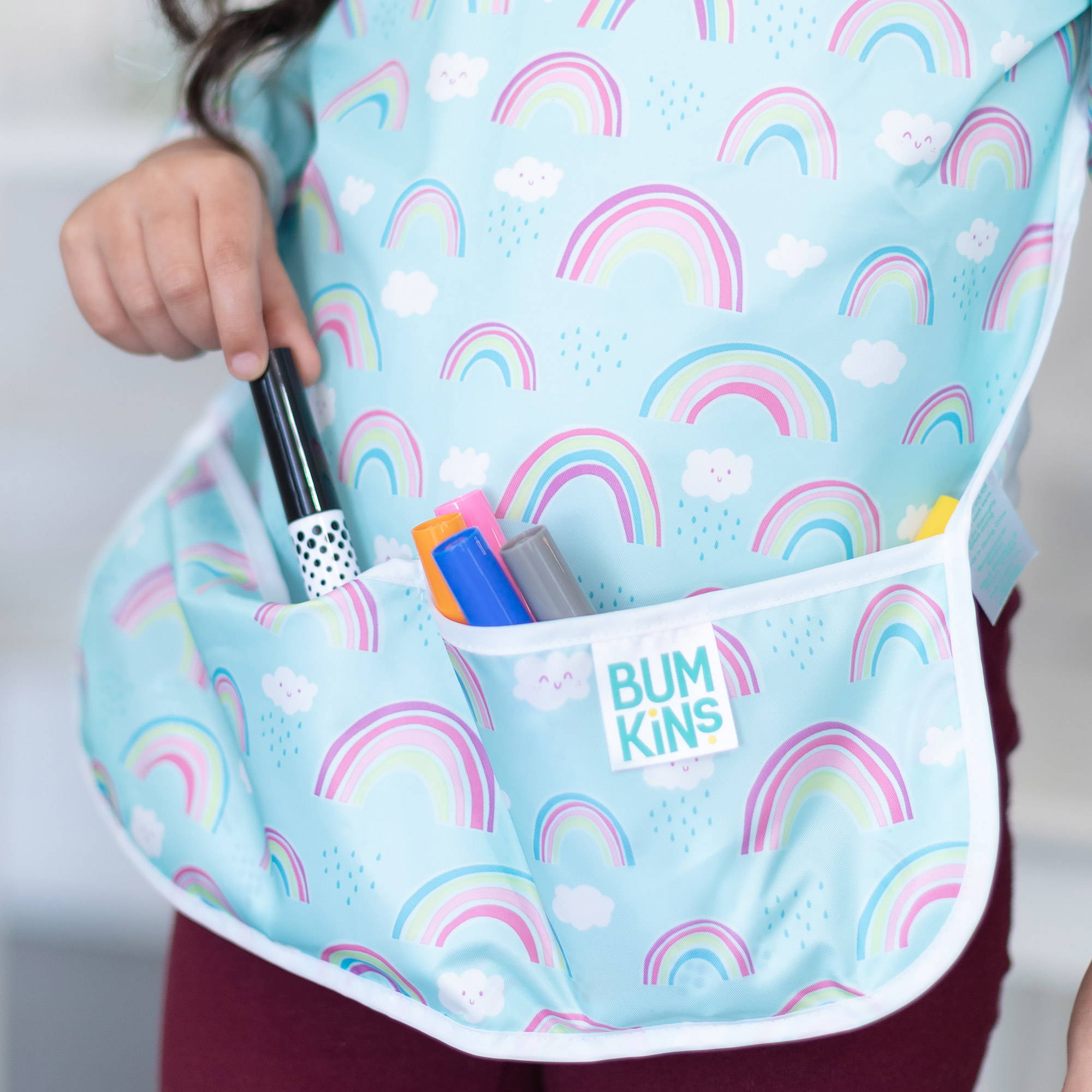 Keep those supplies nearby
Large pockets holds art supplies and catches spills
Great for crafts, mealtime, or baking
Measures 17" across, 20" from neck down

Great for children who have outgrown our Junior Bib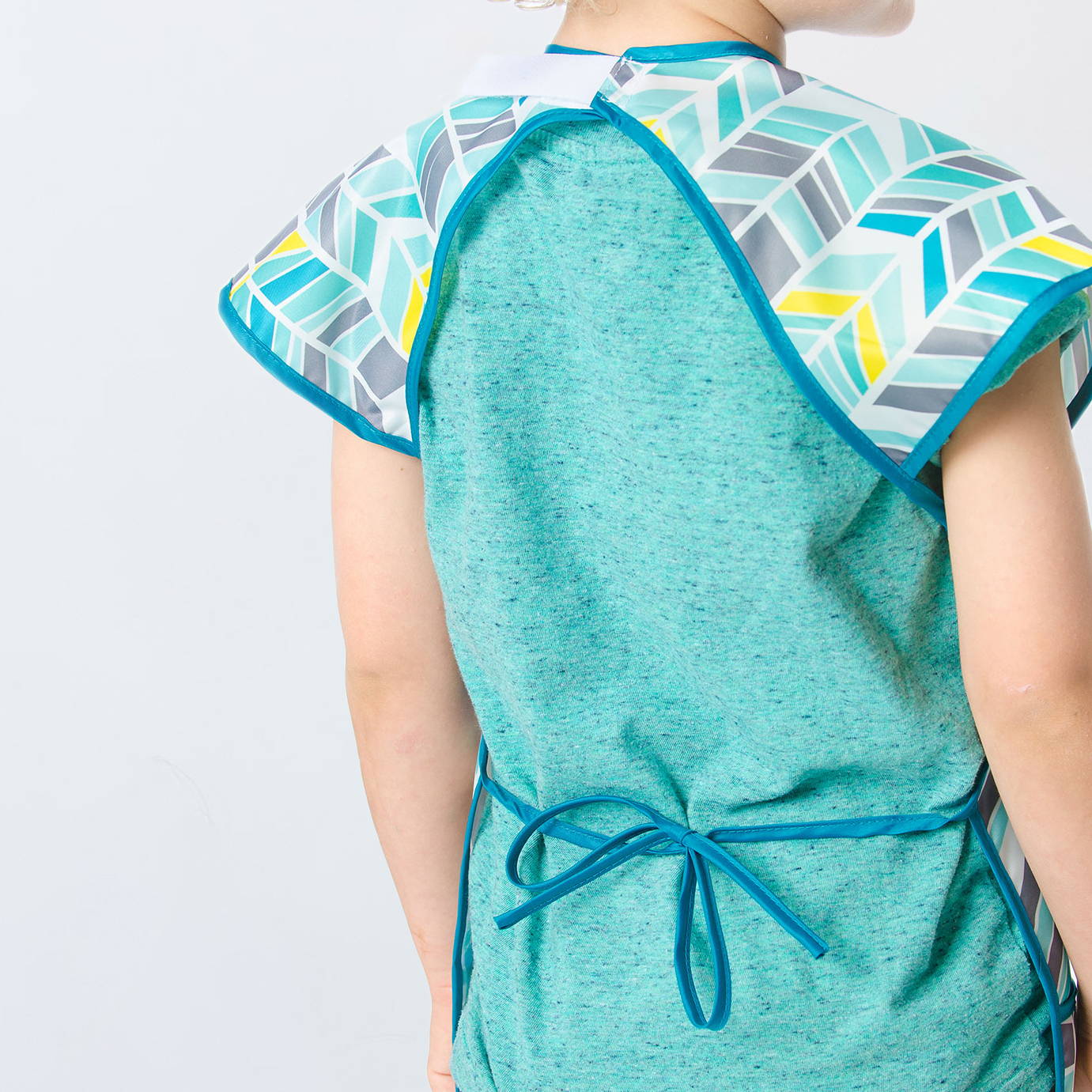 Adjustable aplix closure

Additional waist tie closure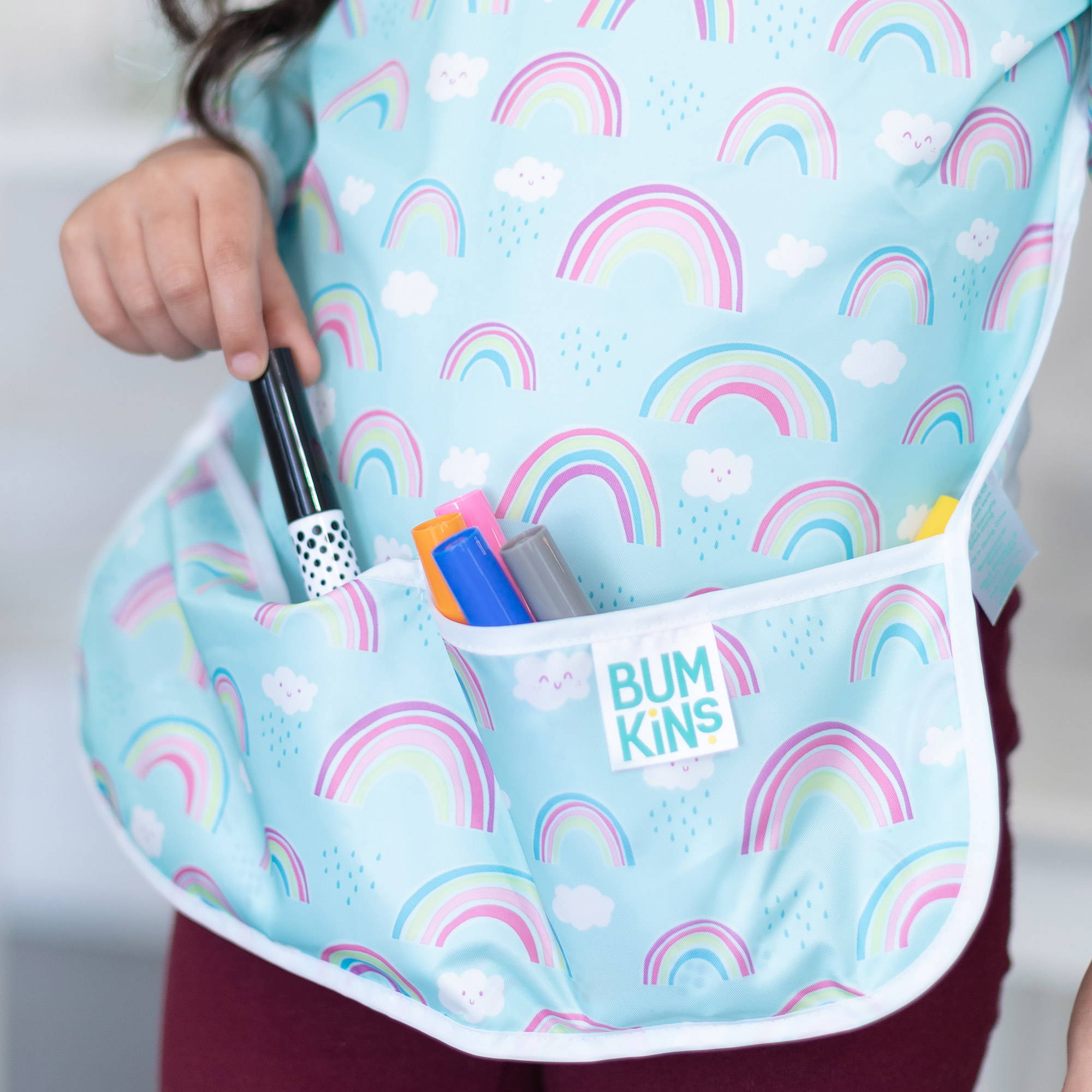 Large pockets holds art supplies and catches spills
Learn About Our Other Collections