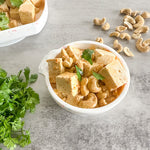 Recipe by: @kristen.carli
This Tofu with Peanut Sauce and cashews recipe is perfect for a quick, delicious, protein-packed dinner. You can easily prepare the sauce and tofu beforehand to reduce prep time.
Yield: 4 servings
Prep Time: 10 minutes
Cook Time: 5 minutes
Ingredients:
🥜 1 teaspoon olive oil
🥜 1 block super firm tofu, cubed
🥜 ½ cup chunky peanut butter
🥜 2 tablespoons soy sauce
🥜 1 tablespoon sriracha
🥜 1 teaspoon honey
🥜 ¼ cup lime juice
🥜 ¼ cup cashews, optional (choking hazard)
Method:
1. In a large skillet, add oil. Once hot, add tofu cubes. Sauté until warmed through.
2) In a food processor, add the peanut butter, soy sauce, sriracha, honey, and lime juice. Process to combine. Add a few tablespoons of water to thin to desired consistency.
3) Place the tofu in a large bowl. Add the cashews, if desired. Pour the sauce over top. Stir to combine.
4) Serve with optional cilantro garnish.