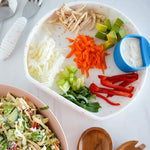 Recipe by: @athomewithastghik
Some kids might prefer a deconstructed salad versus a complete salad. When building the deconstructed salad, I like to add ingredients I know my kids enjoy and a couple (in small portions) of ingredients that might be new to them or that they're not too fond of. This way, their plate contains foods they enjoy and some for exposure purposes. 
Customize the ingredients to your and your family's liking:
🥬 add your favorite greens, whether that's cabbage, kale, or hearts of romaine. May add one, a combination of the two, or more. 
🥕 veggies like carrots and red bell peppers provide some crunch and sweetness. 
🥒 cucumbers provide a refreshing element to the salad.
🥑 healthy fats like avocados are great for growing bodies. 
🍗 cooked shredded chicken for protein and nutrients or a hard-boiled egg. 
Salad Ingredients:
▪️2 cups shredded cabbage
▪️1 cup baby kale, finely diced
▪️1/2 cup shredded carrots 
▪️1/4 cup diced red bell peppers
▪️1/2 cup diced cucumbers
▪️1 ripe Hass avocado, diced
▪️1 cup shredded cooked chicken
Method:
Add all of the ingredients to a bowl and add desired dressing.
*If serving deconstructed:
Add all of the ingredients individually to a plate with the dressing as a side.
Ranch Dressing Ingredients:
▪️1/2 cup mayonnaise
▪️1/2 cup sour cream
▪️1 garlic, finely grated using a zester
▪️1/4 cup cilantro, finely diced
▪️1 tablespoon of dill fronds, finely diced
▪️Small pinch of salt (about 1/8 teaspoon), to taste
▪️2 tablespoons of milk or more to thin it out to the consistency you like
Method:
Add the mayonnaise and sour cream to a bowl and mix with a fork to combine. Use a zester to grate the garlic and mix to combine. Add the rest of the ingredients and mix to combine. Cover and place in the refrigerator to allow the ingredients to marry or serve immediately. 
Note: If time permits, allow the mixture to sit in the refrigerator for about an hour to help enhance the flavor of the dressing.