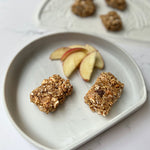 Recipe By: @my.little.food.critic
Meet your new "go-to" easy, healthy snack to fuel you and your kids! No bake, packed with protein, and made in one bowl!
 
Prep time: 10 mins
Cook time: 2 hours mins
Serves: Family

Ingredients:
1 ½ cup rolled oats

2 cups rice crispy cereal or puffed rice cereal

¼ cup milled flaxseed

¼ cup desiccated coconut

½ cup smooth peanut butter

8 tbsp honey

A handful full of chocolate chips or raisins

 
Steps:
In a bowl, combine the oats, rice crispy cereal, coconut, and flaxseed.
Combine the peanut butter and honey in a small bowl.
Add to the rice crispy mixture. Mix well.
Add chocolate chips/raisins and stir to combine.
Line a baking tray and press the mixture down firmly to pack it all in. 
Freeze for 2 hours until firm.
These can be stored in the fridge, in an airtight container for 3 days or frozen for up to 1 month.