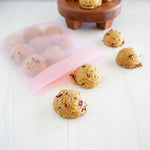 Recipe By: @athomewithastghik
Prepare a batch of these nutritious, fluffy, moist, and tasty cookie cakes to have on hand during those busy mornings. They're great to enjoy on their own or with a side of yogurt, scrambled eggs, or chia pudding (to name a few). This recipe is also great to enjoy as a snack or pack in a lunchbox.

Serves: Makes about 50 Breakfast Cookie Cakes

Ingredients
🧡1 cup old-fashioned rolled oats
🧡1/2 cup walnuts
🧡2 tablespoons pumpkin seeds, I used sprouted.
🧡1/2 cup shredded zucchini, moisture wrung out
🧡1 cup shredded carrots
🧡1 cup cottage cheese
🧡1/3 cup avocado oil
🧡1/4 cup pure maple syrup
🧡1 tablespoon pure vanilla extract
🧡2 large eggs
🧡1 cup whole milk
🧡2 1/4 cups all-purpose flour, I used unbleached flour
🧡2 tablespoons ground flaxseed
🧡1/2 teaspoon baking soda
🧡1 teaspoon baking powder
🧡1 teaspoon ground cinnamon
🧡1 cup sweetened dried cranberries, diced
Method:
Preheat the oven to 350F

Add oats, pumpkin seeds, and walnuts to a food processor and blend until they're broken down. Add the zucchini (making sure the moisture has been wrung out) and shredded carrots. Blend. Add cottage cheese, avocado oil, maple syrup, vanilla extract, eggs, and milk. Blend until smooth and set it aside.
In a separate bowl, add the all-purpose flour, ground flaxseed, baking soda, baking powder and ground cinnamon. Mix to incorporate. Add the wet ingredients from the food processor to the flour mixture. Stir to combine. Add the diced dried cranberries and fold them into the batter.
Using a 1 1/2 tablespoon cookie scoop, scoop the batter onto a baking sheet lined with unbleached parchment paper, making sure to leave some space in-between each cookie.
Bake for about 12 minutes or until a cake tester or toothpick comes out clean when inserted in the center of the cakes.
Let them sit on the pan for 5 minutes to cool slightly, then transfer them to a cooling rack to cool completely.
I like to keep my Breakfast Cookie Cakes in an airtight container in the refrigerator.

❄️ How to freeze the Breakfast Cookie Cakes:
Lay the cookie cakes in a single layer on a baking sheet and flash-freeze them for about an hour.

Transfer the cookie cakes to the reusable silicone bag and keep them in the freezer for about 3 months.

When ready to serve, remove the amount of cookie cakes needed and place them in the refrigerator to thaw overnight.
Storing these tasty cookies is a breeze with Bumkins Silicone Flat Reusable Bags. They're perfect for keeping your breakfast treats fresh in the fridge or freezer!