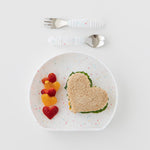 This week, Kristen Carli of @kristen.carli, MS, RD, talks about the importance of feeding your littles a healthy and balanced diet and shares her favorite items to keep stocked in her kitchen.
As a registered dietitian and mom to a 14 month old, I try to feed my son a healthy, yet balanced diet. I aim to offer a variety of food groups each and every day. This is in an effort to provide a balance of nutrients as well as the exposure to many types of food before the inevitable picky eating stage arrives when he reaches age 2.
Division of Responsibility
I believe in Ellyn Satter's Division of Responsibility, which states that the parents are responsible for what is being fed, but the child is responsible for whether or not they choose to eat and how much to eat. This means I do not force him to finish his plate or eat all his veggies before I offer dessert. Instead, I simply let him listen to his innate hunger and fullness cues to guide his eating.
Repeat & Frequent Exposures
Additionally, exposure is key when feeding kids. It's our job as parents to continue to offer many types of foods to children, even if they show repeated disinterest. This means, don't be discouraged when your child refuses broccoli. Research shows that it can take up to 15 repeated exposures for a child to eat a certain food.
Toddler Meals
When building a toddler meal, it's best to offer a protein, starch, and a fruit and/ or vegetable.
For most meals, I strive to give my son what my husband and I eat, as long as it is in a manageable texture and free of choking hazards. That being said, as a 14 month old, he goes to bed very early, often before my husband and I eat dinner. As a result, we frequently have to throw together a toddler dinner separate from our own, quickly before the nighttime routine begins.
If you are looking for a quick toddler meal that is easy to prepare, I've got you covered. Here are my favorite foods to keep stocked in my kitchen to build into a complete toddler meal.  
Protein:
Pre-cooked sliced chicken

Extra firm tofu

Canned beans (chickpeas, black beans, kidney beans, etc.)

Canned lentils

Hummus

Nut butter (peanut butter, almond butter, sunflower seed butter, etc.)

Frozen salmon
Starches:
Whole wheat pasta

Whole wheat bread

Chickpea/ lentil pasta

Pancake mix (Ideally, one with protein like Kodiak Cakes)

Peanut butter puff snacks

Instant brown rice/ quinoa pouches

Whole wheat tortillas

Oatmeal

Frozen potatoes (hashbrowns, hashbrown patties, tater tots, etc.)
Fruit/ Vegetables:
Pineapple

Berries (blueberries,

Stone fruit (pitted cherries, peaches, plums, etc.)

Canned fruit

Canned vegetables (corn, green beans, potatoes, carrots, peas, etc.)

Freeze-dried fruit

Dehydrated snap peas snacks
Sauces:
I've found that my son will eat anything if it is dressed with either marinara sauce or pesto. If you are struggling to get your child to eat a food, try stir it with one of these sauces. You might be surprised! (Tofu with pesto is one of his favorites!)
Pesto

Marinara

Salad dressing (ranch, italian, balsamic, etc.)

Mild salsa