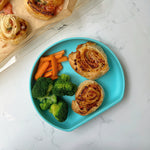 Recipe By: @my.little.food.critic
What's not to love about pizza in all forms? These pizza rolls are perfect for quick and easy lunches, dinners, and can even be made in batches and frozen for up to 2 months.
Prep: 10 mins
Cook: 25 mins
Serves: 6 servings
Ingredients:
1 sheet puff pastry (or use pizza dough)
10 tbsp pizza sauce
Pizza toppings of choice
1 cup grated mozzarella or cheddar
1/2 tsp oregano
1 egg or 4 tbsp milk
 Steps:
Preheat oven to 200°C/400°F and line a baking tray with parchment paper
Roll out the pizza dough or puff pastry. Spread the pizza sauce evenly over the dough.
Top with the cheese and oregano. Next, sprinkle over your toppings of choice.
Tightly roll the pastry, starting at one end.
Cut the pastry roll into slices (roughly 1 inch thick) using a sharp knife. Brush the rolls with egg wash or milk.
Place onto the baking tray and bake for 20-25 minutes until golden brown.
Allow to cool slightly before serving.
These can be stored in an airtight container in the fridge for 3 days or frozen for up to 2 months.