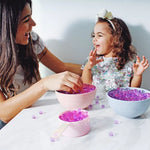 If you're like us and enjoy a good insta-scroll, you've probably seen the viral hygiene video a Miami pre-k teacher found on TikTok to teach her young students about the importance of handwashing. It's just one of many ways the global community has gathered to help parents adjust to life during stay-at-home orders by flooding the internet with ideas on indoor activities, organizational tips, recipes, and homeschooling tools.
(in case you missed it 😉)
We've tapped into our community made up of parents, caretakers and mommy influencers to curate a list of their favorites in addition to free subscriptions and services businesses are offering to help keep families safe and sane during this unprecedented time.
Get Your Little Yogi on the Mat Early
Is your family feeling a bit restless and cooped up? A good stretch and meditation might be just the medicine. Last week, we partnered with our friends and certified children's yoga instructor Krystal Gagnon of @happy_omyoga to bring you an Instagram live Q&A on yoga and mindfulness for your littles! We addressed audience questions, common concerns, and learned the benefits of early yoga practice in developing key coping, emotional, and social skills.
The Q&A was a lead-in to two upcoming free children's yoga classes that Krystal will air on IG live via @Bumkinsbaby on Wednesday, April 1 and again on April 8 at 10 a.m. PST.  
#operationstorytime
Celebrities, comedians, and beloved children's authors have taken to Instagram and YouTube to read trending titles and stories live, using the hashtag #operationstorytime. So far, notable narrators include James Dean who shows fans how to draw Pete the Cat, Frozen's Josh Gad (voice of Olaf) reading new titles daily, and Jennifer Garner reading Jan Brett's The Mitten among many others. Just search the hashtag and snuggle up for storytime with familiar books and friendly faces.
Virtual Field Trips to the Zoo & Other Fun E-Museums
You may not be able to walk through your local children's museum or zoo but it doesn't mean the exhibits are closed. Many museums and zoos are offering free virtual tours to enrich little lives through cuddly animals, culture, and art while helping to contain the spread of Coronavirus. And they aren't only great ways to keep restless kids busy, according to a recent Time article, "museums also play a crucial role in creating a more empathic world."
Littles will love the trending journey of the penguins touring Chicago's Shedd Aquarium (seen above) in addition to other virtual field trips featuring turtles and sharks for ages k-8.
The San Diego Zoo and Discovery are also offering great at-home activities and exhibits featuring rhinos, polar bears, and a whole bunch of adorable craft ideas and skill-development labs.
Another healthy distraction for both parents and littles, you can also use Google's museum map to tour local exhibits you've been meaning to visit or take a virtual trek to one of the hundreds of others all over the world. 
Home "work" Your Littles Will Love
Age of Learning's ABCMouse & Adventure Academy are FREE for a month
Mom & Teachers Choice Award Winner, ABC Mouse's is a subscription-based digital education program for kids ages 2-8 that typically costs $9.95/month or $79.99/year. Its ticket-earning system is appealing to early learners as they move from level to level. Adventure Academy is an educational MMO game for kids ages 8-13 that merges learning and connective gaming. 
The younger version of a popular at-home early learning tool that offers on and offline lessons to help kids and toddlers stay on track with their early education through fun and engaging activities. 
"At the heart of every BrainPOP Jr. topic is a playful animated movie that builds knowledge in meaningful and playful ways about a concept your child is learning in school."
For older kids, you can even find lessons that coincide with your individual state's education requirements. Here's a direct link to their activity idea doc for kids K-2. 
Kinedu is offering FREE access to all of its 1,800+ science-based activities for littles up to four years old until April 15! "Kinedu helps parents with creative and age-appropriate activities that support baby's development from pregnancy to 4 years old."
Amazon's Future Engineering Program is Free for students and teachers!
Scholastic is offering a great selection of free online learning tools.
Sensory Exploration
Break out the sensory activities! According to former elementary teacher and play-based learning mommy blogger Angela of @runlikekale, "By providing a variety of baby-friendly, open-ended activities through various every-day materials, your child has the opportunity to discover how their senses work through imagination-based play and new experiences." We've compiled some of our favorite sensory play recipes and ideas from our inventive Bumkins moms, bloggers, and contributors:
Recipes & Cooking With Kids
Jessica Lehmann, Registered Dietician-Nutritionist says, "Cooking with your child can be an adventure, a gift, a chance to learn; it can be an opportunity for science education, math practice, language development, and learning to work as a team. Best of all, kitchen playdates can be about creating happy memories in addition to delicious and nutritious food for the family." 
Read the heartwarming story of how her son went from barista to eager eater and check out two of our most popular BLW recipes + a quick how-to video for Lasagna-Stuffed Zucchini from mommy and content creator Annie DeLeon, founder of @deleoncreates: 
Sneaky Veggies Spinach Cookies Astghik of @athomewithastghik
4 Ingredient Turkey Sticks Alicia of Lollygag Learning
Jamie Grayson's Virtual Trivia Night
It's been a stressful month. You could use a fun evening and some free prizes to take your mind off things. Jamie Grayson, New York's most theatrical baby gear expert, is answering the call with a sure-to-be entertaining virtual trivia night! Be sure to follow his Facebook for the date, theme, and more exciting prize details in the coming days.
For a chance to have your own ideas featured on our blog tag #Bumkinsbaby and @Bumkinsbaby on Instagram.  Stay tuned for fresh content including pro tips for maintaining healthy routines outside traditional school and work settings.