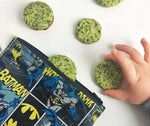 Hello! My name is Astghik, and I am a mom to my 2-year-old son. I enjoy preparing healthy meals and snacks for my son which I share on my Instagram, @AtHomeWithAstghik.
My goal is to expose him to a variety of nutrient rich foods so his palate will be accustomed to them throughout his life. We are in the "picky eating stage" now and he's not always interested in what I put in front of him, which is fine, but I continue to offer and continually expose him to these foods. This will allow him to make healthy food choices that he is familiar with as he grows.
I also like to treat him to healthy snacks. He likes fruit with chia seeds and unsweetened coconut chips, fruits with yogurt, steamed/roasted/raw vegetables, or healthy dessert snacks like these Spinach Cookies.
These spinach cookies are very easy to make and only require 4 ingredients. The main ingredients for these delicious cookies are almond flour and spinach. My son is a huge fan of these cookies. In addition, we enjoyed these cookies in two forms-on its own and in the form of a sandwich cookie with fruit compote. The recipe for the fruit compote is provided below as well.
Bumkins Batman Snack Bag 
Recipe
Spinach Cookies
Makes about 1 dozen medium sized cookies or 2 dozen small sized cookies
Ingredients:
1 1/2 cups almond flour
1 cup packed spinach
2 tablespoons maple syrup
2 tablespoons of oil of choice, I used avocado oil
Instructions:
Preheat the oven to 350 degrees Fahrenheit.
To a food processor, add the almond flour and the spinach. Pulse or blend until the spinach is cut into fine pieces. Transfer the almond flour/spinach mixture to a bowl and set it aside. Your dry ingredients are ready.
To prepare the wet ingredients, add the oil and the maple syrup to a small bowl. Using a fork, whisk the 2 ingredients to combine. Add the oil/maple syrup mixture to your dry ingredients. Mix to combine. The dough should stick together when pressed between your fingers and not fall apart.
Line a baking sheet with unbleached parchment paper. Using a spoon or a cookie scoop, add 1 1/2 tablespoons of the cookie dough to the baking sheet for medium sized cookies or half of that for small sized cookies. Flatten the cookies to your desired thickness. There aren't any leveling agents in these cookies so the thickness of the cookies depends on how they are formed. Bake for 10-15 minutes (depending on the size of the cookies) or until they are done and the bottom and sides of the cookie starts to turn a golden color.
Transfer them to a wire rack to cool. Enjoy.
For the sandwich cookies, I spread some Apple and Pear Compote on the flat side of one cookie and topped it with another cookie to form the sandwich cookie.
Products shown in picture:
Bumkins Batman Snack Bag
Bumkins Batman Costume Sleeved Bib
Apple and Pear Compote
Ingredients:
1 pound of apples (I used organic Gala apples)
1 pound of pears (I used organic D'Anjou pears)
1 tablespoon of freshly squeezed lemon juice
1/4 teaspoon of ground cinnamon
Instructions:
Wash, peel, and core the apples and pears. Cut them into chunks and place them in a pot. Add the water, lemon juice and ground cinnamon. Stir and cover it with a lid. Allow it to cook, stirring frequently, over medium-low heat until they are soft, about 10-15 minutes. Transfer it to a plate or a bowl and mash it with a fork until you reach a desired consistency.
I placed the cooked apples and pears in a blender and blended it till it was pureed. Then, transferred it to a glass food storage container, added 1 tablespoon of chia seeds, allowed the mixture to cool, covered it with its lid and placed it in the refrigerator to set for a few hours or overnight.
Enjoy it with the cookies, oatmeal or over toast.
For another nutritious and delicious recipe from Lunches and Littles click here.