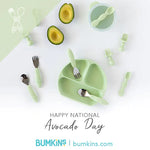 The time Hass come! It's National Avocado Day! To celebrate, we've included two of our most popular avocado recipes. Plus, key health benefits for little ones and a few of our favorite "'cado" facts, cool uses, and prep tips! 
Tips For Picking, Ripening, and Storing Avocados
"Not yet. Not ripe. Still not. Eat me now! Too late."  - Avocado
Choosing Avocados That Are Ready to Eat 
Scouting ripe avocados for your famous guac is about the feel and color. Bright green skin usually means the avocado needs time to ripen. So instead, look for ripe avocados with dark green bumpy skin and softly press them in your hand (not too hard to avoid brown spots).
If the avocado has a little give, it's likely ready to eat. If it's mushy, it's overripe.
Another easy way to test for ripeness at home
 is to pull off the stem or remaining portion on the top of the avocado. If it's easy to pull off and green underneath, it's ripe for eating!
Want to ripen your avocados faster? 
Place your near-ready avocados in a sunny spot to naturally ripen at room temperature, or put them in a brown paper bag with bananas for faster ripening. Both fruits produce ethylene gas, which gets trapped in the bag and speeds up the process!
Need to slow down ripening or preserve cut avocado?
Cold slows down ripening, so pop your whole avocados in the fridge to extend their use. Suppose you've already sliced into one and want to slow browning? Put them in a sealed container with the seed in to act as an added barrier + try one of these popular freshness hacks:
Add a little coating of lemon juice (a natural preservative!) to the surface.

Brush your avocado with an olive oil barrier before storing. 

Store it with an onion in a sealed container (The sulfur from onions is said to slow down browning). 
Save Your Superfood Scraps! 
Use leftover avocado skins to

create a natural pink dye

! A creative, super easy activity for naturally coloring clothes with littles!

Turn the pits into powder

for shampoo, face masks, smoothies, tea, and more! 

Start an

avocado tree from the seed

in a jar of water. If you don't live in the ideal climate or have room in your home for a fruit-bearing avocado tree, watching the pit sprout can still be a fun learning project for littles! 
Did You Know Avocados are a Fantastic First Food?
Avocados contain essential fat, nutrients, and vitamins that aid early childhood development. Research shows they "provide an ideal source of energy (high in healthy unsaturated fats and low in sugar) to meet the increasing energy and growth demands of weaning infants and toddlers." In addition, allergy occurrences are rare, and their soft texture makes them easy for babies to eat! 
(Our first feeding set is perfect for mashed avocado!)
And they are good for you too! A new 30-year study by the American Heart Association (AHA) shows that higher avo intake in participants correlated with lower cardiovascular and coronary heart disease levels!
2 Easy Avocado Recipes to Celebrate National Avocado Day!
These Avocado Fries are easy to make and great to serve as a snack or a side. The breadcrumb/Parmesan cheese outer coating makes them extra crispy, while the avocado provides a soft and creamy interior. 
A savory treat requiring minimal effort — this avocado mousse is rich, silky, decadent, and loaded with vitamins, minerals, and antioxidants.
What's your favorite way to eat or use avocados? We want to know! Please share with us @bumkinsbaby, using the #bumkinsbaby.