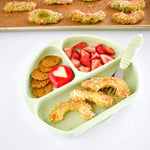 Recipe By: @athomewithastghik. 
These Avocado Fries are easy to make and are great to serve as a snack or as a side. The breadcrumb/Parmesan cheese outer coating makes these avocado fries crispy. Yet, the avocado helps provide a soft and creamy interior.

You may serve them with hummus, ranch dressing, or your favorite dip/spread. 
Served here with Sweet Potato crackers, cheese and diced strawberries.

Ingredients:
🥑 2 ripe Hass Avocados
🥑 1/2 cup all-purpose flour
🥑 1 teaspoon Old Bay seasoning
🥑 2 teaspoons garlic powder
🥑 1 tablespoon onion powder 
🥑 1/2 teaspoon sweet paprika
🥑 1/4 teaspoon salt, optional
🥑 2 large eggs
🥑 1 cup Panko bread crumbs
🥑 1/2 cup grated Parmesan cheese
Method: 
🥑 Preheat the oven to 400F
🥑 To one bowl, add the flour, Old Bay seasoning, garlic powder, onion powder, sweet paprika, and salt. Mix it with a fork in a whisking motion to help incorporate the ingredients. (Make sure the flour and spices are well combined). Set it aside. 
🥑 To a separate bowl, whisk two eggs and set them aside.
🥑 To the final bowl, add the Panko breadcrumbs and the grated Parmesan cheese. Mix well to combine and set it aside.
🥑 Cut the avocado in half, carefully remove the pit, remove the skin and slice the avocados.
🥑 Gently coat both sides of the sliced avocado in the flour mixture, then transfer it to the egg mixture. Coat both sides and finally move it to the breadcrumb mixture. Coat both sides and transfer it to a baking sheet lined with parchment paper (the parchment paper helps with easy cleanup).
🥑 Spray the coated avocados with oil (I used avocado oil) and bake them in the oven for 10 minutes. Then, turn the avocados to the other side and bake for an additional 5-7 minutes or until they're golden brown.
Allow to cool and enjoy.