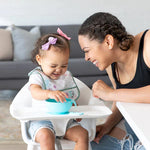 Decades of successful design and development have taught us that good products don't need complex parts to work well, especially when it comes to feeding. From our award-winning bibs to our popular baby-led weaning solutions, we pride ourselves on creating sustainable feeding products that give parents peace of mind, so you have more time to focus on the good stuff, like belly laughs and their first steps.
"When listing off some of the greatest innovations in modern parenting, many would likely nominate the forehead thermometer, those things you can put in your dishwasher to keep your wine glasses from shattering, and Bumkins." — Romper
To make it easier to navigate, we've broken down our feeding essentials by stage, age, and method, highlighting some of our favorite features, so you can find the right gear to support your little's feeding journey. 
When it comes to baby's first foods, there are two methods of introducing solids. The traditional method includes baby being spoon-fed purees by an adult, in contrast to the Baby-Led Weaning method, which consists of skipping purees and giving baby finger foods that the family is eating at mealtime.
No matter the method you choose to start with, we've got the gear you need to help your baby advance along their feeding journey! 
Check out gear tailored to the traditional method of starting with parent-led feeding and purees:
First Food's

Gear Sized for 3 to 9 months:
The smallest of allest, our Starter Bib is sized to fit above the highchair tray, keeping those messy purees off baby's clothes, making these bibs ideal for baby's first feeding bib. With our waterproof fabric, these bibs are perfect for ages 3-9 months while baby is experimenting with their first foods. 
Soft, adjustable closure that's comfy and grows with your baby

Catch-all pocket for those drips and crumbs

Sized 8" across and 6" long

Machine or hand wash; air dry completely before storing

BPA-free, PVC-free, vinyl-free, phthalate-free and lead-free
Baby's First Spoons:

 

Silicone Dipping Spoons

 

made to grow with your little!
Introduce baby to purees with this set of silicone starter spoons.
For ages 3 months and up

Comes in a set of three (in case one ends up on the floor)

Sized for baby's small mouth

Double-ended to grow with baby—one side for dipping into purees, the other for scooping.

100% food-safe platinum Silicone is  soft and gentle on gums
First Food's Gear Sized for 6 to 24 months:
SuperBib® (The OG, classic feeding bib)
Good Housekeeping named it the #1 bib out of "12 Best Baby Bibs to Buy in 2021, According to Textile Experts and Real Parents".
Once baby has outgrown our Starter Bib, you can size up to our original waterproof feeding bib, the SuperBib. 
SuperBibs have a soft, adjustable closure, so baby's comfortable 

and a catch-all pocket for crumbs. 

Sized 10" across and 9" long.
Made with our signature waterproof fabric, these bibs are perfect for ages 6-24 months. (Once your baby has graduated from the traditional feeding method with purees and baby starts self-feeding, we recommend using the Sleeved Bib for full arm-length coverage.)
Silicone Bib (Structured Shape and Waterproof)
Bumkins Silicone Bibs are soft, flexible, and waterproof. 

They are made from bacteria-resistant, food-safe platinum silicone. 

Adjustable closure for more comfortable wear 

Stay-open, catch-all pocket for food that doesn't quite make it to baby's mouth. 

Easy-to-clean and wipe makes clean up a breeze. 

Sized 8" across and 7" long,
Now you can suction your bowl straight onto baby's tray while introducing those first bites of purees. 
Our Silicone First Feeding Set, made from 100% food-safe platinum silicone, helps you to introduce solid foods and transition your baby to the next feeding stage.
The suction base keeps the bowl from sliding or flipping over.

The easy to grip double-end Dipping Spoon grows with baby – one end is for dipping into purees and the other for scooping solid foods.

The bowl is designed with a curved handle so you can hold and help with feeding.

The set includes a clear silicone lid with a secure fit.
We know that Baby-Led Weaning can be messy, but these mealtime must-haves will keep it fun while reducing clean-up. Learn more below about the essential gear tailor to the Baby-Led Weaning method:
Sized for ages 6 to 24 months

Full waterproof coverage so wet foods won't seep through. 

Long sleeves mean more outfits saved

Made from our

signature waterproof fabric

. (Tried and true for over 30 years)

Measuring in at 14" across and 13" long, featuring full-length sleeves for added mess protection.
Grip Dish (Keeping their plate in place)
For ages 6 months and up

A strong suction base ensures the dish stays put – even with the most aggressive toddler!

Sections are sized just right for toddler portions

Oven safe up to 400°F/204°C

Dishwasher-safe (top rack) for easy cleanup

BPA-free, PVC-free, phthalate-free, and lead-free
Learn more about what makes our grip dish so unique!
Silicone Chewtensils®
Designed for ages 6 months and up, Bumkins Chewtensils are designed to introduce young babies to the concept of utensils and self-feeding.
They are perfectly sized for little hands making these more comfortable for babies to grab and gives them more control, helping them develop fine-motor skills.

Ventilated shield for added safety to prevent gagging or choking

Made from 100% soft and durable food-safe platinum silicone

Feature a rounded handle that is easy for babies to hold
Waterproof Splat Mat (save your floors and catch the mess!)
Great Underneath Highchairs

Helps to contain the dropped food

42 x 42" covers the floors underneath baby's chair and then some. 

Waterproof fabric keeps drips and spills from seeping through to the floor. 

Machine washable fabric means you can toss the Splat Mat into the washer, and you're done. It doesn't get any easier than this.
Want to learn more about baby-led weaning? Check out our BLW quick guide for tips on getting started.
Once baby has graduated from first foods/purees or the Baby-Led Weaning stage of feeding, they are ready to start feeding themselves. This new self-feeding stage can be quite messy!
Learn more below about the essential gear ready to save the day (and mess!) with your self-feeding explorer.
Junior Bib (The perfect toddler bib)
Sized for 1 to 3 years

Full Waterproof Coverage

Measuring approximately 15" across, 14" from neck down, and 16" sleeve to sleeve
Silicone and Stainless Steel Spoon + Fork Sets (Unique features to encourage learning)
For ages 18 months and up, Bumkins Spoon + Fork Set is designed for the child who has mastered Chewtensils and is ready for the next step. 
Made with stainless steel coated with soft and grippy silicone

The fork features curved tines that help children pierce and hold food.
As an experienced eater, your little one is likely a few years old. While they've mastered all the techniques of self-feeding, messes are still an everyday occurrence. Here at Bumkins, we have ensured a bib for every stage — including kids up to 7 years.
Learn more below about our essential gear for your experienced eater:
As your little one grows up, their growing bodies need more food -- even though sometimes, their eyes are still bigger than their bellies. Our new 5 Section Grip Dish + Lid Set is here to feed those growing tots, allowing for larger portions.
Don't worry; this larger dish still has our signature stay-put suction base.
If your little one has outgrown our Sleeved Bib but still needs a bit of coverage, you can size up to our Long-Sleeved Smock. The big brother to our Sleeved Bib, our Long-Sleeved Smock has all the same great features as our loved Sleeved Bib, including the adjustable tie closure and gentle elastic cuffs.
Sized for 3 to 5 years

Doubles as an extra-large Sleeved Bib for added protection when you need it. 
If your little one has outgrown our Junior Bib but still needs a bit of coverage, you can size up to our Short-Sleeved Smock. The big brother to our Junior Bib, our Short-Sleeved Smock has all the same great features as our Junior Bib, including the adjustable neck closure, and also features an additional tie waist closure.
Sized for 3 to 7 years

Doubles as an extra-large Junior Bib
Raising littles means you're on the go a lot! Thankfully our food-safe reusable snack bags mean you can take those bites along for the ride. Whether it's a trip to the park or you're packing your little one's lunch, our snack bags come in a wide range of colorful prints featuring beloved characters and designs!
Learn more below about the essential gear for your on-the-go feeding adventures:
Super-Sized SuperBib® (An extra-long version of our loved SuperBib)
Sized for 6 to 24 months

Attaches over the back of the shoulder for a quick, adjustable, and tug-proof fit for wiggly toddlers. 

A handy crumb catcher/catch-all pocket for containing spills
And Don't Forget Our Small and Large Snack Bag Sets!
By popular demand, our loved snack bags come in a convenient three-pack set. Recently included in the Daily Mom's cool supply list for 2021, these snack bags are available in our licensed designs, sure to jump-start your lunch packing game. 
Small bags measure 3.5 x 7", large bag measures 7 x 7"

Convenient 3 Pack Set (

Two smalls and one large)

Our smooth zipper allows toddlers to easily open/close their snack bag and crumbs won't clog the zipper.
Want some tips on how much to feed your littles by age and when? Check out this helpful feeding guide from Pegah Jalali of @pediatric.dietitian!