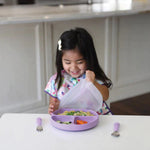 At Bumkins, we spend a lot of time thinking about plates. It might sound strange, but someone has to. We use them in our homes every day. (Disclaimer: If you eat straight out of the container, we do not judge you).
And a big part of our job is creating sustainable products that make your day to day more manageable, especially when it comes to feeding littles. So, yeah. We've got children's plates on the brain. 
What goes into designing our toddler and baby plates?
When designing a new toddler plate, we address our own mealtime pain points and parenting wishes in those "I wish there was a plate that…" moments. We assess the materials and the effects present or future they have on kiddos and the environment.
We consider how they feel in little hands, how easy they are to cook or clean, and the portions they create. We even think about the colors you want in your kitchen because there's no reason kid's dishware needs to clash, right? 
We look at plates and the potential for greatness in each one of those little dividers...okay, okay. Maybe not that far...
Our plate wunderkinds recently suggested a fresh idea, a plate with more options, something with a lid perhaps?
*Drum Roll Please* 
We are excited to announce the arrival of our 5 Section Silicone Grip Dish AND Lid set in our most popular colors: grey, marble (when you're feelin' fancy!), lavender, and blue! Plus, the latest iteration of our classic 3-section Grip Dish now comes paired with a cover!  
Not just for looks, get a behind the scenes peek at what makes these plates so awesome:
Start by checking out our quick IG Live launch party for an up-close look at the new 5-section Grip Dish. Co-hosted with the always entertaining and lovable baby gear expert @thejamiegrayson, stay for his up-leveled meal ideas, including dips & adults bevs 🍹!
If You Like it, Then You Better Put a Lid On It
Let's talk lids. So, aside from the obvious perk of covering food, we've found that these silicone lids take an essential step out of meal prep. You can now prep tomorrow's breakfast or lunch directly in your dish, pop the top on for a ready-made meal or snack the next day. 
 
Need to heat it back up? It's microwave-safe up to 400 degrees! 
Have leftovers? Put the lid back on and pop it back in the fridge or freezer. 
And we made sure to design leak-resistant lids that fully fit and cover the plates for a snug fit with an easy-pull tab, so food stays separate and secure and littles can gain independence and freedom to open meals themselves! 
Did we mention you can write on these lids? Put the date, your little's name, or a fun message to make yourself or other caregivers laugh such as, "don't feed the dog, I can see you." 
For You: This means no extra storage containers = fewer dishes = more time for you. 


For Littles: Our community of small humans revealed a lid perk we didn't anticipate. The little plate testers loved the surprise aspect of peeling back the lid to reveal their food. Voila! Look how pleased this LO is:
They also loved seeing and writing their names on the lids! Tough critics.
And now, with three or five sections, you have more meal options for starting and expanding your little's sensory exploration and solid food journey  — Perfect for BLW! 
Our 3-Section Silicone Grip Dish is excellent for early eaters learning to grasp solids. 
And the 5-Section plate offers extra space with deeper walls for toddlers and children with growing appetites!
Designed With Littles, BLW & Reality in Mind
Much of our design ideas come from community feedback, experiences with baby-led weaning, and real-life gripes using standard kids' plates. Upon first glance, you might miss some of our thoughtful design features, but these subtle perks make a big difference:
 3 or 5 Divided Sections: We now provide plates with the   option of three or five sections depending on how many   new foods you want to introduce to your little with pre-   sized compartments for portion control! This also helps   littles visually explore and identify a wider variety of foods while separating new flavors and textures versus a   mashup with shallower plates. 
Smart Flat Edge: We added a flat edge to our rounded silicone plate design so littles can belly-up to the plate while saving shirts and reducing floor debris. 
Secure Suction Base: All of our plates include a strong suction base, great for highchair chairs! We can't stop food from flying, but we can   keep the plate from sliding or becoming a frisbee. It also helps keep the plate stable for older toddlers and children learning to cut through and spear food.
Deep Dish Raised Sides: Both plates feature high-sided edges with dividers to keep food from blending and falling off the plate. The 5-section plate has deeper walls with more room for mature eaters.
Soft Silicone for Scooping: We employ the highest quality silicone (see below for more on platinum silicone) with a smooth texture for babies to easily scoop their hands against a soft surface before they graduate to utensils. 
Angled Interior Walls: We angled the dividers' walls to make it easier for littles to scoop food from individual sections with their hands and to promote confidence as they begin using utensils. 
When it comes to feeding babies, many parents put some food on the tray and call it a day — Baby plates and bowls also come pre-portioned, which serves as a visual reminder for parents and caregivers about appropriate portion sizes for baby. But baby also benefits when eating from a plate or bowl as it gives them an opportunity to scoop food out successfully before they have developed a pincer grasp required to pick up smaller pieces of food.

—

Katie Ferraro, MPH, RDN, CDE
New to baby-led weaning? Check out our quick guide. 
The Wonders of Platinum Silicone
You may have heard about the benefits of silicone plates over plastic ones, but we use superhero-style silicone. Let's get a little science guy for a moment. *puts on lab coat*
Before our plates are molded with all our thoughtful input, the silicone is liquidy. It needs to be solidified with a curing agent to keep it stable and form the little sections and the suction grip we've all come to appreciate. Otherwise, it would be a goopy pile, and we see enough of those raising littles. When used with peroxide, this step, called curing, creates by-products (we don't want these). 
Bumkins uses the highest-quality curing process and agent—it's known as platinum curing, hence platinum silicone. This process does not result in the creation of any unpronounceable or harmful by-products — This is the same stuff primarily used in medical devices, so you know it's the real deal. 
"The use of peroxide as a curing agent may result in residual chemical and breakdown products. These chemicals may potentially impact the quality of the food passing through the tube. Platinum, the other curing agent, is not prone to extractables or other byproducts. The downside to platinum is its high cost when compared to peroxide curing." — Food Safety Magazine.
On The Day To Day: How Does it Make Your Life Easier?
Silicone has a natural resistance to bacteria, mold, and fungus. So, if you leave the dishes in the dishwasher for a day (or three), you don't have to worry about weird smells or growth. And platinum silicone is more resistant to dust, so less buildup in your cabinets.
Easy-to-clean. You can hand wash it, throw it in the dishwasher or even boil it.* This perk goes without saying. Toss that dirty dish in the dishwasher and call it a day.
It can withstand both hot and cold temperatures. It is also resistant to age, sunlight, and moisture. Warm it, freeze it, you can even bake it! It's safe for the microwave and for the oven up to 400 °F (wow face)! 
Get the lowdown on how to care for platinum silicone. 
Non-Toxic & Safe For Littles: Take Our (and a Third Party Lab's) Word For It
Let's get serious for a minute. While we spend time thinking about our designs' functionalities, solutions, and time-saving aspects, our product safety comes before everything else.
The FDA banned BPA in baby bottles in 2012, but recent studies determined that many unregulated plastics contain trace amounts of known endocrine-disruptors. Not ours! And you don't have to take our word for it. We get a third party to test it.
What does that even mean?
Third-party lab testing is when an unbiased private party unaffiliated with the distributor does its own scientific analysis and testing of a product. Many companies cite their own testing, and that's like asking your best friend to vouch for you. We also go beyond FDA requirements to ensure quality and safety. Third parties offer us and our community peace of mind. 
NO Hormone Disruptors:  BPA-Free, BPS-Free, PVC-Free, and Phthalate-Free

NO Harmful Metals: Lead and Cadmium Free

CPSIA Tested & Certified Free of Harmful Fillers & Industrial Chemicals
Check out all of our toddler feeding and baby led weaning essentials!