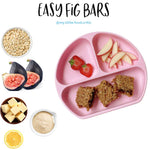 Recipe By: @my.little.food.critic
These Fig Bars are so delicious!! They are a great make-ahead breakfast or snack and are packed with nutritious ingredients.
Prep: 5 minutes 
Cook time: 45 mins
Serves: 8-10 bars
Homemade Fig Bar Ingredients: 
2 cups figs, chopped

1 tbsp maple syrup

4 tbsp water

Juice & zest of 1 lemon

1 tsp vanilla 

2 cups rolled oats

2/3 cup almond flour

6 tablespoons cold unsalted butter, cut into pieces

2 tablespoons honey
How to Make Fig Bars: 
Preheat the oven to 180c/350f and line an 8-inch baking tin with parchment paper.

First, make the fig jam filling by combining the figs, maple syrup and water in a pan over medium heat. Stir until thick, about 10 minutes. Remove from heat and stir in lemon zest, lemon juice and vanilla. 

While the jam is cooling, make the oatmeal crust.

In a bowl, combine the oats and flour. Next, add the cubed butter and, using your fingertips, combine the mixture until it resembles breadcrumbs. 

Press half of the oat mixture into the prepared baking pan.

Next, carefully spread over the fig mixture. Finally, crumble the remaining oat mixture evenly over the fig mixture and gently pat it down.

Bake for 20 minutes or until lightly browned. Cool completely before slicing. 

Store in an airtight container for up to 3 days.
Let us know how your fig bars turned out in the comments + check out Shikha's recipe for a yummy blueberry breakfast cake!