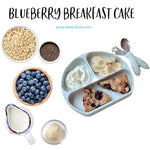 Recipe By: Shikha @my.little.food.critic
Cake for breakfast?! Yes, please! These baked blueberry oats are so delicious and taste great hot or cold. Whip up this breakfast cake the night before to get ahead for busy mornings. It's also great for snack time and can be packed into lunchboxes. 
Prep time: 5 mins
Cook time: 20 minutes 
Serves: 2 adults & 2 babies/toddlers 
What do you need? 
1/2 cup of blueberries

1 cup of oats

1 tsp baking powder 

1 tbsp chia seeds

¼ cup desiccated coconut 

1 tsp vanilla 

1 ripe banana

2 tbsp maple syrup 

1 cup milk
Optional: Flaked almonds for topping (for babies & toddlers crush the almonds)
Then...
 

Preheat your oven to 180c and grease/line an 8- or 10-inch cake tin.

In a bowl, combine the oats, baking powder, chia seeds, coconut, and vanilla.

In another bowl, mash the banana until smooth and then pour in the maple syrup and milk. 

Add the wet ingredients to the dry ingredients and stir to combine. 

Pour the mixture into the prepared cake tin. 

Top with the blueberries and flaked almonds (if using).

Bake for 20-25 minutes, until golden. 

Slice and serve!