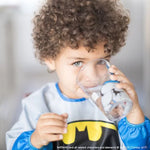 Happy World Water Day!
World Water Day is an annual UN observance day that is used to promote the importance of fresh water for all. This year's theme is "leaving no one behind". It comes from the central promise of the 2030 Agenda for Sustainable Development.
Sustainable Development Goal 6
 (SDG 6) aims to ensure availability and sustainable management of water for all by 2030. This means leaving no one behind.
In honor of
World Water Day,
let's talk about hydrating our little ones and some small ways we can make an impact on helping marginalized groups gain more access to clean and safe water as a human right. Hydration is critical at all ages, so here are some tips for keeping your little one hydrated:

When can babies start drinking water?
0-6 months
For children under 6 months of age, breast milk or formula is the primary source of hydration needed; no need to supplement with any juice or water unless otherwise specified by a pediatrician (water under 6 months is potentially dangerous).
 6-9 months

Around 6 months of age you can begin to offer 1-2 ounces of water per day to help them get used to it and to accompany their solid meals. The amount of water they drink should never replace their breast milk or formula intake. It's important that they always have enough room in their bellies for these forms of liquid nourishment.
As little ones get older, parents can begin to offer more water throughout the day, and by around 9 months babies can start to have 3-4 ounces of water daily maximum.
How much water should a toddler drink?
12+ months

After 12 months babies can begin drinking as much water as they would like, as breast milk or formula is no longer their main source for nutrition (even if they are still drinking it regularly). As your child grows, gains weight and gets more active, the need for fluids will increase. Take a look at
this chart
 for an estimate on how much water they should be drinking or calculate your child's water needs
here
. The
AAP recommends
 no juice before 12 months. They also recommend fresh fruit and vegetables instead of juice. Water is always the best way to keep them hydrated and healthy.
How you can help
We know how important it is to keep our families hydrated. For some, this task can prove a difficult task. According to worldwaterday.org, more than 700 children under five years of age die every day from diarrhea linked to unsafe water and poor sanitation. This is one of the many reasons why it is so important to participate in days like World Water Day.
Access to clean and safe water is crucial to everyone, everywhere. 
There are several organizations dedicated to helping get safe, clean drinking water to the world. Here are some resources to help the cause:
 If you're looking to work with a local group, click
here
 for events near you.