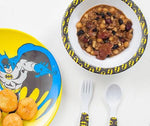 By Jessica Lehmann, Registered Dietitian-Nutritionist
"Chili for babies – WHAT?"
My friend looked at me, confused. I had told her that I was testing baby-friendly chili recipes in honor of National Chili Day, the fourth Thursday in February. I assured her that "baby-friendly chili" is not an oxymoron, though it may sound as contradictory as "jumbo shrimp" or "clearly confused."
Perhaps I should have called it a "savory veggie and protein stew." While some chili aficionados might insist that the dish must include chile peppers and meat, there are many variations. Modern baby-friendly chili doesn't need to be spicy-hot; it just needs to be spicy-yummy.
Celebrating National Chili Day is about enjoying a bowl of simple, healthy comfort food. My basic formula for baby-friendly chili is simple. First, sauté onions, vegetables and minced garlic with dried cumin and oregano. (The chili powder is optional.) Let the veggies take a starring role: start with aromatics like onions and garlic and add finely diced bell peppers, butternut squash, and root vegetables like sweet potatoes and turnips. Brown some lean ground beef or turkey; think of meat as a flavor accent or a garnish. Add beans or lentils, tomato sauce, and adjust the seasonings. Add a bit of sweetness if desired.
Vegetables, beans, spices, and lean ground meats contribute important nutrients to your little one's diet. Chili is rich in iron, zinc, protein and fiber, plus vitamin C, potassium and other important disease-fighting substances.
It's never too early to expose kids to a variety of flavors. Research shows that babies learn to prefer flavors of food that mom ate while she was pregnant or breastfeeding. In Western culture, when babies begin eating solids, they often take a gastronomic step backwards to bland and sweet flavors. Parents rarely offer infants the foods containing the complex spicy, bitter, and sour notes that were sometimes present in amniotic fluid and in breast milk. The absence of these flavors in the diets of infants and toddlers leads to the rejection of many nutritious foods that happen to be rich in taste dimensions other than "salty" and "sweet".
Many other cultures around the world introduce richly flavored foods to babies and toddlers without hesitation. For example, in Latin America, Asia, and the Middle East, there is no taboo against introducing babies to the foods that adults eat, as long as the texture can be adjusted for the child's age and stage of development. Consider the potential for spicing up the family diet with sambal, jalapenos, salsa, curry or Sriracha!
The use of spices, herbs, condiments, and vinegars to build flavor during cooking allows us to cut out or reduce the amount of added sugars and salt. The use of warm, sweet spices, such as cinnamon and cardamom, create a flavor profile of sweetness that eliminates the need for excess sugars. Savory, balanced flavors satisfy the taste buds without a lot of salt.
Spices yield other health benefits. Traditional uses for cumin and oregano include boosting the immune system and easing digestion, for example. Most herbs and spices are anti-inflammatory, promoting overall health.
If you're in a rush on National Chili Day, just look for chili at the grocery store. Look for a low-sodium, mild version. You can try plain chili beans (pinto beans) which come with a mild chili sauce. If you find a product you like and you're not sure if it's too intensely flavored for your child, then try mixing a spoonful of it with a spoonful of plain chili beans or other beans.
If you have more time, try this recipe:
White Bean & Root Veggie Chili
Serving size: ¾ cup
Servings: 4
Ingredients:
1 cup onions, finely diced
1 tsp garlic, minced
1 cup roasted root veggies, finely diced
½ cup tomato sauce
2 cups cooked white beans or 1 15 oz can white beans
½ tsp cumin
½ tsp oregano
1 Tablespoon olive oil
Instructions:
In a saucepot, heat the olive oil to medium. When the oil starts to shimmer, add the onions and saute for 3-4 minutes. Add the garlic and saute.
Add the cumin and oregano and continue to stir.
Add the tomato sauce, beans and the roasted root veggies. Stir well to combine.
Season to taste. For more sweetness, add a pinch of brown sugar.
Turn the heat down to low and cover. Continue to cook for 30 minutes.
This is the kind of meal that tastes even better the day after!
Tips:
If you're worried about canned beans causing digestive upsets, drain the beans and rinse them in a strainer first. This step will cut back on the starch that produces gas as well as up to 40% of the sodium.
Mix in pureed vegetables or fruits if you have any extra. For little ones, puree to the desired consistency in a food processor or blender.
Offer plain yogurt to offset any spiciness. The lactose in the yogurt is sweet and creamy enough to counteract the heat.
Crackers, bread, cornbread, and rice are baby-friendly accompaniments to chili.