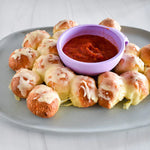 Recipe By: @athomewithastghik
This yogurt pizza dough is so easy to make. The yogurt makes the dough moist and tastes great as well. Additionally, this recipe helps save time by not having to wait for the pizza dough to proof (or rise). You may use any filling you'd like. I seasoned my leftover turkey meat with some spices and paired it with mozzarella cheese. 
Yogurt Flour Pizza Dough Recipe:
2 cups all-purpose flour

3 teaspoons baking powder

1 teaspoon salt

1 1/2 cups plain Greek yogurt 
Add flour, baking powder, and salt to a large bowl. Mix well to combine. Add the Greek yogurt and mix with a fork, then with your hands to form a dough. 
Cover and set it aside to rest a bit while we prepare the garlic butter. 
Garlic Butter Recipe:
5 tablespoons unsalted butter

1/4 teaspoon salt

1/4 teaspoon Italian seasoning 

2 tablespoons roughly diced garlic 
Add butter to a saucepan and allow it to melt. Add the rest of the ingredients and cook for 30-40 seconds over medium heat while stirring it a couple of times. Set it aside to prepare the turkey meat filling.
Note: if at anytime the garlic butter solidifies, just heat it over the stovetop until the butter melts once more. 
Seasoned turkey meat filling, using leftover turkey:
2 tablespoons unsalted butter 

1 teaspoon fresh thyme, diced 

1 cup shredded leftover turkey

2 tablespoons low sodium chicken broth

1/2 teaspoon garlic powder

1 teaspoon onion powder

1/4 teaspoon sweet paprika

1/4 teaspoon Italian seasoning 

Small pinch of salt, if needed 
To make the filling: 
Mix the spices (onion powder, garlic powder, sweet paprika, Italian seasoning, and salt) in a small bowl and set it aside.

Melt the butter over medium-low heat. Add the finely diced thyme and sauté for a few seconds.

Add the shredded turkey. Warm it up for about a minute.

Add the chicken broth and spices—Cook for about a minute. Transfer to a heat-safe bowl and set it aside. 
To make the pizza bites:
Preheat the oven to 425F

Cut the pizza dough in half

Then roll each piece out into a thick log and cut out equally sized pieces, about an inch in thickness. 

Cover the cut pieces with plastic wrap, so they don't dry out. 

Using your fingers, flatten each piece a bit into a round, mainly focusing on the edges.

Then add a few strips of the shredded turkey and small-cubed pieces of mozzarella cheese.

Transfer to a buttered baking sheet or to a buttered 9-inch square baking sheet (depending on the shape or look you're going for )
Note: I added a bowl in the center of my buttered baking sheet to help act as a guide for placing my pizza bites around it. The bowl will later hold the pizza sauce for dipping the bites in. Remove the bowl before placing the baking sheet in the oven.
Brush the pizza bites with three tablespoons of the prepared garlic butter.
Bake for about 15-18 minutes or until they're golden brown. 
Carefully remove from the oven and carefully top with grated Parmesan cheese and shredded mozzarella cheese (about 1 1/2 cups)
Bake for an additional 2 minutes or until the cheese has melted 
Remove from the oven and (optional) brush with remaining garlic butter. 
Place a bowl of pizza sauce in the center. Serve with pizza sauce, your favorite toppings, or on its own.
Enjoy!
Have leftover mashed potatoes? Try these easy leftover mashed potato pancakes!