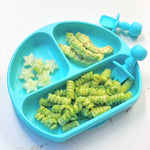 We are delighted to share two new recipes from Shikha of @my.little.food.critic. A mother, author ("Baby & Toddler-Friendly Authentic Indian Food"), and healthy recipe developer focusing on fresh, unprocessed ingredients, and approachable meal ideas for the whole family. 
Zucchini & Feta Fritters
These zucchini and feta fritters are absolutely delectable!  Zucchini is a great addition to your little one's diet as it is loaded with antioxidants and vitamins and is particularly high in vitamin A which supports vision and the immune system. 
The zucchini pairs perfectly with the creamy and soft feta which gives these a lovely soft texture. The addition of spices adds depth to these delicious fritters.
These fritters are: 
Made in 1 bowl

Full of flavor 

Perfect for little hands! 

Loaded with veg 

So easy to make!
Prep time: 10 mins
Cook time: 10 mins
Serves: 8 – 10 fritters
What do you need?
2 medium zucchinis, grated

¼  tsp black pepper

1 tbsp minced garlic

1 tsp baking powder

2 tbsp chopped parsley 

1 tbsp fresh or dried mint

1 tsp sumac (optional)

4 tbsp flour 

½  cup crumbled feta cheese

1  egg or substitute 1 flax egg for vegan/egg-free alternative 

1 tbsp olive oil for cooking 
How to Make Zucchini Fritters 
If using a flax egg, combine 1 tbsp milled flaxseed with 3 tbsp water and let the mixture sit for about 10 minutes until a gel-like consistency forms. 

Add the grated zucchini to a tea towel and squeeze out as much liquid as possible – this step is crucial!

Then add the zucchini to a bowl and then add the pepper, garlic, baking powder, parsley, mint, sumac (if using), and flour, mixing well. 

Stir through the feta cheese. 

Finally crack in the egg or add the flax egg and combine. 

Heat the oil in a pan over medium-high heat.

Use an ice cream scoop (or a large serving spoon) to scoop up balls of the mixture and use your hands to slightly flatten into a fritter shape. Place onto the pan, leaving some space between each fritter.

Cook for a few minutes, until golden brown and then flip and cook the other side.

Repeat with the remaining batter.
Pea Pesto Pasta
Packed with protein, greens, nut-free, full of flavor and so easy to whip up - this pea pesto pasta is a must-try! 
It's perfect for a speedy weeknight dinner or a quick lunch. You can also make extra pesto and freeze it for a quick meal another time. 
Delicious, nutritious, and ready in 10 minutes - you need to make this ASAP!
Prep time: 5 mins
Cook time: 10 mins
Serves: 2 adults and 2 babies/toddlers
What do you need?
1 ½ cups pasta of choice 

1 cup baby spinach 

½  cup basil 

1 cup peas (defrosted)

1 heaped tsp minced garlic 

¼ cup pumpkin seeds

1/3 cup Parmesan cheese 

A squeeze of lemon juice 

¼  cup olive oil
How to Make Pea Pesto Pasta
Cook the pasta according to the packet instructions.

While the pasta is cooking, add the spinach, basil, peas, garlic, pumpkin seeds, Parmesan cheese, lemon juice, and olive oil to a blender. Blend until smooth. You may need to scrape down the sides a couple of times. 

Drain the pasta and then add the pesto and mix to combine. 

Leftover pasta can be stored in the fridge for 2 days. You may need to add a splash of milk when reheating. 

You can also store the pesto in the fridge for up to 5 days in an airtight container or freeze it for 3 months. 
Want to add more greens to your little's diet without the grimace? Try these sneaky spinach cookies!