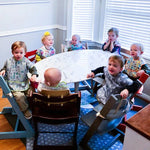 We are big fans of baby-led weaning at our house. Our 8-month old twins (babies numbers 6 and 7) have recently started solid foods, and watching them learn to eat has been a blast. But two of the biggest barriers parents and caregivers have about baby-led weaning is dealing with the mess and concern about food waste. So I want to share some of my tried and true tips for minimizing the mess and minimizing food waste when you're doing baby-led weaning.
Put Out a Plate
When it comes to feeding babies, many parents put some food on the tray and call it a day. But babies (and parents) benefit when baby eats from a baby plate or bowl. I love the silicone kind that suction to the table, which helps keep plates from flying off the table.
Baby plates and bowls also come pre-portioned, which serves as a visual reminder for parents and caregivers about appropriate portion sizes for baby. But baby also benefits when eating from a plate or bowl as it gives them an opportunity to scoop food out successfully before they have developed a pincer grasp required to pick up smaller pieces of food.
Be Smart About Your Bibs
Yes it's true that baby-led weaning can be messy, but having the right bib can help make mealtimes more manageable! For baby-led weaning I love the Bumkins Starter Bibs. They are incredibly durable, easy to wash and the perfect size for protecting baby's clothes but not getting in the way of self-feeding.
Bumkins bibs are also a favorite of my family's because they feature a handy pocket to catch falling food. With a fresh bib for each meal, I can recycle food that's fallen into the pocket back on to baby's plate or bowl, also helping to minimize food waste.
Splat Mats at Every Meal
By this point, I think I have tried every type of baby-led weaning floor cover one could have under a feeding table. But hands down, my best blw weaning solution is to invest in a good Splat Mat. The Bumkins Splat Mats are ideal for covering the space under baby's chair. They're waterproof, lightweight and stain-resistant.
Having a Splat Mat with baby-led weaning is essential to help counteract the amount of food that inevitably ends up on the floor with baby-led weaning. I start with a clean Splat Mat under baby's chair at each meal, and when larger chunks of food end up on the floor, I feel comfortable re-serving them back to baby off the clean Splat Mat. When the meal is done, I love how easy it is to wipe down Bumkins' Splat Mats (and how quickly they dry!) or to toss them in the washing machine along with my bibs.
So there you have it, with a few of the right tools you can manage the mess and even minimize food waste when doing baby-led weaning at YOUR house!
Katie Ferraro is a Registered Dietitian, infant feeding specialist and mom of 7 kids. She writes about baby-led weaning and child nutrition on her website The Fortified Family.