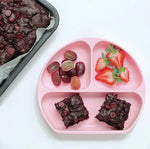 Recipe By: @my.little.food.critic 

These are going to be your new favorite snack! Super fudgy, flavorsome, and made in 1 bowl!
Prep: 10 mins
Cook: 30 mins
Serves: 12 squares
Zucchini Brownie Ingredients:
1 medium-sized zucchini
1/2 cup almond butter or peanut butter
5 tbsp maple syrup
1 tsp vanilla extract
1 egg or 1 flax egg
6 tbsp unrefined sugar
1/2 cup cacao powder
2 tbsp coconut flour or 4 tbsp oat flour
3/4 tsp baking soda
3 tbsp coconut oil, melted and cooled
1/2 cup chocolate chips
How to make Zucchini Brownies
Preheat the oven to 175°C / 350°F, and line a baking dish (c.8x4 inches) with parchment paper.
Shred the zucchini, place it into a tea towel, and squeeze out all the moisture. This step is crucial! Add the zucchini to a large bowl.
Next, add the almond butter, maple syrup, vanilla, and egg or flax egg. Stir to combine.
Then add the coconut flour (or oat flour), baking soda, cacao powder, and sugar. Stir to combine.
Next, pour in the coconut oil and chocolate chips. Stir again.
Transfer to the prepared baking tray and top with additional chocolate chips if you like.
Bake for 30 minutes.
Allow cooling completely before slicing.
These can be stored in an airtight container at room temperature for two days.
Looking for more fun zucchini recipes? Try these Quick + Cheesy Zucchini Boats!