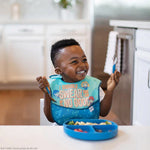 To celebrate the release of our fun new Mischief Harry Potter™ Bibs and prints, we asked parents in our community to share the most memorable and mischievous moments from mealtime with their littles. We also wanted to hear about their first encounters with the Wizarding World™ and the most obvious question — Which house do they belong to? 
We noticed a few trends. House Gryffindor™ has a lot of parents, visiting the Wizarding World is fantastic, and littles have a strong reaction to Italian food:
Magical Milestones & Mealtime Magic (The Dog Disappearing Act)
House
: Slytherin™
I grew up extremely poor. My school did AR points for x amount of books you read. I got my first HP book in the 5th grade at my school's Scholastic Book Fair, using my AR points to pay for it.

 

My husband proposed in Ollivander's at Universal Orlando! He coordinated with them to have me "chosen" during the wand ceremony. The ring was in the box! 😭😭😭 — "The ring chose the wizard."

I was sorted in Gryffindor house when Wizarding World had Pottermore, but believe it or not, while pregnant with Carson, they came out with the new sorting hat quiz — I kept getting Slytherin. 🤣
Favorite characters: Hermione, Sirius Black, and Lupin! ❤️

 

First time I made Carson a pancake for him to try, I had him bibbed, comfortable in the high chair, pretty plate -- Seconds after, he had it in his hand about to eat, our dog walks up and eats the entire thing out of his hand. 🤣🤦‍♀️🏻
 House
: Gryffindor
My husband and I watched all of the Harry Potter movies over again while we were pregnant with my son. We did it when we first started dating, so it seemed like a great way to bond while waiting on our little man to arrive.

 

We both love the books and the movies and are so excited for the day we can watch them with our little man! We hands down think Oakley would be a Gryffindor baby because he is VERY brave and charismatic and smart!

 

Oakley just figured out how to "feed" our dog Bentley from over the high chair this week lol.
House:
Gryffindor
My favorite Harry Potter memory is definitely the first time seeing it as a kid. It was so magical. I remember falling in love immediately. Then I fell in love with the books. I think I would be Gryffindor.
The First Taste of Pizza & Visits to the Wizarding World 
 House:
 

Gryffindor
My favorite Harry Potter memory by far was getting to visit the studio when we lived on the outskirts of London. We got to visit a couple of times, but my favorite time was when we met the animals cast from the actual movies. And I mean, we got to walk through the Great Hall, and it was just amazing. The whole place was amazing. We didn't want to leave!

 

Fav house is def Gryffindor! Ron Weasley for sure because he's so goofy! I always got a good laugh from him! 
One of my favorite feeding moments of Isabella was when we baked a pizza with her for the first time, and we got her to say "mama mia" after she tasted the first bite. Now, every time we make pizza, she remembers that day and never fails to yell "mama mia"! It's the sweetest thing ever! 🍕
 House:
Gryffindor
My fav Harry Potter house is Gryffindor, and Ron Weasley has always been my fav character! We've been to the Wizarding World many times at Universal Studios and love visiting Honeydukes when we go. We always buy Chocolate Frogs from there, and I'm obsessed with Butterbeer! I wish we could recreate it at home!  
Foods That Make You Go "mmhmm"
One of my favorite memories was when our ischemic daughter ate spaghetti. 🍝 She got spaghetti everywhere !!! She was in love. She had it in her hair, up her nose, in her ears. Everywhere. And she still signed for more in sign language! ❤️
My son's favorite memory was his first cupcake ever! And you know how that goes ...chocolate cake everywhere. But both my kids together — my favorite feeding memory Is when my son wanted to feed his little sister for the first time.
 

House:

 

Gryffindor
Every time Amara likes something she eats, she makes a dramatic "mmhmm" noise, and it's so cute lol. My fave house is Gryffindor for sure, and my fave character is a tie between Harry Potter and Hagrid.  
Where did the Sorting Hat place you? Share your favorite memories and mischievous feeding moments in the comments!
Then head on over to share the magic with your LOs! Check out our entire Harry Potter™ Collection for award-winning bibs and eco-friendly gear to help manage the mess and promote self-feeding during mealtime with your little wizards!
All Muggles, mammas, and caregivers are invited to grab these 5 budget-friendly DIY ideas inspired by the Wizarding World!