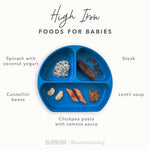 By: Pegah Jalali, @pediatricdietitian
Iron is an important nutrient for your baby's growth. Iron is necessary for your baby's brain development, immunity, and growth. When babies start to eat solid foods, it is important to introduce high iron foods.
Iron rich foods help babies avoid developing iron deficiency. Iron deficiency can cause growth and developmental delays in young children.
Babies are born with iron from the placenta. During the first few months of life, they do not usually require supplemental iron. Unless your provider has specified otherwise.
When starting solids, it is important to provide iron rich foods since breastmilk does not contain enough iron for babies. Some infant formulas are supplemented with iron- this is required in some countries like the United States.
Whether you are introducing solids using purees, baby-led weaning, or a combination of the two, you have many options for high-iron foods. Here is a list of high iron foods to try with your baby:
Animal proteins: beef, lamb, chicken, turkey, pork, and eggs.
Seafood: shrimp, clams, sardines, mackerel, and scallops.
Enriched infant cereal like infant oatmeal
Greens: spinach, kale, swiss chard, collard greens, beet greens, and bok choy.
Vegetables: peas, broccoli, and sweet potato.
Legumes: soy, beans (chickpeas, kidney, cannellini), and lentils.
Plant sources of iron like tofu or chickpeas are best consumed with a source of Vitamin C like strawberries or tomatoes. Vitamin C helps iron absorption in plant-based foods. Some combinations that are popular include: 
spinach cooked with a squeeze of lemon juice

peas cooked with some lemon juice

chickpea pasta with tomato sauce

tofu served with a side of strawberries

lentils cooked with sweet potatoes.
Babies are recommended to avoid drinking cow's milk before the age of 12 months to help avoid iron deficiency. They can safely consume yogurt, cheese, and foods prepared with milk like muffins or oatmeal.
A varied diet including whole grains, fruits, vegetables, nuts, beans, and protein sources is recommended for babies to help support their growth.
If you are concerned about your child's iron status, please discuss this with your pediatrician or a registered pediatric dietitian.
Want more nutrition tips? Check out Pegah's insights on introducing calcium-rich foods into your baby's diet.