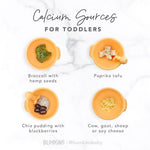 Toddlers aged 1-3 need about 700 mg of calcium a day. Many toddlers will meet their calcium needs by drinking cow's milk or eating cow's milk cheese and yogurt. Some toddlers may not drink much or any milk, cheese, or yogurt, which can be ok too! As long as they meet their calcium needs from other foods.
Many foods are rich in calcium and can be easily added to your toddler's diet. Here are some calcium-rich foods that you can include in your toddler's diet:
Cow, sheep, or goats milk yogurt and cheese.

Soy yogurt, cheese, or products like tofu.

Fish like sardines, mackerel, or canned salmon.

Grains like oats and amaranth.

Vegetables like broccoli, brussel sprouts, spinach, collard greens, swiss chard, and acorn squash.

Nuts and seeds like chia seeds, sesame seeds, and almonds.

Legumes like pinto beans and chickpeas.

Fruits like oranges and blackberries.
How much milk or dairy should my toddler consume in a day? 
If your toddler is drinking milk, it is recommended that they drink no more than 16-24 oz of cow's milk a day. 16 oz of cow's milk meets your toddler's calcium needs from ages 1-3 for the day. Your toddler can meet their needs by consuming 6 oz of cow's milk, 1 oz of cheese, and ½ cup of oatmeal.
What if my toddler doesn't do dairy? 
Some other toddlers may not eat any dairy and still manage to meet their calcium needs. For example, a dairy-free toddler can consume 1 cup of soymilk, ½ cup of soymilk yogurt, ½ cup of chickpeas, and two tablespoons of chia seeds (sprinkled on some fruit or a smoothie) to meet their needs.
A good rule of thumb to help your toddler meet their calcium needs is to offer 2-3 calcium-rich foods every day. Many different foods can help your toddler meet their calcium needs whether they consume dairy foods or not! If you are concerned about your toddler, definitely consult your pediatrician.
Navigating your little's nutritional needs? Check out Pegah's tips for introducing veggies, herbs, and spices!