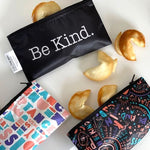 In celebration of #BeKind21, we are incorporating kindness into our meals this month. These homemade fortune cookies are inspired by the kind act of sharing lunch at school as we were exploring creative ways to create and share kind, caring messages among our family and beyond. 
Plus, this recipe is easy enough that you can have your little helper measure the ingredients and write the fortunes, but make sure you leave the baking and forming of the cookies up to you! 

Note: this recipe is not difficult, but we do not recommend that children help with the forming of the fortune cookies, as they must be hot to shape.
The fortune cookie was adapted from this recipe.
Serves: Makes about 36 cookies
Prep Time: 20 minutes
Cook Time: 45 mins give or take
DIY Fortune Cookie Ingredients:
3 large egg whites
3/4 cup sugar
1/2 cup butter (melted)
1/4 tsp vanilla extract
1/4 tsp almond extract
3 tbsp water
1 cup all-purpose flour
How to Make Fortune Cookies:
Preheat the oven to 375 degrees F. Get your little helper started on writing the fortunes by folding an 8.5x 11in plain paper into about 36 lines or so. Line a sheet pan with parchment paper or a silicone mat.
In a stand mixer (or bowl with a hand mixer), whip the egg whites and sugar on high speed for about 2 minutes, until frothy. Whisk in the melted butter, vanilla, almond extract, and water until incorporated. Add the flour and mix until the flour disappears - don't over-mix.
Spoon the batter onto the parchment paper with a tablespoon and spread it out into an even 3-inch circle. We did no more than 3 at a time since they set very quickly, and you will not be able to fold more than that.
Bake the fortune cookies for 7-8 minutes, until the edges brown slightly.
When each batch of fortune cookies finishes baking, remove them from the oven and quickly flip the circle over, and fold your fortune cookie in half into a semicircle.
Place your semicircle onto the edge of a cup, and quickly fold the ends down to crimp into a fortune cookie shape.
Place the cookie in a muffin tin to let it cool and hold its shape.
Repeat with the remaining batter, and enjoy!  
The Bumkins realness:
The batter is quite easy to make. The baking and folding are a little less breezy. Be prepared to have your first 3 out of the oven to be "tasters." Also, prepare your fingertips to move quickly, as these are best shaped right out of the oven. These are not the easiest cookies, but they are worth it! They are a fun activity that engages your little's brain in several different ways, and the end product is quite rewarding :)
Pack these sweet treats in one of our Be Kind Snack Bags with a portion of the proceeds from this collection supporting Lady Gaga's Born This Way Foundation and its mission to create a kinder and braver world for all!