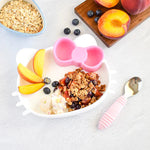 Recipe by: @athomewithastghik 
I turned this classic summertime snack into a kid-friendly and family-friendly treat. It's easy to make, nutritious, and delicious! I added some ground cardamom which helped elevate the flavors even more.
Blueberry Peach Filling Ingredients:
 2 pounds of peaches (about five peaches)
 1 pint blueberries
 1 tablespoon filtered water
 2 tablespoons freshly squeezed lemon juice
 2 tablespoons pure maple syrup, add more or less depending on how sweet your fruits are.
 1/4 teaspoon ground cardamom
Topping Ingredients: 
🍑 1 cup old-fashioned rolled oats
🍑1/4 cup flaxseed meal
🍑1 teaspoon ground cinnamon
🍑3 tablespoons pure maple syrup, add more or less depending on your preference
🍑2 tablespoons oil (I used avocado oil)
Method:
🔸Preheat the oven to 350 F
🔸Wash the peaches and blueberries.
🔸Remove the pits from the peaches and cut the peaches into small pieces.
🔸Transfer the peaches and the blueberries to a bowl.
🔸Add the lemon juice, water, maple syrup and ground cardamom to the bowl.
🔸Toss to evenly coat and mix.
🔸Transfer them to a greased 8-by-8 inch squared baking dish
🔸 Set aside to make the topping
How to make the topping: 
🔹To a bowl, add the oats, flaxseed meal, and ground cinnamon.
🔹Mix to combine.
🔹Add the maple syrup and oil. Mix to combine.
🔹Spoon it over the fruit mixture and spread it out evenly.
🔹Bake it in the oven for 40 minutes or until the mixture is bubbling.
🔹Let it cool and serve.
Note: the filling might have some liquid from the fruits. Mixing the oat topping with the liquid will allow the oats to absorb some of that liquid, which will also help flavor the oats even more!
🔹May serve it on its own, with some ice cream or some whipped cream.
🔹Transfer the rest to a glass food storage container and keep it in the refrigerator.
I served it with a side of peaches, blueberries, oat-based whipped cream topping, and dye-free sprinkles.
Have leftover blueberries? Check out Astghik's yummy
blueberry breakfast cake recipe
!