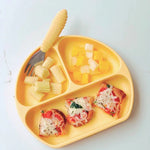 Recipe By: @my.little.food.critic 
Quick, easy, and delicious! Add this pizza toast to your snack or lunch rotation. Use your favorite toppings and layer up with cheese. 
Prep: 5 mins
Cook: 10 mins
Serves: 1 adult & 1 baby/toddler 
What You'll Need to Make Pizza Toast:
🍕 4 slices of bread (of choice)
🍕 8 tbsp pizza sauce 
🍕 3/4 cup grated cheddar cheese/mozzarella
🍕Pizza toppings of choice (spinach, tomatoes, sweetcorn, peppers, etc)
🍕1 1/2 tsp dried Basil 
Bumkins Pineapple Grip Dish + Utensils 
How to Make Pizza Toast:
Lightly toast the bread and then place it onto a baking tray. 

Spread 2 tbsp of pizza sauce onto each slice of toast. 

Then sprinkle on the cheese, dividing equally. 

Add any additional toppings of choice.

Sprinkle over the dried Basil.

Broil for 2-3 minutes until the cheese has melted. 

Slice into quarters or finger-width strips. 

Serve and enjoy!
In a house full of pizza lovers? Learn how to make homemade Margherita pizza!