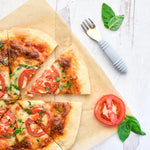 Making pizza at home can be a fun way to get the kids involved in the kitchen. They can help with adding the toppings to the pizza and even arranging the toppings to their liking. What's more, if a child helps prepare the food, he/she is more likely to eat the food. So let's get cooking!
Margherita Pizza Ingredients
🍕 1 Pizza dough, homemade or store-bought
🍕 Garlic butter, olive oil, or avocado oil (to spread on the dough)
🍕 Pizza sauce
🍕 10 basil leaves, diced or cut into chiffonade (long, thin strips)
🍕 1/2 cup spinach, finely diced
🍕 shredded mozzarella cheese
🍕 1 medium tomato, sliced
How to Make Margherita Pizza
Preheat the oven to 450F

Roll the pizza dough out into desired thickness and shape.

Transfer the dough to a baking sheet lined with aluminum foil and parchment paper on top (

so the pizza dough sits or touches the parchment paper

)
Note: make sure your parchment paper is safe for the oven at a 450F temperature.
Brush the pizza dough with olive oil, avocado oil, or garlic butter. Spread some pizza sauce, making sure to leave the crusts untouched.

Sprinkle some finely diced spinach and basil. Top it with some shredded mozzarella cheese and sliced tomatoes. Place it in the oven and bake for about 15-20 minutes or until the cheese is melted and dough is golden brown. Garnish with some more diced basil leaves.

Cut into desired pieces and serve.
I served it with steamed broccoli and sliced peaches!