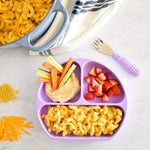 Recipe By: @athomewithastghik
Here's a quick and easy way to make homemade Mac and Cheese. This recipe is a one-pot meal where everything gets cooked in one pot, which means fewer steps and dishes to wash.
Ingredients:
1 pound uncooked elbow pasta

1 cup water

2 cups chicken broth

2 cups whole milk

1 teaspoon salt

1/2 teaspoon ground black pepper

1 tablespoon nutritional yeast, optional

2 cups shredded sharp cheddar cheese
Method:
Add uncooked pasta, water, chicken broth, and milk to a pot. Bring to a boil while stirring frequently. 

Once it boils, add salt, ground black pepper, and nutritional yeast. Mix well to incorporate the ingredients. Cover and allow to simmer on low for 10 minutes while stirring frequently. 

After 10 minutes, the pasta should be cooked (There might be some liquid). Turn the heat off and add the shredded sharp cheddar cheese.

Mix well, cover, and allow to sit off the heat for 5 minutes. 
Plate, allow it to cool and enjoy!
Pictured with hummus, cucumbers, and carrots. Along with diced strawberries. 
📷 Lavender Grip Dish + Utensils
Looking for a gluten free option? Try this baked Cauliflower Mac & Cheese!