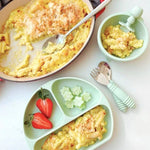 Shikha of @my.little.food.critic puts a nutritious spin on a family favorite: 
Veggie-loaded comfort food! This quick and easy pasta dish is creamy, cheesy, and loaded with cauliflower. Cauliflower adds fiber and antioxidants to this family favorite, along with a great texture. 
Prep time: 10 mins
Cook time: 35 minutes 
Serves: 2 adults and 2 toddlers 
What do you need?
1 cup macaroni pasta 

1 cup cauliflower florets (fresh or frozen)

1 tbsp butter 

1 tbsp flour

1/2 cup milk 

1 tsp garlic powder or minced garlic 

1/4 tsp black pepper 

3/4 cup cheddar cheese + 1/4 cup for sprinkling over the top

½ tsp turmeric

1/4 cup Panko breadcrumbs 
Then…
Preheat your oven to 200c/400f.




Boil or steam the cauliflower florets until soft, about 6-7 minutes for fresh and 4-5 for frozen cauliflower.




Drain the cauliflower and blend until smooth.




Cook the macaroni according to the packet instructions.




While the pasta is cooking, make your sauce.

Melt the butter in a pan over medium heat and then add the garlic and cook for a minute. 

Then add the flour to form a roux, stirring for a couple of minutes.





Next, add the milk, a little bit at a time, and stir continuously.

Turn the heat down to low and add the pepper. Stir to combine. 

Then add the cheese and stir. 

Add the turmeric and stir to combine.

Pour in the cauliflower purée and stir through.

Drain the pasta, reserving 1 tbsp of the pasta water. Add the cooked pasta and 1 tbsp reserved water to the sauce. Stir to combine. 

If you prefer a runnier consistency, add a splash more milk.

Transfer to a baking dish and sprinkle over the breadcrumbs and cheese.




Bake in the oven, for about  20 minutes, until golden.

Serve and enjoy!
Want to try another nutritious pasta dish? Try Shikha's 10 min Pea Pesto Pasta!