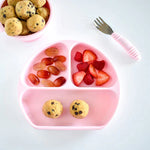 Recipe by: @athomewithastghik
This no-bake and easy-to-make snack is delicious and nutritious. It's the perfect snack for kids and the entire family. It's great for on-the-go snacking and to pack in a lunchbox.
Served with strawberries, raspberries, and halved grapes.
Ingredients:
🍪 1 1/2 cups of canned chickpeas (I used no-salt added)- drained and rinsed
🍪 3 tablespoons of creamy peanut butter or any seed/nut butter
🍪 1/2 teaspoon ground cinnamon
🍪 2 tablespoons ground flaxseed 
🍪 4 tablespoons pure maple syrup 
🍪 1/4 cup mini semi-sweet chocolate chips 
Method:
Drain and rinse the chickpeas.
Transfer the chickpeas to a food processor and blend until it's broken down. Scrape the sides of the bowl. 
Add the peanut butter, ground cinnamon, ground flaxseed, and maple syrup. Blend until it's smooth and combined. Transfer the mixture to a bowl and add the mini chocolate chips. Gently fold the chocolate chips into the mix.
Using a tablespoon measure, scoop some of the mixture into your hand, and then roll with both hands to form a ball.
Enjoy immediately or keep them in the refrigerator until you're ready to eat them.
Looking for more bite-sized nutritious snacks? Try these No Sugar Added Banana Pancake Bites.