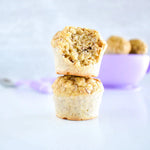 Recipe By: @athomewithastghik
These pancake bites are the perfect size for little hands. They don't contain any added-sugars, but you definitely won't miss it. They're delicious, moist and fluffy.
Plus, they are freezer-friendly, great for on-the-go snacking, and perfect to pack in a lunchbox!
Makes: about 48 mini pancake bites 
Ingredients:
1 1/2 cups mashed ripe bananas, from about 4 large ripe bananas

1 cup old-fashioned rolled oats

1 cup all-purpose flour

2 tablespoons flaxseed meal

3 tablespoons wheat germ, optional

1 teaspoon ground cinnamon 

1 teaspoon baking powder 

1/2 teaspoon baking soda

2 large eggs

1/2 cup sour cream

1 cup milk 

1 teaspoon pure vanilla extract 
I served with quartered grapes and vanilla Greek yogurt with Blueberry Chia Jam.
Method:
🥞 Preheat the oven to 350F
🥞 To a bowl, add the all-purpose flour, flaxseed meal, wheat germ, ground cinnamon, baking powder and baking soda. Mix with a fork in a whisking motion to combine the ingredients. Set it aside.
🥞 Add oats to a food processor and blend until it's broken down. Add the bananas, egg, sour cream, milk and vanilla extract. Blend to combine. Transfer this mixture to the dry-ingredients (to the flour mixture) in the bowl. Mix to combine.
🥞 Transfer the ingredients to a silicone mini muffin pan or into a greased mini muffin pan. Bake for 12-15 minutes or until the pancakes are puffed, golden and a toothpick comes out clean when inserted into the center.
Note: I used a silicone mini muffin pan which allowed for easy removal of the pancakes.
🥞 Allow to cool and transfer each mini pancake to a wire rack to cool completely. 
To freeze:
Flash freeze it in the freezer for about an hour. Then transfer it to a freezer-safe container. When you're ready to eat it, simply microwave it for 30 seconds (or until it's completely reheated), allow it to cool and enjoy.