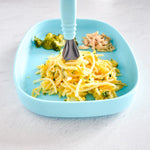 Recipe by: @athomewithastghik 
Butternut squash reminds me of Fall. One good way to incorporate butternut squash into your little one's meal is to turn it into a sauce and mix it in with pasta.
Ingredients:
💛 1 butternut squash (about 2-2.5 pounds), roasted and puréed
💛 1 cup low sodium chicken broth
💛 2 tablespoons oil, I used avocado oil
💛 1/2 cup diced onion, from about 1/2 of an onion
💛 1 garlic clove, minced
💛 1/4 cup grated parmesan cheese
💛 1/2 cup shredded mozzarella cheese
💛 1/4 cup cilantro, finely diced
💛 1/4 cup spinach, finely diced
💛 1 teaspoon salt (may leave the salt out from your little one's portion, if desired)
💛 1 pound pasta, cooked and water drained (I used spaghetti)
Method
How to roast the butternut squash:
🔸 Preheat the oven to 400F
🔸 Scrub clean the exterior of the butternut squash and pat dry.
🔸 Carefully cut it in half (lengthwise) and remove the seeds with a spoon
🔸 Spray avocado oil or any oil
🔸 Place the Butternut Squash (cut side up) on a baking sheet lined with unbleached parchment paper
🔸 Roast until fork-tender, about 45-50 minutes
🔸 Once cooled, remove the skin and cut the squash into chunks
🔸 Add the butternut squash chunks and the chicken broth to a food processor and blend until it's puréed. Set it aside.
How to make the sauce:
🔸 To a saucepan, add the oil and allow it to get hot. Add the diced onion and sauté for 2-3 minutes.Next, add the minced garlic and sauté for 30 seconds.
🔸 Add the butternut squash purée and mix to combine it with the onions and garlic.
🔸 Bring the mixture up to a boil. Once it comes to a boil, cover it with a lid and allow it to cook/boil or simmer on low for 15 minutes, stirring frequently.
⭐ Note: the mixture will start to bubble.
🔸 Add the salt and mix to combine. Also, add the Parmesan cheese, mozzarella cheese, cilantro, and spinach. Mix to combine.
🔸 Pour the sauce over the cooked and drained pasta, mix to combine, cover the pot with a lid and allow it to sit (off the heat) for 5 minutes.
🔸 Allow it to cool, cut the pasta into smaller pieces if needed and serve.

I served it with a side of shredded roasted chicken and steamed broccoli.
If you enjoyed this cool weather recipe, you might try this delicious warming One-Pot Potato Soup, and be sure to stay tuned for more fresh fall recipes! 
Love our new silicone Grip Trays? Get yours here.