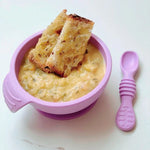 Potato Soup Recipe By: @my.little.food.critic
This potato soup is creamy, hearty, and so warming. It's made with simple ingredients, and you just need one pot! 
It's loaded with veggies and the herbs add depth of flavour and warmth to this mouth-watering soup. 
Serves: Family
Prep: 10 mins
Cook: 30 mins
Ingredients: 
2 tbsp olive oil

1 white onion, finely chopped 

1 carrot, finely chopped 

2 scallions, finely chopped  

2 tsp minced garlic 

1 ½ tsp oregano

½ tsp black pepper 

1 ½ tsp dried thyme 

A handful of chopped parsley 

700g potatoes, peeled and chopped 

3 ½  cups vegetable stock 

1/3 cup cream or use coconut milk 
How to make potato soup:
Heat the olive oil in a large pot over a medium heat. When hot, add the onions, scallions, and carrots. Sauté for 3-4 minutes. 

Then add the minced garlic, oregano, black pepper, thyme, and parsley. Sauté for another minute. 

Next add the potatoes and the veggie stock. Stir well and then bring to a boil. 

Turn the heat down to low, pop on the lid and let it simmer for 20 minutes, stirring occasionally. 

Add the cream or coconut milk and simmer for another 5 minutes. 

You can use a blender or handheld blender to blitz this if you prefer. 

Serve and enjoy! 
This can be stored in the fridge for 2 days or frozen for up to 3 months.