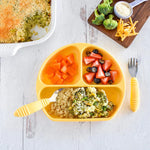 Recipe By: @athomewithastghik 
I love to pair broccoli with sharp cheddar cheese; they just pair so nicely together! Here I made a cheese sauce and baked it with broccoli. I added some mushrooms and spinach to the casserole to help make it extra nutritious! 
I served it with quinoa, but you may serve it on its own, with rice, or anything else that's desired. I also pair it with a side of steamed sweet potatoes, diced strawberries, and halved blueberries.
Ingredients:
2 tablespoons oil

1/2 large onion, finely diced

2 1/2 pounds of broccoli

4 pieces of Cremini mushrooms, cleaned and finely diced

3 tablespoons unsalted butter

1/4 cup all purpose flour

2 cups whole milk, warmed

1 cup shredded sharp cheddar cheese

1 cup spinach, washed and finely diced

3/4 teaspoon salt, may add more or less

1/4 teaspoon ground pepper

1 cup panko breadcrumbs or may use your favorite breadcrumbs
How to Make Broccoli Casserole: 
Preheat oven to 350F
Wash the broccoli and cut it into chunks or your preferred size.
Bring a pot of water to a boil and add the broccoli. Boil the broccoli for 3 minutes.
Transfer to a colander to drain the water. Set it aside.
To a pot (I used a 3-quart pot), add the oil and allow it to get hot. Next, add the finely diced onions and mushrooms. Sauté the onions and mushrooms for about 4-5 minutes (stirring occasionally) or until the mushrooms have cooked.
Remove from the pot and set it aside with the broccoli.
Warm the milk in a saucepan, but don't bring it to a boil (just enough to warm the milk); This will help prevent the sauce from having any lumps from the flour. Once it has warmed up, turn the heat off and set it aside.
To a pot (I used a 3-quart pot), melt the butter and add the flour. Cook it for 3 minutes over medium heat, frequently stirring with a whisk. Next, carefully and slowly add the warm milk while whisking with the other hand. Cook, while constantly mixing with a wooden spoon, until the mixture thickens (about 3 minutes).
Note:
you know it has thickened once the mixture coats the back of the spoon.
Turn the heat off and add the shredded sharp cheddar cheese. Mix to combine.
Add the salt, pepper, and mix. Add the broccoli, spinach, and mushroom mixture.
Mix to combine.
Transfer to a greased square baking dish.
Top with panko bread crumbs, spray the panko breadcrumbs with oil (I used avocado oil-this will help the breadcrumbs to brown).
Bake for about 35 minutes or until the sides are bubbling and the top is golden brown.
Allow it to cool and serve.
Looking for more great fall recipes? Try this awesome Butternut Squash Pasta Sauce!