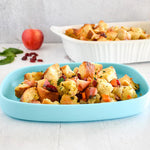 Recipe By: @athomewithastghik
The apples and cranberries provide such great flavor to this bread stuffing. Also, the spinach helps add extra nutrients without altering the taste of the recipe. It's the perfect pairing to any Thanksgiving meal.
Ingredients:
1 pound French or Italian bread, I used French bread

4 tablespoons butter and 2 tablespoons oil for sautéing

1 large onion, small diced

1 carrot, peeled and small diced

2 celery sticks, small diced 

3 cups of Gala apples, cored, unpeeled, and diced into small chunks (from about 3 apples)

1 teaspoon salt

1/4 teaspoon ground pepper

1/4 cup cilantro, finely diced

1/4 cup spinach, finely diced

3/4 cup chicken broth

1/2 cup sweetened dried cranberries 
Method:
🍎 Preheat the oven to 350F
🍎 Cut the bread into small chunks and spread them out in a single layer on a baking sheet. Toast it in the oven for 5 minutes. Transfer it to a large bowl and set it aside.
🍎 Add the butter and oil to a skillet and allow it to get hot.  Add the diced onion, carrots, celery, and apples. Sauté, over medium heat while stirring, for about 10 minutes for until the mixture has softened.
🍎 Add the finely diced cilantro and spinach. 
🍎 Add the salt and pepper. Mix to combine. 
🍎 Transfer the mixture to the bowl with the toasted bread chunks. Add the dried cranberries and the chicken broth. Mix to combine. 
🍎 Transfer the mixture to a 9x13 deep baking dish and bake for 30 minutes or until the top has browned.
Optional: garnish with some more sweetened dried cranberries and finely diced cilantro.
Looking for dessert ideas? Try this wow-worthy pumpkin roll recipe!