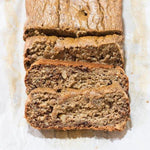 Banana Date Bread
This week's Baby Led Weaning recipe comes from Min Kwon of @calebthefoodie on Instagram. Check out her feed and her new e-cookbook! This easy bread can be easily frozen, eaten and even packed for school lunches!
Ingredients
1 1/2 cups old-fashioned rolled oats
3 large ripe bananas
3/4 cup dates (see note)
2 eggs
1 teaspoon baking soda
1 teaspoon baking powder
2 teaspoons ground cinnamon
1 teaspoon vanilla extract
Optional (I like to add them all): 3 tablespoons finely chopped walnuts, 1 tablespoon ground flaxseed, 1 tablespoon chia seeds
Directions
Preheat oven to 350 degrees F. Grease a 9x5 inch loaf pan or line with parchment paper. Place all ingredients (minus optional) into a food processor or blender and blend until smooth. Stir in optional ingredients if using. Pour batter into pan. Bake for 30 minutes. It will still be pretty soft at this point, so let it rest completely before slicing (I like to wait for about an hour). Refrigerate or freeze.
Note: Soak the dates (I like to use 4-5 medjool dates) in warm water for about 30 minutes to help soften them.
Enjoy! Let us know if you made this recipe, and show us pics on Instagram @bumkinsbaby