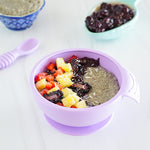 If mornings are chaotic at your house, here's an easy and healthy solution: overnight blueberry chia pudding.
This scrumptious and nutrient-dense dish is loaded with protein, fiber, and omega-3 fatty acids, making it a wholesome choice for the entire family. With its simple preparation and mouthwatering blueberry chia jam, this pudding is sure to impress and become a staple in your household.
Recipe By: @athomewithastghik
Here's a tasty and nutritious snack (or breakfast idea) that's great for the entire family to enjoy.
Ingredients:
1 cup unsweetened oat milk; I used Three Trees Oatmilk with Seeds

3 tablespoons maple syrup (may add more or less depending on your preference).

1/4 cup chia seeds

Blueberry Chia Jam, see recipe below
How to Make Overnight Chia Pudding:
For this recipe, it's best to use a glass food storage container with a lid. The ingredients will be resting overnight, so having a container with a lid will make things easier.
Add the milk and maple syrup to the container. Mix to combine. Add the chia seeds and mix in a whisking motion to help some of them incorporate into the mixture.
Note: most of the chia seeds might be floating/visible on the surface.
After covering it with its lid, place the mixture in the refrigerator overnight to allow it to set. Before serving, take it out of the fridge and give it a good mix.
For serving:
Add the chia pudding to a bowl along with some of the blueberry chia jam. Mix to combine. Add desired toppings and serve. 
I served it with unsweetened shredded coconuts, strawberries, pineapples, and blackberries.
Blueberry Chia Jam
Ingredients:
🫐1 pint of blueberries, rinsed
🫐1 tablespoon freshly squeezed lemon juice
🫐1 tablespoon pure maple syrup (may add more or less, if desired)
🫐1 tablespoon chia seeds
Method:
In a saucepan, add the blueberries and lemon juice, and cook over medium heat for 5 minutes. While stirring frequently, use the back of your cooking utensil to mash the blueberries.
Add the maple syrup and chia seeds. Mix to combine and cook (stirring frequently) for an additional 3-5 minutes or until thickened. Taste and add more sweetness if desired.
Transfer to a glass heat-proof bowl and set it aside to thicken and cool.
Craving more delicious homemade fruit jams and spreads? Don't miss our blog post featuring 3 of Our Favorite Homemade Fruit Jams & Spreads for even more tasty inspiration. Click here to indulge in fruity goodness!