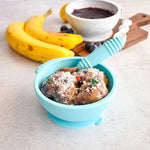 Twice the treat! @athomewithastghik shows us how to make banana nice cream (dairy-free and no added sugars!), plus a super simple recipe for blueberry jam with chia seeds:
This blueberry chia jam is so good! The key is to use flavorful blueberries as this will result into a very tasty jam. This jam may be served with nice cream (as we've done here) or over toast, pancakes, waffles, or just about anything.
As for the nice cream, this is such a delicious and refreshing treat for those hot days or for just about any day! I like to add ground cinnamon to my nice cream, but you may leave it out if you'd like.
Blueberry Chia Jam
Ingredients:
1 pint of blueberries, rinsed
1 tablespoon freshly squeezed lemon juice
1 tablespoon pure maple syrup (may add more or less, if desired)
1 tablespoon chia seeds
Method:
Add the blueberries and lemon juice to a saucepan and cook (over medium heat) for 5 minutes stirring frequently while mashing them with the back of your cooking utensil.
Add the maple syrup and chia seeds. Mix to combine and cook (stirring frequently) for an additional 5 minutes. Taste and add more sweetness, if desired.

Transfer to a glass heat-proof bowl and set it aside to thicken and cool while you prepare the nice cream.
Banana Nice Cream
Ingredients:
🍌 
3 frozen bananas
🍌 
1/8 teaspoon ground cinnamon (optional)
Instructions:
Add all the ingredients to a high speed food processor. Blend until smooth and resembles ice cream. 
Note: You might need to stop and scrape down the sides a few times.
Transfer to a freezer-safe glass food container (I used a 2 cup glass container). Smooth out the top and dollop a few spoonfuls of the blueberry chia jam onto the nice cream in different areas.
Use a bamboo skewer or a pairing knife to swirl the blueberry chia jam into the nice cream.
Smooth out the top with the back of a spoon. Cover the container with a lid and transfer it to the freezer. Let it freeze for an hour. Scoop the nice cream out onto a bowl or an ice cream cone, add desired toppings (if you wish), and enjoy.
We garnished ours with halved blueberries, unsweetened shredded coconuts, and dye-free sprinkles. 
Love all things blueberries? Try this simple and delicious baked blueberry breakfast cake recipe!