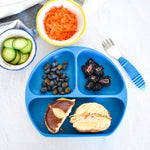 Recipe By: @athomewithastghik
Here is a quick, easy, and delicious sandwich idea using pretzel buns. The garlic butter and the dressing helps give this sandwich such great flavor. The dressing contains finely diced spinach, but you can't even taste it. While the carrots provide nutrients and pair nicely with the cucumbers. As for the cucumbers, they are refreshing and crunchy.
Ingredients for the dressing:
1/4 cup sour cream

2 tablespoons whole milk yogurt

1 small garlic (finely grated)

1/4 cup spinach, finely diced

1/4 cup cilantro, finely diced

1 tablespoon dill, finely diced

1/8 teaspoon salt

Note: may add a little bit of milk if needed to thin out the dressing
Dressing Method:
Add the ingredients to a bowl and mix well to combine. Set it aside.
Garlic Butter Ingredients:
3 tablespoons butter 

4 large garlic cloves, skin peeled and roughly diced 
How to Make the Garlic Butter:
Melt the butter in a small saucepan

Add the garlic cloves 

Allow garlic to cook in butter for about 1-2 minutes. It is just enough time to help infuse the butter with the garlic flavor but not too long, so it doesn't get bitter. It's ready to use.
Ingredients needed to build the sandwich:
Pretzel Buns

Garlic Butter

Dressing

Sliced Provolone cheese, cut into four pieces.

Sliced Turkey Breasts, I used Oven Roasted Turkey Breast without nitrates or nitrites

Sliced cucumbers

Shredded carrots
How to build the sandwich:
Preheat the oven to 400F

Cut the pretzel buns in half and transfer them to a baking sheet lined with parchment paper.

Brush the buns with garlic butter and toast them in the oven for 3 minutes.

Cut the provolone into four pieces and cut the sliced turkey breasts in half.

To the bottom portions of the pretzel buns, add two pieces of provolone cheese. Top it with the halved turkey breast. Then add the last two pieces of the provolone cheese.

Place the baking sheet back in the oven and allow it to toast for 3 minutes or until the cheese has melted.

Add the sliced cucumbers on top of the melted cheese.
Loved this sandwich? Try these Quick & Easy Cucumber and Cream Roll Up Sandwiches!