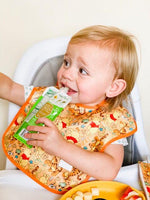 Looking back on the furry philosophers of Winnie the Pooh, mother Kanga may have had more influence than we thought. Some of the most quotable lines of the classic series speak to the moments moms often say "aww" or more often, "Oh, bother," (possibly another "bad" word mumbled under your breath). 
To celebrate Winnie the Pooh Day, we created our very own memes inspired by the best mom-isms of the Hundred Acre Wood featuring some of our Bumkins babies!
At lunchtime:
When your little is quiet for far too long and reappears with a mischievous smile:

 When they get a little hangry:
Zen solutions for selective listening:
The mystery of accidents:
Finding buried treasure i.e. old pieces of food in the couch:
Avoiding obstacles (Legos, teeny tiny toys, mystery eggs):
On standing upright:
A gentle reminder that "it" gets better:
And when you struggle to fit into your pre-baby jeans, Pooh Bear tells us to remember:
But what makes Pooh Bear and Pals most like moms is how much they love littles:
Want to share this lovable bear with your cub? Check out our entire Winnie the Pooh collection here.