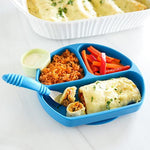 Recipe By: @athomewithastghik
Easy to prepare and a great way to eat some veggies, these enchiladas are an ideal meal for the whole family.
Ingredients For Chicken-Veggie filling:
1 cup shredded cooked chicken 

3 tablespoons unsalted butter

2 teaspoons chili powder

1/2 teaspoon salt

1/2 teaspoon sweet paprika 

1/2 teaspoon garlic powder 

1/2 teaspoon onion powder 

1/2 teaspoon ground cumin

1/4 teaspoon dried oregano 

1/4 teaspoon ground black pepper 

1/4 cup filtered water 

1/2 cup diced onion

1/2 cup shredded carrots

1/4 cup small diced red bell peppers

1 garlic, minced

1/2 cup spinach, finely diced
Ingredients to help assemble the enchiladas:

6 ounces Monterey Jack cheese, shredded plus more for topping

6 flour tortillas

1 cup green enchilada sauce, I used the "Siete" brand

1 cup sour cream
Note: If needed, to help make the tortillas pliable, place them in a damp paper towel and microwave for a few seconds.
Method: Filling & Seasoning
Preheat the oven to 350F
To prepare the seasoning, add the following ingredients to a small bowl: chili powder, salt, sweet paprika, garlic powder, onion powder, ground cumin, dried oregano, and ground black pepper. Mix with a fork and set aside.
Add butter to a saucepan and

melt it over

medium heat. Add the onions, carrots, and red bell peppers. Sauté

for about 3

minutes or until onions are translucent. 

Add the garlic,

spinach, and shredded cooked chicken. Sauté

to help warm

up the chicken for about a minute over medium heat.
Add the prepared

seasoning.

Mix to coat and cook

for about 30

seconds.
Add water and mix to combine. Cook while mixing frequently until the water

has evaporated.

Remove from the heat and set aside. 
To prepare the Enchiladas:
To

a bowl, add the sour cream and the green enchilada sauce. Mix to combine. Add 1 cup of this mixture to a 9x13 baking dish and spread it out evenly. Reserve the rest of the sauce to

top over the

tortillas.
Grab a tortilla and add 1/4 cup shredded Monterey Jack cheese and 1/4 cup of the chicken-veggie filling in a horizontal line on one end of the tortilla. Roll the tortilla so that the filling stays inside. Place the tortillas, seam side down, in the baking dish.
Once

all of the tortillas

have been prepared and added to the baking dish, top the remaining enchilada sauce over the tortillas. Spread

it out evenly

with a spoon.
Top it with shredded Monterey Jack cheese and bake it in the oven for about 20-25 minutes or until the cheese has melted and the sauce on the sides is bubbly.
Remove from the oven.
Serve with desired sides or toppings.
Pictured with a side of sour cream, red rice, carrots, and red bell peppers.