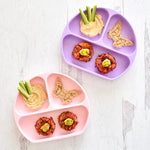 Hop into March with these adorable and nutritional spring-themed recipes from @athomewithastghik! 
Baked Vegetable Egg Nests
This is such a fun spring-themed snack or meal for kids. The "egg nests" are packed full of nutrients from the variety of vegetables used. 
*1 cup shredded zucchini- moisture wrung out

*1 cup shredded sweet potato (washed, peeled, and ends cut off) 

*1/2 cup shredded beets (washed, peeled, and ends cut off) 

*1/2 cup shredded carrots (washed, peeled, and ends cut off) 

*1/2 cup packed spinach, finely diced

*1/2 cup shredded mozzarella cheese

*1 cup almond flour

*1 tablespoon of oil, I used avocado oil

*1/2 onion, diced and sautéed

*1 garlic, minced and sautéed

*1 large egg

*1/4 teaspoon salt, optional
Method:
Preheat the oven to 400F

To a small saucepan, add one tablespoon of oil and allow it to get hot. Add the small diced onion and cook (over medium heat) for about 2 minutes, stirring frequently, or until it's translucent. 

Add the minced garlic and cook for a few seconds. 

Turn the heat off and set it aside.

Shred the zucchini, measure 1 cup and place it in a kitchen towel. Squeeze/wring out the moisture and transfer the zucchini to a bowl. 

Also, to the bowl, add the shredded sweet potato, shredded beets, shredded carrot, finely diced spinach, shredded mozzarella, and the sautéed onions with garlic. 

Mix to combine. 

Add the egg. Mix to combine. 

Add the almond flour and mix to combine. 
Note: The mixture should stick together when pressed between your fingers.
Line a baking sheet with unbleached parchment paper. 

Place 2 tablespoons of the mixture in the palm of your hand and squeeze it a few times to help it stick together. 

Form the mixture into the shape of a nest and place it on the baking sheet. 

Continue this process until the mixture is used up. 

Bake it in the oven for about 18-20 minutes or until the bottoms are golden brown. 

Allow it to cool.
I served the nests with a skillet frittata "egg". I used an oval-shaped cookie cutter to make the frittata resemble the look of an egg. Place the egg on the nest and enjoy. 
NOTE: The frittata "eggs" are entirely optional. They are soft but could be a choking hazard for toddlers. Be sure to cut the egg up before serving to younger children or reserve these "eggs" for serving older kids. 
I served these "nests" with sliced cucumbers and hummus and paired with bread cut in the shape of a butterfly 🦋
Pancakes with a Raspberry Flaxseed Jam
These pancakes are great for the entire family to enjoy. They're fluffy and can be eaten on their own, or with some maple syrup or homemade Raspberry Flaxseed Jam. Better yet, you can turn these pancakes into fun spring-themed ones with the help of a cookie cutter. All you need to do is use the cookie cutter to achieve the fun shapes once the pancakes have cooked and cooled.
Ingredients:
*1 1/2 cups unbleached all-purpose flour

*2 tablespoons sugar or coconut sugar, may leave it out

*1 teaspoon ground cinnamon. (I used ground Ceylon cinnamon)

*1 teaspoon baking powder

*1/2 teaspoon baking soda

*2 large eggs

*1/2 cup sour cream

*1 teaspoon vanilla extract

*1 cup milk
Method
Add the dry ingredients to a bowl (flour, sugar, ground cinnamon, baking powder, baking soda).
Mix with a fork to combine. Set it aside.
To a separate bowl, add the wet ingredients:

Beat the eggs with a fork.
Add the sour cream and the vanilla extract.
Mix in a whisking motion to combine.
Add the milk and carefully mix to combine.
Transfer the wet ingredients to the dry ingredients and mix with a fork to combine.

Heat the skillet, add some butter to coat the pan lightly.

Use a 1/4 cup measure and scoop the batter onto the skillet. Allow it to cook until bubbles form on the surface and the bottom is golden brown. 

Carefully flip the pancakes and allow them to cook on the other side. Add more butter and more batter to the pan. 

Continue the process mentioned above to finish cooking the pancakes.
Note: If you're going to use cookie cutters to create fun shapes, make sure your pancake is big enough to fit the cookie cutter.
Once the pancakes have cooled, use a cookie cutter to create fun shapes, spread some raspberry flaxseed jam, and enjoy!
I served these with scrambled egg, diced strawberries, and halved blueberries!
Have some leftover Jam from those pancakes? Add it to your next baking adventure, a Vanilla and Spinach Checkered Cake!