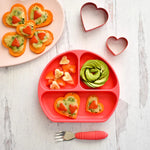 Toddler-chef and mamma extraordinaire @athomewithastghik is back with some nutritious Valentine's Day snacks and treats you can make with your little loves. Turn a sweet potato into a heart-shaped pizza and learn how to layer a yummy apple tart!
Sweet Potato Pizzas
Using sweet potatoes as a base is an easy and nutritious alternative to pizza dough. What's great is that you can use any toppings you like for your pizza.
Here I used a heart-shaped cookie cutter to form the sweet potatoes into hearts. These fun shapes help make mealtimes fun! Plus, it's perfect for Valentine's Day!
Ingredients
♡
1 large sweet potato (
may use more if desired
)
♡
1/4 teaspoon garlic powder
♡
1/4 teaspoon onion powder
♡ 
1-2 tablespoons of oil (
use more or less to coat the sliced sweet potatoes

 

evenly
)
For the topping, use any toppings you and your family enjoy! Here is what I used:
♡
Shredded mozzarella cheese
Instructions
Preheat the oven to 400F.

Scrub clean the sweet potato.
🔸Note: be sure to use a sweet potato that is larger than your cookie cutter.
Peel the skin off and cut the ends off.

Slice the sweet potato, making sure the slices are uniform in size and not too thick, so it cooks quickly and evenly.

Drizzle some oil over the sliced sweet potatoes

Add 1/4 teaspoon each of garlic powder and onion powder and toss to coat evenly.

Line a baking sheet with unbleached parchment paper and place the sweet potatoes on the baking sheet.

Remove the seeds and ribs from red bell pepper.

Use a smaller heart-shaped cookie cutter to form the red bell peppers into hearts.

Place the red bell pepper hearts on the baking sheet with the sweet potatoes.
🔸Note: Make sure the sweet potatoes and the red bell peppers do not overlap or touch one another.
Roast in the oven for 15-20 minutes (

depending on the thickness of your sweet potatoes

) or until the sweet potatoes are fork-tender.

Allow the sweet potatoes to cool.

Use a heart-shaped cookie cutter to form the sweet potatoes into hearts.

Spread some hummus

Sprinkle some finely diced spinach

Top it with some shredded mozzarella cheese

Garnish it with the roasted red bell pepper hearts

Place it back in the oven for 5 minutes or until the cheese has melted.

Allow it to cool and enjoy!
Serve it in your favorite Grip Dish with some avocado (or an avocado rose) and with strawberries and banana hearts.
Pro Tip For Leftovers: Food cutout into these cute shapes are so fun, but it does leave one with some leftovers or scraps. I served the sweet potato and red bell pepper scraps as a side for lunch. The red bell pepper scraps may also be used in soup, chicken stock, salad, or a smoothie.
Heart-Shaped Individual Apple Tarts
These apple tarts are easy to make and a great way to get kids involved in the kitchen. They can help use a cookie cutter to cut out these fun heart shapes, or they may help arrange the apples onto the puff pastry. In addition, these tarts are pretty tasty with their minimal yet simple ingredients. The "honey glaze" (which is simply honey mixed with water) helps elevate the flavors of these tarts even more.
🚫 Important Note: honey should not be given to children under the age of 1. 
Ingredients
♡
1 sheet of puff pastry (
I used 1 sheet of puff pastry, but you may use more if you'd like
)
♡
1 tablespoon warm water
🔸

Note: 

I like to use sweet and flavorful apples as this will result in a flavorful tart. You might need more or less depending on how many individual tarts you'd like to make
Instructions
Preheat the oven to 400F

Flour your work surface so the puff pastry doesn't stick and will easily lift when transferred to the baking sheet.

Wash and peel the apples. Core and thinly slice the apples. Set the apples aside.

Use a heart-shaped cookie cutter to cut out hearts from the puff pastry.

Transfer the hearts to a baking sheet lined with parchment paper.

Arrange the apple slices on the heart-shaped puff pastry, making sure to overlap them a little.
🔸Note: Make sure not to place the apples on the border. Leave the borders open so this way the puff pastry will rise on the sides. 

🔸Note: For the puff pastry to puff nicely, make sure it remains cold. If you notice it is warming up, place it back in the refrigerator for a few minutes.
Place it in the oven and allow it to bake for about 20 minutes or until the puff pastry is golden brown.

Remove it from the oven.

To a small bowl, add 1 tablespoon of lukewarm water and 1 tablespoon honey. Mix to combine.

Brush the honey mixture over the apple tarts once they've been removed from the oven. 
We hope these fun recipes filled the tummies of the ones you love. Enjoy playing with shapes? Check out these
imaginative holiday cookies
and other 
tips for getting creative with mealtime
!