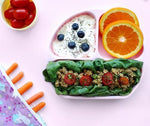 Dive into summertime with this Ground Turkey Lettuce Wrap recipe courtesy of our Bumkins contributor, Annie DeLeon!
Ingredients:
2 hearts of Romaine

1 lb. of Ground Turkey or Chicken

1 Tbsp. of Olive Oil

3 Scallions (green onions), chopped

Seasonings of your choosing, to taste
Directions:
Cook ground turkey. Heat 1 tablespoon of oil in a large nonstick skillet over medium-high heat. Add turkey to the pan and cook for about 6 minutes or until turkey is browned. Stir to crumble.
Serve in lettuce leaves with sliced tomatoes and scallions on top.
Pro tip: serve with some baby carrots and healthy dip to encourage healthy snacking!
As your little starts to get curious about new foods, this recipe can serve as a blank canvas to cultivate those curiosities by adding new veggies and seasonings into the mix. Additionally, this healthy recipe is a great way to ensure that your little receives sufficient nourishment necessary for growing bodies! Pull up a chair, mama! This recipe is a great baby and me meal! What's not to like?!