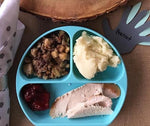 By Tammy of Musing of a Working Mom 
Thanksgiving is probably my favorite holiday because it is all about the food. (And, yes, gratitude, of course.) I love Thanksgiving and I love the leftovers! I have pretty strong opinions about stuffing, and there have been times where we have had Thanksgiving at someone else's house, and I came home to make my own turkey over the weekend just so we could have extra leftovers and I could eat stuffing just the way I want it.
Below, I'll share some of my favorite ways to eat leftovers. But first, let's talk about the kids' table.
Kids' Table
We don't often have a big enough crowd at Thanksgiving to have the kids at a separate table, but we did this past Easter. We pulled the girls' table out of their play room and set it up for them for dinner, and they loved it! I thought it would be fun to set up their own place for Thanksgiving this year, and decorated it around their new Silicone Grip Dishes from Bumkins.
The real appeal of these dishes is that they secure themselves to the table, so they can't get thrown across the room (as Peanut has been known to do). Of course, putting a burlap table runner underneath sort of defeats the purpose there, but I thought it would give the table a festive touch. I painted mini pumpkins in the colors of the plates (half of them blue, half of them gray) and then splatter painted them in the opposite color. For an extra fancy touch (fancy is the girls' current favorite word and they give it added annunciation – "fancay"), we did an experiment and dyed white roses blue to match using water and food coloring in the vase. Finally, I traced their hands to make paper turkeys for their place settings, also in blue and gray.
Thanksgiving Leftovers
My favorite tradition for the morning after Thanksgiving is to eat a slice of cranberry bread with my coffee. And then I just keep eating leftovers all day long!
Stuffing
As I said above, stuffing is my favorite Thanksgiving leftover, but I am kind of particular about it. This is the way my mom made it growing up (though I have added an ingredient or two). I've been making it so long I don't typically measure anything.
Sautee one yellow onion (chopped) and three celery stalks (chopped) in olive oil or butter
Brown 1 lb. of sausage
Combine onions, celery and sausage with cubed, dried bread crumbs
Add two chopped Granny Smith apples, raisins, pecans, salt and pepper
Stir to combine, and stuff as much dressing as will fit into the turkey, and roast the turkey
With remaining stuffing, stir in about a cup of chicken broth (add more, depending on how moist you prefer the stuffing), place in oven-safe dish, cover and refrigerate until ready to cook through
Once the turkey is just about done, put the remaining stuffing in the oven for about 30 minutes, or until heated to 165 degrees
Turkey Stock / Soup
A bonus of making my own turkey is being able to make stock afterward. I follow this process to make about 3 quarts. I froze one and used the other two to make turkey noodle soup.
For the soup: Chop and sautée carrots, onions and celery for a few minutes in olive oil. Add the stock, a couple bay leaves, salt and pepper to taste, bring to a boil and simmer for about 20 minutes. Meanwhile, boil 12 oz. of noodles in a separate pot, and dice leftover turkey. When carrots are to desired tenderness, remove bay leaves and add turkey and noodles and herbs as desired (I like parsley). Add more salt or pepper to taste. For my picky girls, I scoop the soup with a slotted spoon so they don't get the broth.
Turkey Sandwiches
My mother-in-law always serves croissants with Thanksgiving dinner, and I always sneak a few home for leftover turkey sandwiches. This is my favorite way to eat them!
Croissant, sliced in half
Dijon Mustard
Mayonnaise
Turkey
Swiss Cheese
Cranberry Sauce (I use this recipe)
Layer the ingredients between the croissant slices, place in 400-degree oven or toaster oven until cheese melts. Keep a close eye on it so it doesn't burn!
Dessert
Whatever the sweet is, store it in the garage refrigerator and sneak servings whenever the kids aren't watching.
Have a great Thanksgiving!