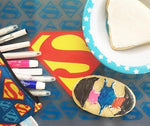 By Tammy of Musing of a Working Mom 
Over the summer, we visited my sister-in-law in Chicago, and downstairs from her apartment was a comic book store. Somehow, we never made it down there during business hours. We walked by it before it opened or after it closed, and every time, Pumpkin (my 5-year-old) would stand and stare in the window and ask why we couldn't go in.
She has taken quite an interest in comic books and superheroes in general, and Superman specifically, all on her own. (She gets upset when the boys at school tell her she has to be Wonder Woman or Bat Girl when they play superheroes because she wants to be Superman.) 
Given her interest, and considering we've been to a few superhero events lately, I thought it would be fun for us to make Superhero Valentine cookies for her and Peanut to share with their friends in our neighborhood. We selected Superman and Batman cookie cutters, and got to work.
Typically when the girls decorate cookies, I make a spreadable frosting and they add sprinkles. When we did this over Christmas, Peanut dipped her fingers in the sprinkles, then in her mouth, then back in the sprinkles. She was a mess, and her germs were all over everything. I wasn't terribly concerned about this considering the cookies were just for the four of us and Santa, but for gifting cookies, I decided to rein this in and use royal icing for the girls to color with food-safe markers.
I am by no means a royal icing master – I'm not sure I have the patience for it. But I did give it a shot, piping the outlines of the shapes on the cookies, and flooding the center with thinner icing. Pumpkin did a great job taking her toothpick to carefully guide the flood icing to the edges.
We let the icing set overnight, and then the girls decorated them a variety of ways with their food-safe markers. Once dry, we packaged the cookies in Superman and Batman snack bags, and my little caped crusaders delivered them throughout the neighborhood!
If you and your littles enjoyed making super cookies, you'll love these craft ideas!